Learn Lean Startup the Fun Way: Playing Lean Gaming Workshop (Free Session)

Thursday, 18 May 2017 from 9:00 am to 1:00 pm (AEST)
Event Details
Learn The Lean Startup skills at our PLAYING LEAN Gaming Workshop
Want to learn The Lean Startup skills & theory in a fun, gamified, and interactive format, led by qualified facilitators? 
Then our PLAYING LEAN Gaming Workshop is for you!  Whether you're a prospective or seasoned entrepreneur, an intranpreneur, entrepreneurship educator or just wanting to learn startup skills efficiently and effectively, this workshop has benefits for you!
Thanks to our friends at BIGJUMP - the team that officially introduced the PLAYING LEAN boardgame to Australia, we will be hosting PLAYING LEAN Gaming Workshops at entrepreneurship hub QUT foundry.

There are two sessions in total. Both are free of charge, but places are limited, so register now.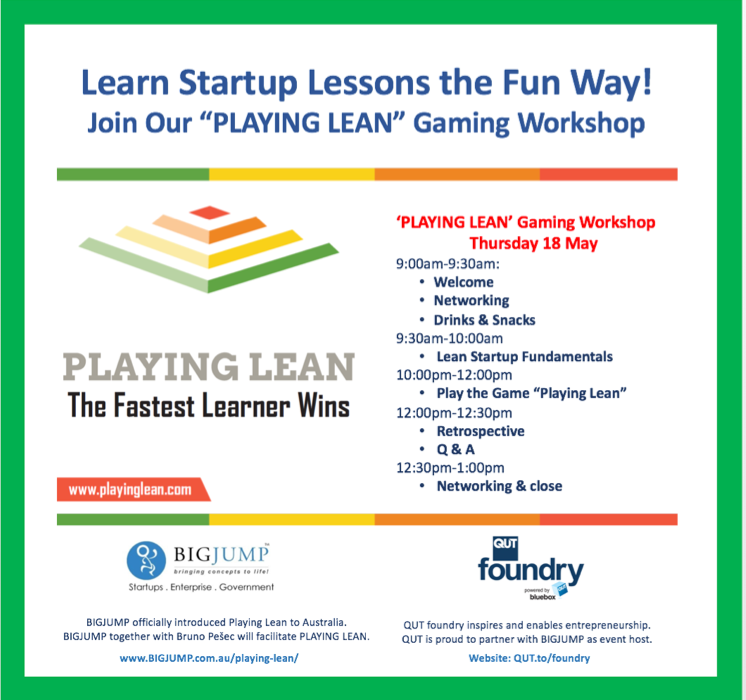 PLAYING LEAN Gaming Workshop
The PLAYING LEAN Gaming Workshop will be led by trained PLAYING LEAN facilitators from BIGJUMP, including QUT alumni Joeri Timmermans and Paul Davies, together with international trainer Bruno Pesec.
The Gaming Workshop will cover:
Lean Startup Theory: The Lean Startup Theory developed by Eric Ries is immensely popular because of its success in use.  It is designed to help you develop a business startup or product with market potential using resources efficiently.
Playing Lean Game Session: The objective in PLAYING LEAN is for you or your team to develop your startup and reach the scaling phase and early majority adoption first.  To do this, you must make and reevaluate strategic decisions, having regard to the outcomes of the experiments you conduct, competitor actions, and some unexpected outcomes. These experiments could include: Building product features; Testing the market; Selling; and Increasing Technical Capabilities.  Regardless of whether you win or lose, you are sure to learn (and have fun)!
Reflection and Discussion: The reflection and discussion session is led by an experienced facilitator and adds additional value by providing a reflection on the experiences, to promote greater learning.
Networking & Team Building: The event is also a great opportunity to network with a diverse group of people passionate about entrepreneurship and startups. You'll learn more about team work and team building by working in a team playing the game.  There's also some time both pre and post event to get to know everyone better.
 Who Should Play & Why?
The PLAYING LEAN boardgame and workshops are enjoying rapid global growth.  
Organisations which are embracing this effective learning tool include: startup organisations; government departments; innovation labs and hubs; corporates; and universities.
As detailed below, the PLAYING LEAN tool is effective for a diverse group of people, from current or prospective startup founders and teams, to intrapreneurs working in organisations, to professionals and even entrepreneurship and innovation educators.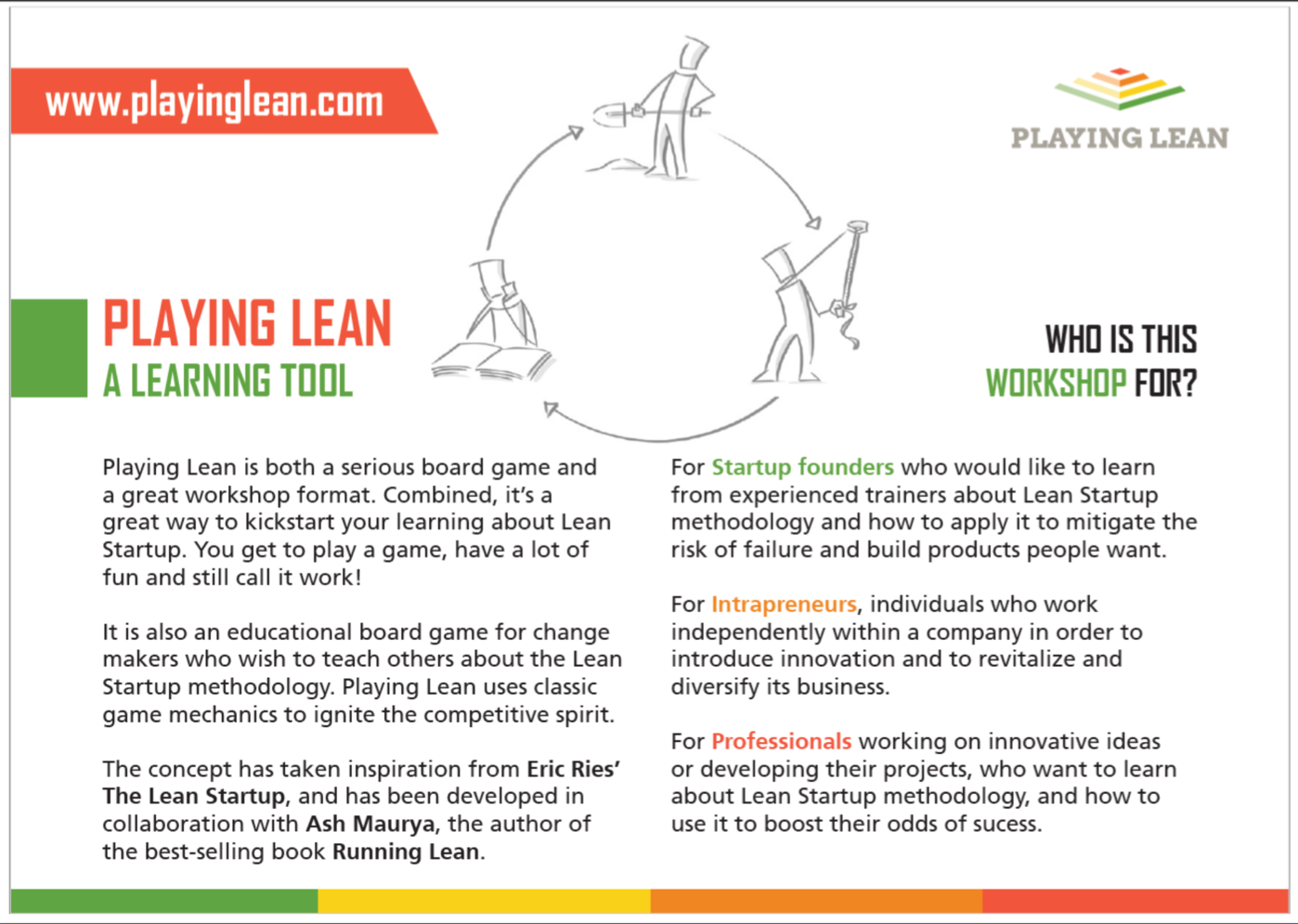 Further Information 
If you would like further information about the PLAYING LEAN workshops, board game, or facilitator training, please contact BIGJUMP on contactus@bigjump.com.au or visit their website at www.bigjump.com.au/playing-lean/.
When & Where
QUT foundry in D-214, QUT, Gardens Point Campus, Brisbane, Queensland



Thursday, 18 May 2017 from 9:00 am to 1:00 pm (AEST)
Add to my calendar
Organiser
QUT Entrepreneurship empowers you to bring ideas to life and develop your entrepreneurial mindset, through programs, events and mentoring.
The vision for QUT Entrepreneurship is 'Think entrepreneurship – think QUT' and our mission is 'to provide opportunities for all QUT students and staff to engage in entrepreneurship'.
The QUT foundry coworking spaces are located at Gardens Point and Kelvin Grove campuses and within the Qld Government's Start-up Precinct in Fortitude Valley. Powered by QUT Entrepreneurship in these spaces you will find a community, access to industry experts and mentors and a collaborative environment where you can develop your entrepreneurial capability and create your future.