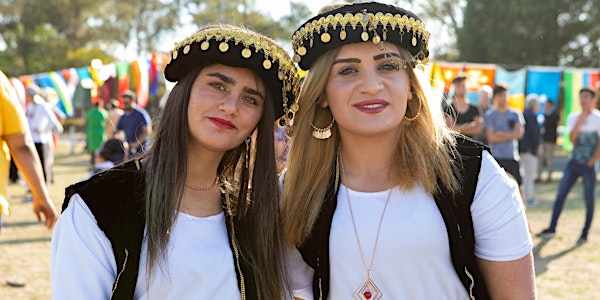 Learn English Through Drama
Event Information
Location
122 Faulkner St
122 Faulkner Street
Armidale, NSW 2350
Australia
Are you an Ezidi English Learner who wants to improve your English in a fun and creative way?
About this event
This FREE 2 day workshop will give students the opportunity to learn english through a creative, fun and interactive drama workshop.
The amazing team from the Sydney Thretre Company will be coming to Armidale on the 22nd and 23rd of January 2022 and will be hosting one of their prised drama workshops just for the Ezidi Community.
All English levels are welcome. Limited spaces.
This workshop is funded by UNE's Ezidi HEPPP project and is supported by Scantuary Armidale.
Please contact Harrison Munday directly if you have any questions on 0478 051 817.
.ارى تو طالبك ئيزدي او ته بڤى تو بعلمي انكليزي اب طريقة سهل او كةيف خوش؟
. اف جماعت او جهى وى دوو روژا فرصى دى طالبة هكا انكليزي بعلمن اب طريقة ناجح، اب كةيف خوةشي او اف جهةي كةلك اي ناجح سةر كةفتي.
. مجموعة كةلك باش وى اش سيدني اينا ارميدال ناڤى وى شركة Thretre Company.. اف جماعت وى الا ارميدال بن الخلالة ٢٢هتا ٢٣ هيفا ياك. اف جماعت مجموعكة دراما اضافة كى اش ئيزدية را ياك اش وان شركى ات ناجحة او كةلك سةركفتي يا او اڤ بس اش ئيزدي رايا .
. ار تو كةري بنى تو جى مرحلة لغة انكليزي بي تو كةري قدم بكي بس جهى نا كةلاكن .
اف مشروع هاتيا دعم كرن اش الي UNE's Ezidi HEPPP او Scanturay ارميدال.
هيفي دكن هكا سوالكة وا هابى هون كةرن تلفون هاري بكن السةر ڤى رقمى
Date and time
Location
122 Faulkner St
122 Faulkner Street
Armidale, NSW 2350
Australia