Lean Six Sigma Black Belt June information evening

Tuesday, 7 June 2016 from 6:00 pm to 7:30 pm (AEST)
Event Details
Please join us for some light refreshments and hear about the UTS Organisational Improvement or Lean Six Sigma Black Belt Program. This is Australia's most comprehensive, practical and respected advanced organisational improvement program. Graduates have delivered great results for their organisations as well as continuing successful careers in the field.
The program is in three stages summarised below and discussed in detail on the night.
You will have the opportunity to ask questions and speak with people who have done the courses and successfully carried out improvement projects.

Listen to the Podcast series on the Black Belt Program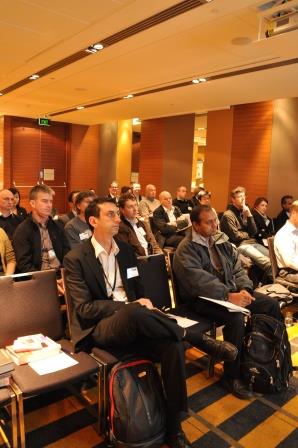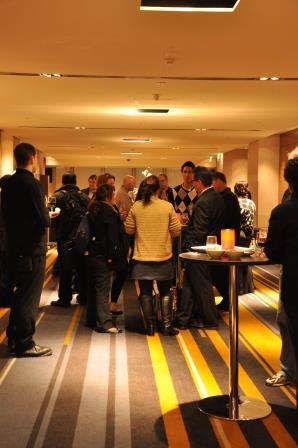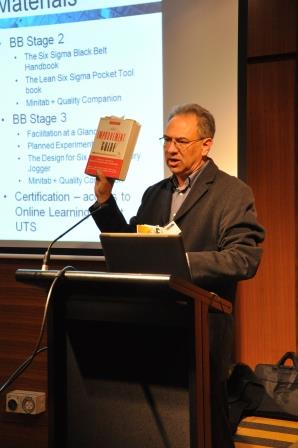 Green Belt (Black Belt Stage 1)

Black Belt Stages 1 to 3 is an intensive set of programs equipping participants to deal with high returns, high risk, complex organisational issues using sophisticated analysis, solution development and change management techniques.
These courses are run by UTS Business School, Business Practice partnering with Lean Six Sigma Business Excellence Institute.

WHO SHOULD ATTEND: Improvement Project Managers with responsibility for complex improvement projects. Senior Managers with a responsibility for leading improvement programs in an organisation or business unit. People who wish to develop a career in Organisational Improvement.

MODULAR APPROACH: The training modules below can be approached in stages. Participants can enrol separately in any of them depending on their prior training, knowledge and experience. For those who intending to achieve Black Belt Certification need to have completed all three stages or their equivalent.

FLEXIBILITY: If carried out as an in-house training inside your organisation, these courses can be tailored to suit the needs of your organisation and be delivered in a way to suit the organisation's timetable.
CERTIFICATION: Those interested in the certification component must enrol separately after the coursework has been completed or demonstrate equivalent achievement. During the course work assessments are carried out that constitute 30% of Certification. The other 70% is achieved through the completion of a real project. For this component enrolment is a separate process.
Stage summaries
STAGE 1 - GREEN BELT - (Black Belt Stage 1) - Duration 5 Days - 
Black Belt Fundamentals of Advanced Improvement Project Management, with Credit for Green Belt Certification.
This is the beginning of the journey to become an Improvement Project practitioner/specialist. This intense and highly experiential program equips you with Black Belt Fundamentals to deal with moderately complex organisational problems.
The high level ratio of Black Belt Facilitators to participants (1 to 5 or 6) , underpins the depth of our training approach. Completion of Green Belt elsewhere is considered equivalent prior learning for entry into Stages 2 and 3. Prior learning assessment is conducted.
STAGE 2 & 3 - BLACK BELT - Duration 2 x 5 days
Black Belt Stage 2 (5 days) - Advanced techniques in Improvement Project Initiation and Planning, Project and Team Facilitation and Performance Sampling and Measurement - credit for Certification
Black Belt Stage 3 (5 days) - Advanced Analysis Techniques, Design of Experiments, Creativity and Solution Design, Change Management and Design for Six Sigma - credit for Certification
Course Duration: For participants who have completed Green Belt (Black Belt stage1) training, the duration of the UTS public course is 2 x 5 five days, four weeks apart . Those enrolling in a single stage, will undergo only one of the 5 day periods.
The approach is highly experiential, participants have numerous, opportunities to work through each training element in small groups, which are each coached by an expert Black Belt Facilitator. This approach is designed so that it builds high competency and confidence. Minitab and Quality Companion are used as vehicles for learning where appropriate . Temporary licences are provided.
Our Black Belt programs aim to equip individuals with the knowledge and skills to:
• Lead complex projects requiring coordination across groups
• Help identify organisational changes required to maintain or accelerate peak performance
• Facilitate the implementation of improvements by using advanced tools and techniques
• Program manage a number of similarly directed improvement initiatives
• Lead and Lean Six Sigma program for an organisation or business unit
• Act as mentors for Green Belt Project Managers
Please contact us any time to discuss a tailored program to suit your organisation's needs.

Regards, 
Alan and Daniel
Lean Six Sigma Business Excellence Institute
email: business.practice@uts.edu.au | phone: +61 2 9514 3504
By entering this event you agree that UTS, Business Practice may use photographs or video footage taken of yourself  during the event for marketing purposes including DVD production, posting on UTS Business Practice website and or social media platforms, or for future UTS, Business Practice events.
When & Where

UTS Business School
Level 8
14-28 Ultimo Rd
Ultimo, NSW 2007
Australia

Tuesday, 7 June 2016 from 6:00 pm to 7:30 pm (AEST)
Add to my calendar
Organiser
UTS Business Practice blends academic rigour with applied learning to support emerging and current leaders as they face the challenges – and opportunities – in today's corporate and entrepreneurial environment. 

We offer customised programs that deliver the skills, knowledge and networks required to develop leaders, nurture innovation and sustain competitiveness. 

We are Agile, Adaptive, Applied.