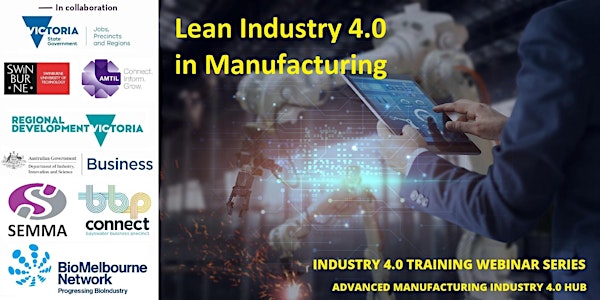 Lean Industry 4.0 in Manufacturing
____________________________________________________________________________
About this event
Lean management and practices have existed for decades. Essentially, Lean provides a mindset, toolkit, and a way of working using human resources to continuously identify opportunities to improve efficiency and reduce waste in processes.
Similarly, various digital technologies have been around for decades. For example, robotics, digital twins, artificial intelligence, additive manufacturing, and the internet. Enter the relatively 'new' era of Industry 4.0 (I4.0), the confluence of these, and other technologies (AR/VR, IoT, big data) integrate humans, machines and systems to achieve higher levels of automation, production sophistication and digitalisation.
In this webinar, we take a broad-brushed approach to explain the synergy of Lean and I4.0 (Lean I4.0), how it enhances lean practices to achieve higher levels of operational excellence, enables business model innovation, and provide some examples and practical tips for Lean I4.0 adoption.
Learning outcomes
An understanding of how Lean fits into an increasingly digital landscape
Applications of Lean I4.0 in operations via examples
Actionable insights to think of Lean I4.0 applications for your own organisation
Awareness of tools to assess digital maturity to help transition meaningfully into Lean I4.0
A greater appreciation and ability to assess how to transition to Lean I4.0
Who should attend
Recommended for senior executives/leaders and innovation and operations related managers of small to medium sized Victorian businesses in manufacturing and process related industries (e.g. Food & Beverage, Meat processing, Dairy, Agri-business, Defence, Pharmaceuticals etc).
You will be provided with additional information and a link to access the online webinar via eventbrite email 24 hours prior to the event. Ensure contact details are entered correctly during registration. Please check your spam/junk folder in case the emails are diverted there.
Organiser of Lean Industry 4.0 in Manufacturing