LEAGUE OF EXTRAORDINARY WOMEN Sydney // Growing a Global Brand - From Idea,...
Description
If you're a female entrepreneur or thinking of owning your own business, this Meet Up is the perfect setting to meet other women in the same boat. This is not a networking group – we're here to have real conversations and make real connections.
What do we mean by real? Well you know when you walk into a room and feel welcome even when you don't know anyone? Or when you share experiences with someone and they say "me too!"? How about when you share tough times with someone and they don't try to give you the advice to fix it but rather - they just get you. This is what happens at League of Extraordinary Women Meet Ups.
WHERE: Your Desk, 1-3/204 Clarence St, (Sydney CBD location)

WHEN: Friday, 28th July
TIME: 6.00PM - 8.00PM
TOPIC // Growing a Global Brand - From Idea, to Startup, to Growth
We're joined by a lineup of incredible female founders from the US, who have each achieved incredible feats in the tech space, including raising hundreds of thousands in venture captial, and working across the likes of Uber, Google, and ModCloth. Hear their stories, learn from their success and mistakes, and be inspired to think about your business on a global on scale.
GUEST SPEAKERS //
PAYAL KADAKIA // Founder & Executive Chairman, ClassPass

Payal Kadakia is the Founder and Executive Chairman of ClassPass, a monthly membership program that provides people of all fitness levels access to the best boutique fitness classes and gyms across the US and internationally.
Since its launch in 2013, ClassPass has facilitated over 30 million reservations across 8,500 studios in 39 cities globally. Payal is also the Founder and Artistic Director of The Sa Dance Company, founded in 2009 with the mission to increase awareness of Indian Dance in the mainstream and serve as a platform for expressing the Indian-American identity through movement.
Payal is a Springboard Alumni and previously worked as a consultant at Bain & Company, and holds a degree in Operations Research from MIT.
HOLLY LIU // Co-Founder, KABAM

Holly Liu is a heavyweight of Silicon Valley. She's the Co-founder of Kabam, a mobile gaming company, and was named by Fortune Magazine as one of the '10 Most Powerful Women in Gaming'.
Kabam has raised over $245 Million dollars in venture funding from Google Ventures, Intel Capital, Canaan Partners, Redpoint Ventures, SK Telecom and Alibaba. They have partnered with leading Hollywood partners such as Warner Brothers, MGM, Paramount and Disney to make beloved games such as 'Fast & Furious', 'The Godfather: Five Families', 'The Hobbit: Kingdoms of Middle Earth', 'Star Wars: Uprising', and 'Marvel: Contest of Champions'.
Her work has contributed to record revenue growth for Kabam year over year from $0 to $400MM annually, that led Kabam into the unicorn club in 2014 - in other words, the company has been valued at $1 billion. She led the design for Kabam's award-winning "Kingdoms of Camelot" franchise, which has grossed over $250 million in less than four years. She was also the founding mobile designer for extension 'Kingdoms of Camelot: Battle for the North', which was the top grossing app on iOS in 2012.
MINA RADHAKRISHNAN // Founder, Different

Mina is the Founder of Different, a tech startup that helps owners pay less to get more from their investment property. She's also a special advisor at San Francisco based Cowboy Ventures, where she works with portfolio companies on product questions big and small.
Previously, Mina was the first Head of Product at Uber. She joined the company in 2011 as the first product person and the twentieth employee. There, she led diverse initiatives such as car types, international expansion and surge pricing. She was part of the Uber growth period where she helped to scale the team from one product person and two cities out to a twenty person team, hundreds of cities and millions of customers.
She was also one of the first Product Managers at ModCloth, building out core eCommerce foundations, and innovative review and measurement systems to help customers better shop for fashion online.
Mina originally moved from New York to San Francisco to join the Google APM program, and learned to build products at scale in the Engineering Productivity, Digital Advertising and the Desktop/Toolbar teams. Now, based in Sydney, she's focused on a $6+ billion opportunity in the real estate space.
In her spare time, she's an aspiring yogi, a voracious reader and cruciverbalist.
LOCATION // YOUR DESK, SYDNEY CBD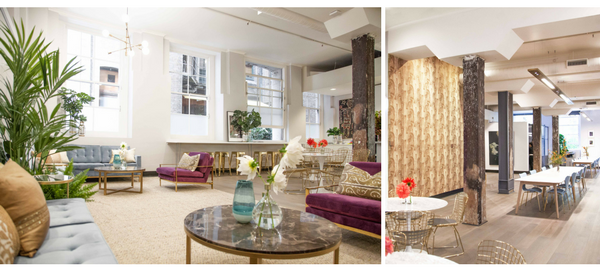 Your Desk is a network of co-working spaces built by a family of designers who embody community.
From 26 members in 2012 to more than 300 today, Your Desk supports business growth and succees.
Offering part time, full time and private office memberships, suitable for all businesses, from start-ups to international companies.
____________________________________________________
1) Tickets are $30 (+booking fee), or $15 (+booking fee) for League members.
2) Please only register for this event if you plan on going. I know some people will grab a free ticket and last minute decide they're too lazy to go – don't be one of these people. If you commit to something, commit to it – we want to meet you!
3) If you've never been to a League event, there's a reason why we don't use the "N" word and we use the word "connecting" and that's because of the negative connotation of soliciting, selling and business card swapping. Bleh, no one wants to go to an event to talk to someone for 20 minutes only to realise you're being sucked into buying some powdered thickshakes. We are here to connect authentically and honestly – share stories and experiences, learn from each other and respect each other. Magical things WILL happen and people will seek you out to buy from you when you work from an honest heartspace.