LEAGUE OF EXTRAORDINARY WOMEN - PERTH MEET UP // LET'S TALK: Social Media
Description
WHAT: Let's Talk
WHERE: Maison West Perth, 9 Douglas St, West Perth WA 6005
WHEN: Tuesday, 27th February 2018
TIME: 6.30pm - 8.30pm
TOPIC // Let's Talk: Social Media

2018 is the year of the Social Media Mover and Shaker. With so many changes to the algorithms, social feeds and advertising - it's time to get ahead of the curve and make 2018 the year you conquer social.


GUEST SPEAKERS

Nicole Moody - Managing Director, Hunter Communications, and Founder of The Influencer Agency (TIA)

Nicole's extensive career has involved working in Australia and London in the highest levels of public relations, government and journalism.
With her passion for communication and a commitment to achieving outstanding results for clients, Nicole has built her client base at Hunter Communications to include some of the State's biggest brands and companies, including SGIO, AGL, Coles, Thermomix, Perth Airport, Department of Transport, CBRE and Vicinity Shopping Centres.
In the ever-changing communications landscape, Nicole saw an opportunity to provide brands with the ability to connect with brand-aligned influencers. October 17th, 2017 saw Nicole launch The Influencer Agency (TIA), the first of its' kind in Perth.
Three months in, TIA has worked with some of Perth's most sought-after influencers to help brands such as; Brownes Dairy, AGL and 140 William Precinct to achieve their objectives.
Outside of Hunter Nicole has served on the boards of Perth Zoo, Lifeline, Australia Day Council and Perth Convention Bureau.

Brooke Vivoda - Founder, Villa Management
Brooke Vivoda is one of Australia's forefront experts on Instagram. As the founder of Villa Management, she teaches businesses worldwide how to leverage the power of Social Media to connect with their audience online. With the launch of her new online Social Club Membership, it's now easier than ever for businesses to access weekly online lessons and training videos with Brooke. Her signature program will empower your business with the knowledge and confidence to build your brand, grow your network and be authentic in your messaging.



VENUE - MAISON, 9 Douglas St West Perth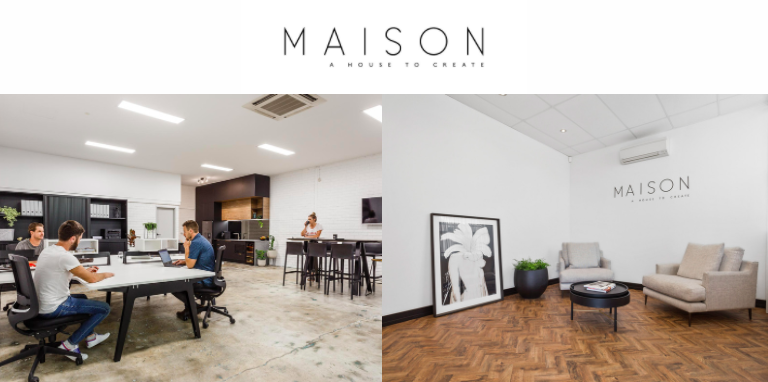 A boutique warehouse style space for Creatives on all paths to work together in a supportive environment.

Located within walking distance to Leederville precinct. Elegant, professional, yet edge, this fully renovated warehouse space, Maison, is the perfect space for the entrepreneurial hangout.

On first impressions looking at Maison's exterior it does not seem like much but once you walk through the doors, you will be blown away by the interiors, fit out and minimalist and clean tones.

It's a work place that's aesthetically pleasing to work from, collaborate and entertain your clients.




THE LEAGUE//

If you're a female entrepreneur, have a side hustle, or you're thinking of owning your own business, this Meet Up is the perfect setting to meet other women in the same boat. This is not a networking group – we're here to have real conversations and connections.
What do we mean by real? Well you know when you walk into a room and feel welcome even when you don't know anyone? Or when you share experiences with someone and they say "me too!"? How about when you share tough times with someone and they don't try to give you advice to fix it but rather they just get you. This is what happens at League of Extraordinary Women Meet Ups.
____________________________________________________
SOME RULES we'd like to point out.
1) Tickets are $25 (+booking fee), or free for League members. Now, it goes without saying that the free tickets are for League Members only – we don't want to be the door biatch that makes you pay $20 on the night if you're not a member or turn you away. For us, we just want to make sure that it's just fair on everybody. So please only select that ticket if you are a paying League Member – if you're not then you can join here, or just purchase a ticket. http://www.leagueofextraordinarywomen.com.au/join-us/
2) Please only register for this event if you plan on going. I know some people will grab a free ticket and last minute decide they're too lazy to go – don't be one of these people. If you commit to something, commit to it - we want to meet you!
3) If you've never been to a League event, there's a reason why we don't use the "N" word and we use the word "connecting" and that's because of the negative connotation of soliciting, selling and business card swapping. Bleh, no one wants to go to an event to talk to someone for 20 minutes only to realise you're being sucked into buying some powdered thick shakes. We are here to connect authentically and honestly – share stories and experiences, learn from each other and respect each other. Magical things WILL happen and people will seek you out to buy from you when you work from an honest heart space.