LEAGUE OF EXTRAORDINARY WOMEN - LOS ANGELES MEET UP
Description
LEAGUE OF EXTRAORDINARY WOMEN // LOS ANGELES MEET UP
Hey LA, we're coming for you again! Join us for our fourth Meet Up in your city.
WHO ARE WE: We're a group of successful entrepreneurial gals from across the pond, who became fed up with 'salesy', business card swapping, boys club networking events we continuously found ourselves at. We just wanted to connect with like-minded, ambitious entrepreneurial women who got us.
So, we started the League of Extraordinary Women - a group dedicated to helping the ass kicking female entrepreneurs of the world to connect with each other, and build a network of super supportive, entrepreneurial women to help each other move forward in their business.

If you're a female entrepreneur or thinking of owning your own business, this Meet Up is the perfect setting to meet other women in the same boat. This is not a networking group – we're here to have real conversations and make real connections.
WHAT DO WE MEAN BY REAL? Well you know when you walk into a room and feel welcome, even when you don't know anyone? Or when you share experiences with someone and they say, "me too!"? How about when you share tough times with someone and they don't try to give you advice to fix it, but rather they just get you. This is what happens at League of Extraordinary Women Meet Ups.
If you've never been to a League event, there's a reason why we don't use the "N" word, and we use the word "connecting". It's because of the negative connotations associated with 'networking' of soliciting, selling and business card swapping. Bleh, no one wants to go to an event and talk to someone for 20 minutes only to realise you're being sucked into buying some powdered thick shakes.
WHAT WILL YOU GET OUT OF THIS?
You'll meet other like minded women and hope that you'll continue your conversations after the meet up. Just like the 10,000 women in our community across the world, you'll feel incredibly INSPIRED to take on the world by the end of the night.
GUEST SPEAKER: Nadya Rousseau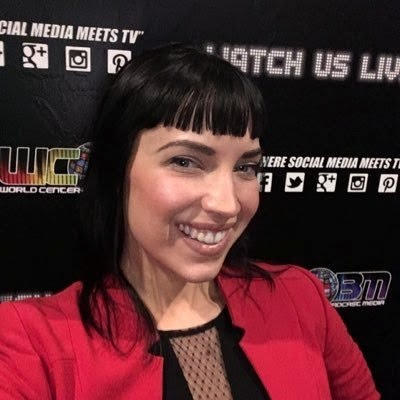 Nadya Rousseau is a social media strategist, writer, U.S. Director of digital marketing agency Organizein, Founder of Alpha2Alpha Women's Network, creator and host of online TV show Nadya's Identity Files, and a speaker and trainer. Nadya's original online branding strategy is based upon narrative identity to emphasize the importance of story and identity in all that we do. She teaches this strategy at Coldwell Banker Beverly Hills, women's empowerment workshops, and for national organizations and corporations. Nadya will share her insights on telling your story, building your brand, and how to create a real social media strategy for solopreneurs.

LOCATION: Le Petit Paris 418/420 S. Spring Street Downtown LA 90013
___________________________________________________
SOME RULES we'd like to point out...
1) Tickets are $18 (+booking fee), or free for League members. Now, it goes without saying that the free tickets are for League Members only – we don't want to be the door biatch that makes you pay $18 on the night if you're not a member or turn you away. For us, we just want to make sure that it's just fair on everybody. So please only select that ticket if you are a paying League Member – if you're not then you can join here, or just purchase a ticket. http://www.leagueofextraordinarywomen.com.au/join-us/
2) Please only register for this event if you plan on going. I know some people will grab a free ticket and last minute decide they're too lazy to go – don't be one of these people. If you commit to something, commit to it - we want to meet you!