Description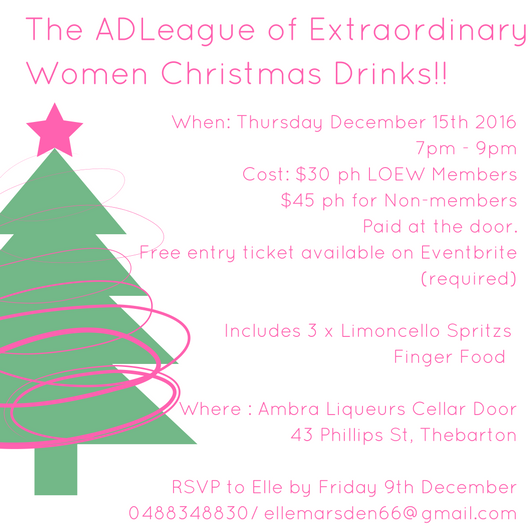 Hello Adelaide Ladies!
It's time to celebrate the end of a successful year with other ADLeague Ladies. Come along for a spritz, a chat and meet some new women who all have business in common.
COST: $30 for LOEW members / $45 for non member

HOW: Grab your free Eventbrite ticket anytime and then pay for your ticket on the night.
WHAT: This is a casual but upbeat meet up where we all can really have great conversations with each other. For this Meet Up, we will be celebrating our year of business and most importantly and share and talk about business and life.
Please note for this Meet Up, we're doing something a little more special. Tickets will be paid at the door, and will include 3 drinks, plus canapes.
LOCATION: Ambra Liqueurs Cellar Door - Thebarton
__________________________________
SOME RULES we'd like to point out..
1) Tickets are $30 for League members or $45 for non members and will need to be paid at the door. If you're not a League member yet then you can join here http://www.leagueofextraordinarywomen.com.au/join-us/
2) Please only register for this event if you plan on going. I know some people will grab a free ticket and last minute decide they're too lazy to go – don't be one of these people. If you commit to something, commit to it - we want to meet you!
3) If you've never been to a League event, there's a reason why we don't use the "N" word and we use the word "connecting" and that's because of the negative connotation of soliciting, selling and business card swapping. Bleh, no one wants to go to an event to talk to someone for 20 minutes only to realise you're being sucked into buying some powdered thickshakes. We are here to connect authentically and honestly – share stories and experiences, learn from each other and respect each other. Magical things WILL happen and people will seek you out to buy from you when you work from an honest heartspace.