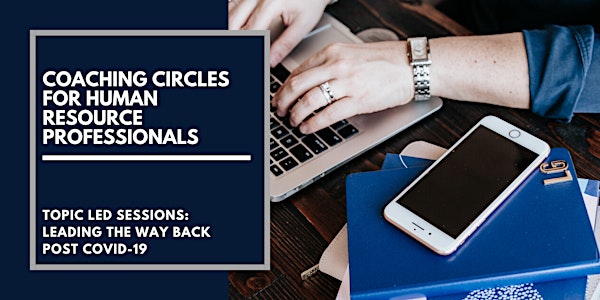 Leading the Way Back: Coaching Circles for Human Resource Professionals
Sales Have Ended
Ticket sales have ended
Yay- you are in the Circle! Keep an eye out for a welcome email with all the important details!
Sales Have Ended
Ticket sales have ended
Yay- you are in the Circle! Keep an eye out for a welcome email with all the important details!
Individually, we are trying to solve the challenges of what COVID-19 looks like for our people. Join the Circle to solve collaboratively.
About this event
4 sessions over 4 weeks with just 4 participants.
We are experiencing complex and emotionally charged challenges like never before and it's become clear that despite where we are located geographically, what sized organisation we work for or at what stage of this COVID-19 crisis we are in – every practitioner is experiencing similar challenges. Even more interesting is that we are trying to individually solve these challenges.
As restrictions across the globe start to shift, HR professionals need to start thinking about what the transition back to the workplace will look like. We need to be looking out to the horizon on what's to come, what's needed, and how HR can add value to the organisation in these dynamic times.
Coaching Circles allow HR Professionals and People Leaders can come together to problem solve, discuss ideas and be coached around the issues they are currently facing. Being part of Coaching Circles is a transformative experience that will help you feel more confident and credible in navigating these extraordinary times and in creating positive change as a leader in the people space.
This special edition Circles program will allow for topic-led sessions to dive into the transition back into the office, warehouse, factory or shop floor, keeping a focus on people being at the center of our decisions and actions. Thinking through the crucial parts of the employee experience, we'll focus on employee engagement, cultural impacts, diversity and inclusion, communications, talent management and the opportunities that exist for HR to show leadership in trying times.
STARTING 14th May 2020 at 9AM AEST (that's the Melbourne Australia Timezone for my global friends).
7pm EDT (US)
2pm NZST
Check your time zone here:
WHAT IS A COACHING CIRCLE?
Coaching Circles provide a safe space for you to unpack your challenges and be coached, mentored and supported by a qualified coach and HR practitioner. Being able to work collaboratively among a small group of fellow HR practitioners, my aim is to get clarity on your challenges, and provide learning on several levels; social learning, self-reflective, observation, simulation and collaborative learning.
I don't tell you what to do, instead we'll explore a range of models and frameworks, look into the culture within your organisation, talk about the context of your organisation, explore what other organisations have done that has worked - or not worked, and finally, I'll ask you the tough questions - questions that will give you real insight into how you can be an even better HR practitioner.
HOW DOES IT WORK?
Each week over a period of four weeks, your circle will come together in a zoom session for just over an hour (1.25 hours) to talk about the issues and challenges you are facing in your role now and into the future. Each participant will have the opportunity to bring their challenges to the group and be supported, coached and mentored by Lorissa, all while receiving support from the other participants in the circle. Participants will have exposure to the challenges being experienced by other practitioners, as well as observing and learning from the coaching that their fellow participants experience.
WHAT CAN I BRING TO THE CIRCLE?
Usual Circles welcome a broad range of topics; ideas or an approach to work with culture during crisis, managing the HR brand in the organisation, managing talent, how diversity and inclusions looks in the new world of work or engaging the people you have in your organisation in meaningful ways.
This intake of Circles will be focussed on the transition back to the work environment and how you as a People Partner can lead the way back with well thought-out strategies and initiatives in the People space.
WHO CAN JOIN A CIRCLE?
Coaching Circles are open to practitioners at any level. You may be a standalone people partner or leading a small team. Perhaps you are new to your HR role, part of a larger team, or your organisation is growing fast and you want to scale.
You might be a seasoned professional looking to engage with other professionals in intellectual conversations, or you may be a HRBP looking to make more impact at a strategic level in the organisation.
If you are not sure, reach out and we can chat about where you fit into a Circle.
Participants will also be welcomed to a private Facebook group with additional resources and tools, and to continue conversations and learning between sessions.
ARE COACHING CIRCLES FOR ME?
Coaching Circles are for you if:
* You want to feel more confident in your people partner role
* You want more credibility in your organisation as the trusted HR partner
* You feel like there is more to HR than ticking boxes
* You are energised by intelligent conversations with other HR folks
* You like to think long term and big picture in what you as HR can achieve for your organisation
* Feel like there is opportunity to do great things during the COVID-19 chaos
Coaching Circles are NOT for you if:
* You want to keep doing HR like its always been done
* Your focus is on compliance, rigid processes and not rocking the boat
* You often play-and enjoy playing - the 'HR police' role
* You don't have a people focus in your role - and are not interested in having one
* You are not interested in being brave and experimenting with new ways to do people practices
WHAT OTHERS HAVE SAID....
"Coaching Circle week one was a transformative experience. I came away energised and excited to apply what I had learned. Lorissa's warm, authentic and thoughtful approach made it easy to open up and explore some of the key challenges we face in the workplace. I look forward to putting what I learnt into action. Can't wait for next week!" (RM, November 2019)
Coaching Circles with Lorissa Garcia was one of the most impactful, transformative and disruptive experiences of 2019. ⭐️ I learned a lot about various People Ops tools, models and approaches but also, and most importantly, about myself. Thanks Lorissa!
Date and time
Location
Refund policy