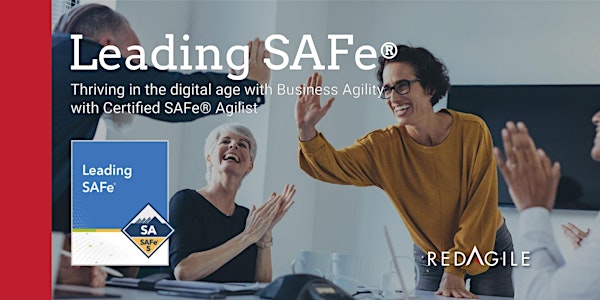 LEADING SAFe with SAFe® 5 AGILIST (SA) 23-24 MAY Australia Course Online
Learn to lead a Lean-Agile enterprise by leveraging the Scaled Agile Framework® (SAFe®) in a 2-Day online course by RedAgile with ScrumCraft
About this event
Thriving in the digital age with Business Agility with Certified SAFe® Agilist
RedAgile and our subject matter expert Jason Cameron of ScrumCraft, will deliver this LIVE ONLINE Leading SAFe® - SAFe® 5 Agilist (SA) training course. This is the perfect combination of the proven supportive, interactive and quality of learning that is the hallmark of RedAgile combined with world class SAFe® training. This fully engaging and effective training is live online so it is accessible from the convenience of your desktop or laptop.
During this course, attendees gain the knowledge necessary to lead a Lean-Agile enterprise by leveraging the Scaled Agile Framework® (SAFe®) and its underlying principles derived from Lean, systems thinking, Agile development, product development flow, and DevOps.
Participants in the class gain insights into mastering Business Agility in order to thrive in the competitive market. They discuss how to establish team and technical agility and organise and re-organise around the flow of value. They also learn and practice the skills for supporting and executing PI Planning events and coordinating multiple Agile Release Trains (ARTs). Participants in the class explore the importance of adopting a customer-centric mindset and design thinking approach to agile product delivery. Learners also develop an understanding for implementing a Lean Portfolio Management function in their enterprise.
This LIVE training is delivered over 2 days and to participate trainees will simply require a PC / Laptop with audio, video and microphone functionality in combination with a secure internet connection.
We are also timing our courses so they are accessible for all Australians, starting at 8.30am in Perth, 10.00am in Adelaide, and 10.30am on the East Coast.
Your Trainer - About Jason Cameron of ScrumCraft
He loves Agile... he really loves Agile!
It has provided Jason with so many fantastic opportunities and experiences that he cannot help but want to share its awesomeness with others and to provide them with an avenue to grow as well. That is why, as an Agile coach and trainer, Jason is on a mission to demystify Agile at scale and help organisations and individuals connect with their inner awesome to meet complex challenges head-on.
What you will learn on the Online Leading SAFe® Course?
Topics Covered
• Thrive in the Digital Age with Business Agility
• Become a Lean-Agile Leader
• Establish Team and Technical Agility
• Build Solutions with Agile Product Delivery
• Explore Lean Portfolio Management
Learning Goals
• Lead the transformation to Business Agility with SAFe
• Become a Lean-Agile Leader
• Understand customer needs with Design Thinking
• Enable Agile Product Delivery
• Implement Lean Portfolio Management
Prerequisites
All are welcome to attend the course, regardless of experience. However, the following prerequisites are highly recommended:
• 5+ years' experience in software development, testing, business analysis, product, or project management
• Experience in Scrum
Exam Details
Completion of this course gives you access to the exam and all related study materials as part of your Learning Plan in the SAFe Community Platform.
Attendees must attend the full course in order to be eligible for the exam.
What Attendees Get
• Attendee workbook
• Preparation and eligibility to take the SAFe® 5 Agilist exam
• One year membership to the SAFe Community Platform
• Course certificate of completion
The Cost
Book a place for the advance booking fee of $1075 inc GST
Refund Policy
We offer a full refund prior to the 48 hours before the course start date and after that time we offer 10% of the fee or offer a transfer of registration to an alternative class.
If you can no longer attend but wish to transfer your place on the course to another person we are very happy to arrange that at no additional cost.
Disclaimer: RedAgile reserves the right to change venue or cancel any course for reasons including, but not limited to, trainer illness or bad weather. In the event of cancellation, we will offer a transfer to a different course or a full refund.