Leading intranets: case studies from the Worldwide Intranet Challenge (WIC)

Tuesday, December 3, 2013 from 3:45 PM to 6:00 PM (AEDT)
Event Details
Who should attend this event?
Anyone involved in designing, building, maintaining or managing an intranet. This includes intranet owners and managers, internal communicators, enterprise social media professionals, content professionals, knowledge managers, business process professionals & analysts, IT managers and people working with SharePoint & other intranet software. 
The last WIC event was a well attended and fun night.
What's the agenda? 
Three short 15-20 minute interactive presentations (with time for questions) and plenty of time for socialising.
Drinks and finger food - mystery icebreaker game (prize on offer)!


 

A successful intranet, no matter what budget (4.15 - 4.40)
Melbourne Convention and Exhibition Centre's (MCEC) launch of its intranet, The Hive in March 2012 and results from the Worldwide Intranet Challenge (WIC) is a great example of how a medium-sized company can develop a successful intranet no matter what budget. The Hive is Ranked #2 (from 160 companies) in the WIC for home page design, #3 for finding information, #3 for values and culture, #5 for culture and top 10 for several other questions. Peter Lyons, the Internal Communications Coordinator from MCEC will talk about reasons for The Hive's success in the WIC with a focus on employee engagement. 


 

Intranets, the 'signal' and the 'noise'.. delivering the 'signal' (4.40 - 5.05)
Latest research from the WIC

suggests that while online collaboration and the social possibilities offered by modern-day intranets are important, the value of well structured and 'qualified' content such as procedures and work instructions, is even more important. The

Department of Transport

completed the Worldwide Intranet Challenge (WIC) in April this year and ranked in the top 15% for the topics: overall value, completing common work tasks, policies & procedures and information for new starters (ranked #8).

Jillian Hiscock

, Intranet Manager, will show the DOT intranet and explain how they did it!

 

 
The contextual intranet: the future of intranets (5.05 - 5.30)
Just as Amazon provides a 'Customers Who Bought This Item Also Bought' list of suggestions based on a customer's previous purchases, so too should intranets deliver content to staff based on their unique profiles and preferences. In this session, Andrew Wright will take you through a new approach to intranets, showing how this can be done and how it will increase the use of your intranet.
Socialising, drinks and finger food
Why should I attend?
This is a unique opportunity to hear case studies from organisations whose intranets have received real feedback from the people that matter the most - their own intranet end users.
The organisations presenting have participated in the Worldwide Intranet Challenge (WIC). The WIC is a web based survey that allows organisations to obtain feedback from their intranet end users and then compare this feedback with other participating organisations. Over 45,000 people from more than 160 organisations in 23 countries have participated.
Where is it?
This event is upstairs at Melbourne's iconic Young & Jackson's hotel. It's just across the road from Flinders St Station (handy for commuters!).  The event fee covers the cost of drinks & finger food so it will be a great chance for you to not only learn about leading intranets, but also meet and chat with other people who are interested in building useful intranets.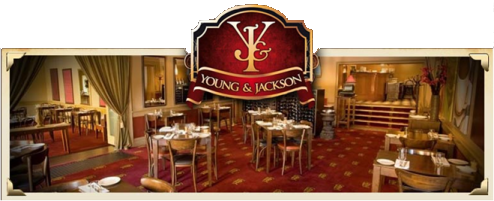 When should I book?
Numbers are limited to 50 so book early to make sure you reserve your place.
What is the Worldwide Intranet Challenge (WIC)?
The World Wide Intranet Challenge (WIC) is a web based survey completed by intranet end users. It allows intranet managers to obtain and benchmark feedback from their end users. There is no cost to participate. Over 45,000 intranet end users from 160+ organisations have participated including AGL, Amnesty International, Australian Unity, Bupa Australia, Eaton Corporation, Ernst & Young, the European Space Agency, Melbourne Water, and Standard Life.
Regards, Andrew J Wright,
Worldwide Intranet Challenge
When & Where

Young & Jacksons Hotel (upstairs), Melbourne
Corner of Swanston and Flinders Streets
Opposite Flinders Street Station
Melbourne, Victoria 3000
Australia

Tuesday, December 3, 2013 from 3:45 PM to 6:00 PM (AEDT)
Add to my calendar
Organizer
Since November 2000, CIBA Solutions has provided intranet, knowledge management and business process improvement solutions to organisations around the world. CIBA Solutions also runs the Worldwide Intranet Challenge (WIC).