Event Information
Refund Policy
Contact the organiser to request a refund.
Eventbrite's fee is nonrefundable.
Hybrid Work: some people are here, some are there, some people are alone, some are together. Onsite or offsite, work better with them all.
About this Event
When companies like :
Microsoft
Atlassian
Spotify
Google
Facebook
Twitter
Slack
Square
recently announced that their people could forever work from home if they wanted to, they set a precedent and trend for other companies the world over to follow.
These realities of work mean you'll more likely have a mix of where people are located, for every meeting, workshop, team and project.
The world of work continues to change. Not everyone is working from home, OR working from the office.
Some people are here... some people are there... some people are together... some people are alone.
This creates some challenging issues with engagement, involvement, participation, contribution and communication.
Do you lead meetings or workshops? How will you handle this?
It's a real mix!
People may be in the office.
People may be at home.
People may be in co-working spaces or hubs.
People may be in other locations, travelling, sea changing, tree changing or living in more rural and regional areas.
This is the world of hybrid working. Remote, distributed, co-located or in person.
Be prepared for it and know what tools, techniques, processes and methods to use to juggle this unique experience of a hybrid workshop or meeting . You can't just 'wing it!'
JUGGLING across locations
This is a new way of working for many of us and it can raise plenty of questions, queries and tricky situations:
how do you achieve and maintain engagement across all of these different spaces
how do you know people are engaged and participating
how do you get people involved
how do you use breakout rooms if not everyone is on their own device
what do we need to do differently than if everyone is in the one place (all online or all in the one location)
what if things change compared to what we planned for; those who were going to be online are now here, live,
what are the pitfalls to look out for
how might we need to design our agenda, processes and session to take these challenges into account
... these and many other questions will be answered in this Masterclass with Lynne Cazaly.
The session shares a:
12 technique methodology for leading hybrid meetings and workshops.
It can feel like there are hundreds of things to consider or plan for; Lynne will show you the key 12 and how she sets up, designs, delivers and adapts for hybrid ways of working in meetings and workshops.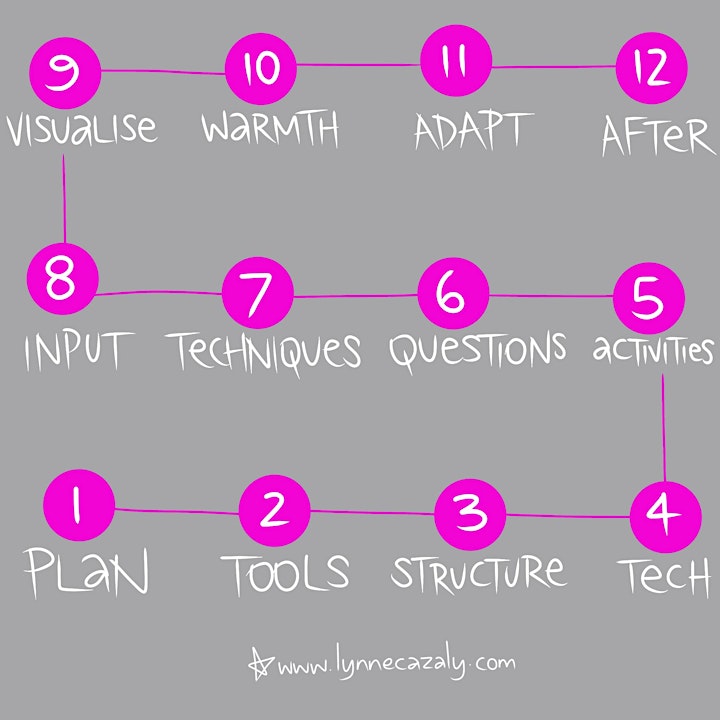 The goal is to:
Engage
Involve
Align
Commit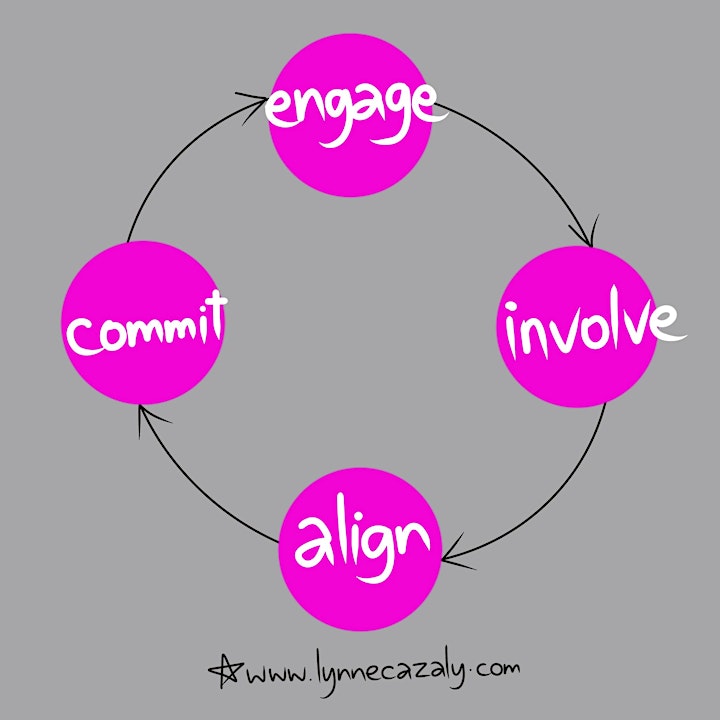 This is an ONLINE SESSION
It includes a 90-minute masterclass where you are welcome to contribute and interact. It's followed by a more casual 30-minute conversation, question and connection time.
Come for the 90 minutes... stay beyond for deeper sharing, insights and examples
ABOUT LYNNE CAZALY
Lynne Cazaly helps individuals, teams and businesses transition to better ways of thinking and working. She is an international keynote speaker, multi-award winning author and a master facilitator.
She is the author of 6 books and an experienced radio broadcaster, presenter and producer having presented more than 10000 hours on-air. Her background is as a communication specialist, having lectured in under-graduate and post-graduate programs in several of Australia's Universities and consulting to different industries and sectors on change and transformation.
Lynne can help you think better, make sense of information and handle the realities of workplace overwhelm and information overload with her clever hacks and ingenious processes, tools and methods.
Lynne is an experienced board director and chair and an #avgeek, loving everything aviation, helicopters and air traffic control. 
She has led groups and teams adapting to hybrid ways of working. She had the opportunity to design and deliver meetings and workshops and then teach and coach others in a team to help and guide them with what to do... and how to do it better.
Over a period of time Lynne tested out a range of different techniques, built greater confidence and capability and now ... leading hybrid meetings and workshops is the norm for her.
Her expertise in facilitation is masterful; her knowledge of how to engage, inspire and create energy in a group and team is exceptional.
Her abilities to adapt are evident as she works with different teams and groups, cultures and communities, in different locations and environments.
Lynne is the author of six books on topics of engagement, communication, agility, adaptability and change. She is a highly rated keynote speaker having presented to audiences all over the world, online and face to face.
Read more at www.lynnecazaly.com
Buy your Eventbrite ticket and you'll be sent the link to join the session approx 24 hours prior to your chosen date and time.
WHAT PEOPLE SAY:
Loved, loved, loved this class. It has helped me already in terms of the approach I take with my team meetings. Love your classes, your energy!
– Margaret McDermott
Thank you for the extraordinary session today, I am still on such a high, it was an incredible session so practical and full of ideas, I loved every minute and will recommend it to everyone! I am looking forward to booking in future courses with you, your facilitation is simply world class.
– Monique Richardson
Your training was not what I was expecting – I found it quite practical, down to earth, witty and fun. I felt quite engaged learning all these ways of communicating and engaging with people that made a lot of sense.
- Timothy Ting
Thank you for the great session… You inspired me so much, that I re-thought how we would approach the extended leadership team meeting. Not only that, we got fantastic feedback from the participants about the increased impact that this had, and how engaging the session was. So thanks again!
- Adele Keating
Best 90 minutes spent in a virtual workshop !! Lots of great ideas on how to improve engagement with your audience plus tips and tricks on how to function during this time when we are all using video to chat, collaborate, and work. I always come away energised with loads of new ideas to try out after a session with Lynne.
- Wendi McPoyle
Thank you SO much for the course on Friday. It was truly invaluable. I am currently up skilling – Future Proofing my business and my life so taking on lots of news things to add to my life's kit bag of skills. Lynne, I am very keen to do some of your other programs too.
- Robyn Gray
I was in the Friday workshop with Lynne Cazaly - highly recommend with loads of practical tips, was able to put into action with 2 hrs!
- Andrew Huffer
This is an expert in her element serving the audience and sharing her amazing talents. Thank you Lynne Cazaly for your inspiring and helpful workshop...This is an area I would like to raise the bar in for myself and Lynne showed us what is possible. The workshop was practical, inspiring, fun and so helpful. I've walked away with new ideas and tools to use to help me deliver more engaging content for my participants. Thanks so much Lynne 🙏 I feel so lucky to be able to learn from a master and I highly recommend people getting along to Lynne's public on-line workshops.
- Cynthia Mahoney
Loved the energy, positivity, practicality, tips, practice, sharing, small group, structure was flexible so we could ask questions and go with the conversation. Stats and research was very useful/impressive. Very realistic and great way of making it useful relevant for our work. so much value!
- Chloe Spackman
Buy your Eventbrite ticket and you'll be sent the link to join the session approx 24 hours prior to your chosen date and time.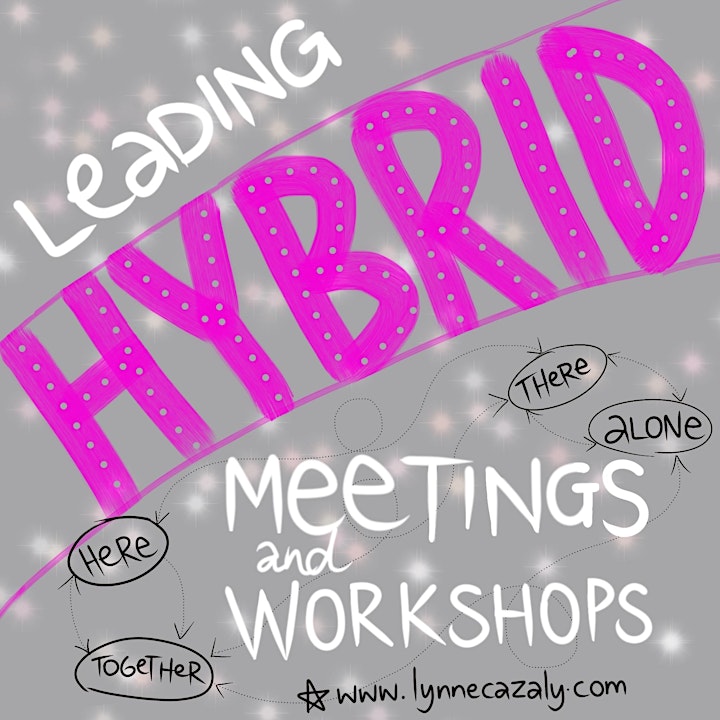 Date and Time
Location
Refund Policy
Contact the organiser to request a refund.
Eventbrite's fee is nonrefundable.