Sales Have Ended
Registrations are closed
Thank You for registering for this candid and convivial conversation online from 4.30 pm sharp through to 5.30 Melbourne time Monday 22nd January 2018. On the day please click in this link https://zoom.us/j/7843385806 to join in the conversation. Best regards Ian
Sales Have Ended
Registrations are closed
Thank You for registering for this candid and convivial conversation online from 4.30 pm sharp through to 5.30 Melbourne time Monday 22nd January 2018. On the day please click in this link https://zoom.us/j/7843385806 to join in the conversation. Best regards Ian
Description
In the most remarkable workplaces competitive advantage comes from people delivering value in ways that are very difficult to emulate. Therefore it's vital that people feel valued and live values.
A very special kind of leadership, management and culture is essential as is applying proven principles in your own best way.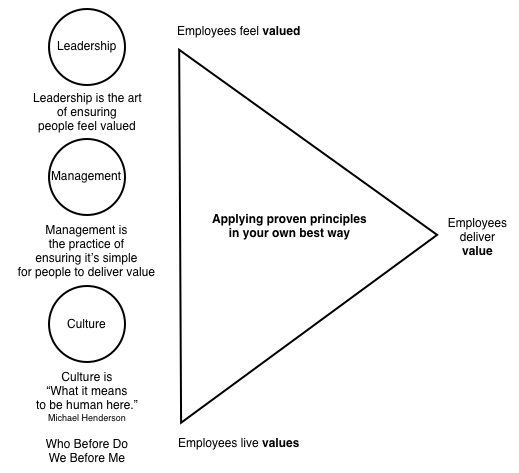 Machines are rapidly taking over algorithmic work. Soon they will do most of what's simple, routine and repetitive.
This represents a great opportunity for us humans.
A sure-fire pathway to grasp this opportunity is to increase the number of people being remarkable, and doing meaningful for them and highly valuable for others work. This is the new world of work for humans.
Read why we're all remarkable here and here.
Through working with more than 1000 leaders, women and men, in over 40 countries for over 25 years I've learned that to succeed in this new world of work you need leadership valueologists everywhere in your workplace.
Leadership Valueologist - person fully committed to the art, life-long learning, unlearning and relearning, and daily practice of fully appreciating and getting the best out of themselves and other people, and ensuring people feel valued, live values and deliver value.
In this very special online event I'll be exploring how you can become a Leadership Valueologist in your own best way.
We'll be using Zoom technology so you can join in from anywhere using your computer, tablet, or mobile device.
Places are limited for this event to enable everyone to have the opportunity to share.
A signature to all my work is that while what I say is important, it's nowhere near as important as what you hear yourself say to yourself, and then do your own unique work.
Be remarkable.
Ian
I've had the pleasure of working with Ian for close to two years in one-on-one and group settings. Ian's unconventional in his approach (refreshing!) but works to a brilliantly simple yet powerful philosophy that centres around our experiences as human beings (shocking I know!!). He's a purpose and values-driven mentor and team builder who I'd recommend to anyone.
Chris Pike, General Manager – Culture & Community, Surf Coast Shire Council
As a mentor to me and my family members who lead and manage our businesses Ian Berry has made a significant difference to our personal and business success including our 570% growth in just under 5 years.
Peter Taylor, CEO Townsend Building Services
We have had some great presentations at our breakfasts, and your presentation was one of the very best ever.
Malcolm White, Managing Director, Communicat
Ian's seminars are thought provoking and life changing.
Mark Kay, Department of Administration and Information Services