LeadershipHQ Coaching Accreditation Program

Monday, 30 October 2017 at 8:30 am

-

Tuesday, 31 October 2017 at 5:00 pm (AEST)
Event Details
Become a Licensed Leadership Attitude Coach!
Discover how to unleash your personal leadership power.
Learn to challenge, encourage and support others and create exceptional leaders
Gain access to our comprehensive and successful Leadership Attitude Coaching Toolkit 
The world needs more leaders! Leaders with vision. Leaders who understand people. Leaders who really care about helping people achieve peak performance and satisfaction. 
Are you that sort of leader?
If so, the world is waiting for you to share your skills. Become a Licensed Leadership Attitude Coach.
Also check out our ONLINE Program too at https://www.eventbrite.com.au/e/leadershiphq-coaching-accreditation-online-program-tickets-38316244920
What is Leadership Attitude Coaching? 
Leadership Attitude Coaching takes a very human approach to the building of leaders. This tested and proven program is based around how the human mind works. 
When you work with the human brain, rather than against it, you achieve faster, more powerful and long-lasting results. 
With LeadershipHQ's tailored program and proven coaching model, you will develop a strategy for coaching based on your unique strengths and abilities. You will fine-tune your existing leadership skills and stretch yourself beyond the standard coaching role.
What will the Leadership Attitude Coaching Program Give Me?
The Leadership Attitude Coaching Program will equip you with all the skills and knowledge you need to become an outstanding leadership coach.  You will learn to understand and use the coaching model which has been applied successfully across a range of industries from mining to retail. 
You will also be given access to a comprehensive 366 page Leadership Attitude Coaching Toolkit and Leadership Attitude book to support your work as coach. You will also receive a copy of our LeadershipHQ 360 Survey. 
You will be able to purchase additional copies of the toolkit and 360 surveys for yourself and your clients via LeadershipHQ Team at a discount.
What are the Benefits of this Program? 
You will become a better leader because you understand how the human mind works.

You will understand the key components of the coaching process and know when to use each one

You will have the Leadership Attitude Coaching Toolkit to guide you as a coach

You will help people realise their leadership potential and boost their capabilities

Your new skills will help your organisation reach its goals
 What YOU Get
366 Page Leadership Toolkit

LeadershipHQ Satchel

Leadership Attitude Book

Strengths Finder Assessment

LHQ 360 Assessment

LHQ Journal 

7 Module Online Program every Tuesday for 7 weeks from 7pm-8.30pm (will be recorded) 
What does the Program Cover?
 This two-day program will cover: 
The psychology of leadership development

Understanding the LeadershipHQ Leadership Model

Becoming a better leader

Identifying your personal strengths, beliefs and leadership vision, and how to use those to become an inspirational coach

Understanding and motivating people

The neuroscience of leadership

How to empower others to lead

Coping with change

Building your personal coaching business plan for the future
Who Leads the Program? 
The Leadership Attitude Coaching Program is facilitated by Sonia McDonald, CEO of LeadershipHQ. 
Sonia is a thought leader, dynamic speaker, entrepreneur and writer who has over 25 years' leadership development experience. Her natural ability to network, build connections and develop collective leadership within groups has become a trademark of her coaching and training approach. 
Sonia is an energetic and enthusiastic trainer and leadership coach, and will equip you with everything you need to become a successful Leadership Attitude Coach. She has worked for many years to help people create and build great dreams, leadership and businesses.
What does Licensing involve? 
To become a Licensed Leadership Attitude Coach, you must attend this 2 day workshop and sign a Confidential Licencse Agreement. This ensures you are completely ready to start or further your coaching career. 
Licensing also guarantees you our ongoing support as you build your business as well as free access to our Online Leadership Academy Site and Online Platinum Resource Centre.
Find Out More
Contact LeadershipHQ today for more information on how you can become a Licensed Leadership Attitude Coach at info@leadershiphq.com.au or 1300 719 665
Start your Leadership Coaching career today!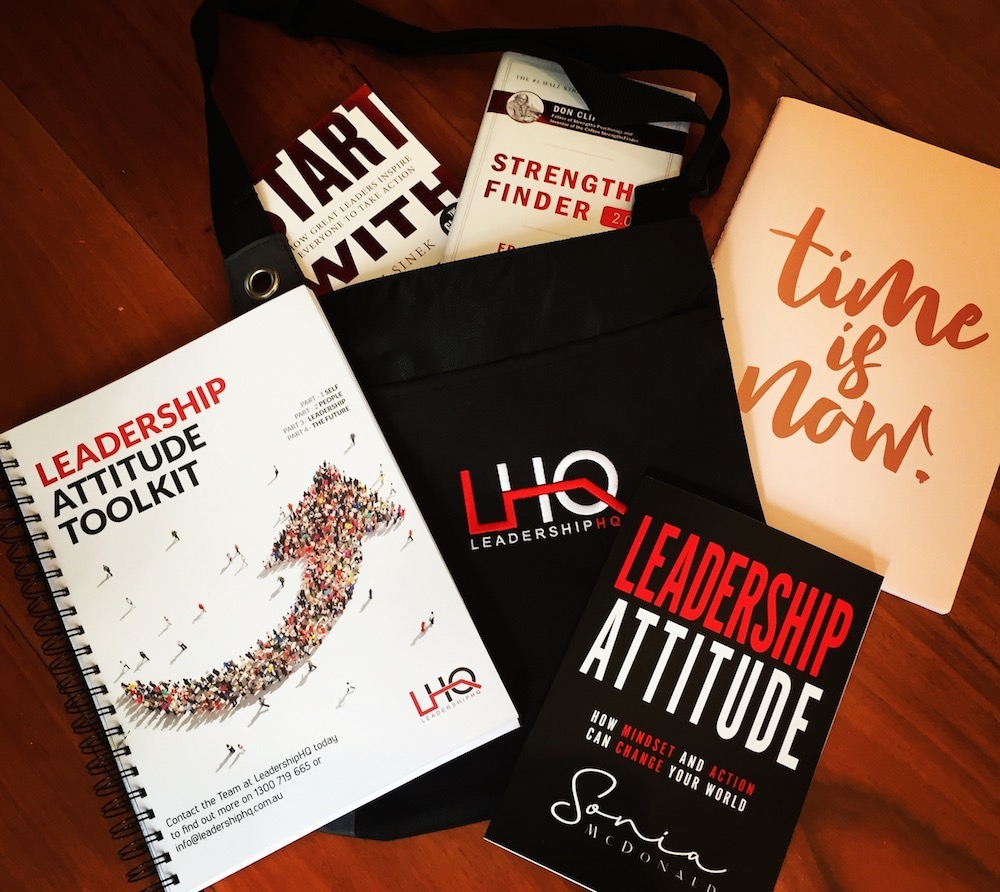 When & Where

The Brisbane Club
241 Adelaide Street
Brisbane City, QLD 4000
Australia

Monday, 30 October 2017 at 8:30 am

-

Tuesday, 31 October 2017 at 5:00 pm (AEST)
Add to my calendar
Organiser
 Our Why is to build Great Leaders & Leadership. We are the leaders of Great Leadership. 
The amazing LeadershipHQ team have over 30 years experience in delivering high impact, brain friendly and empowering leadership programs and events. LeadeshipHQ partner with organisations in delivering leadership programs and coaching, cultural alignment and development, business strategy, leadership assessments and diagnostics and online programs and resources. Our tribe of experts are some of the best in Australia.

They have worked with some of the Globe's top organisations and executive teams to create exciting new leadership approaches and programs. They have been responsible for inspiring leaders across the globe to believe in themselves and their leadership abilities. They have spoken across the globe on leadership and have inspired and coached 1000's!
Sonia McDonald CEO & Founder of LeadershipHQ's is also the tribe's key facilitator, thought leader, executive leadership coach to CEO's and Entrepreneurs and keynote speaker in the field of leadership development, neuroscience, change and strategy.  She is an expert in building great leadership and leaders across the globe. She is well known for her innovative and engaging approach to leadership, organisational development and neuroscience as it applies to leadership. 
LeadershipHQ's tribe present fun, engaging and practical programs – the kind where time passes before you know it, and you don't want these programs to end. Their programs and workshops are about change, growth and action.
You can find the LeadershipHQ team presenting at many formal and informal leadership events and conferences too around Australia.  
Find out more today how we can work with you at 1300 719 665 or info@LeadershipHQ.com.au
www.leadershiphq.com.au
www.soniamcdonald.com.au