Description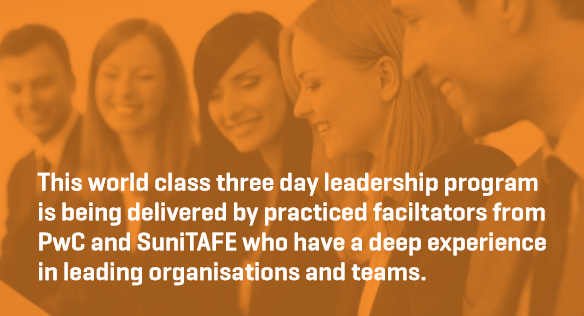 ABOUT THE PROGRAM
The program aims to assist individuals to take their leadership skills to the next level, with practical and interactive content presented in a workshop-based format. Participants will receive ongoing support as well as opportunities to share their experience through forums and networking.

The program will focus on the essence of leadership and will cover the following:
The leader
Emotional intelligence
Problem solving
Decision making
Delegating
The business
Core concepts
Management information
Operational plans
Change management
The team
Team effectiveness
Conflict resolution
People performance
Culture
About PwC
PwC is one of Australia's leading professional services firms, bringing the power of our global network of firms to help Australian businsses, not-for-profit organisations and governments assess their performance and improve the way they work. Having grown from a one-man Melbourne Accountancy practice in 1874 to the worldwide merger of Price Waterhouse and Coopers & Lybrand in 1998, PwC Australia now employs more than 6,000 people.
About SuniTAFE
Sunraysia Institute of TAFE (SuniTAFE) is a vibrant Institute with two main campuses located at Mildura and Swan Hill, rural campuses at Robinvale and Ouyen and a training farm at Cardross. Together these facilities provide vocational education and training for the people of Loddon Mallee north and beyond. Through the use of technology and a commitment to building educational partnerships that improve opportunities for students, the Institute's reach now extends far beyond the boundaries of its geographical location.
About the facilitators
Ian England - Managing Director PwC
Ian has been engaged for many years in running businesses in some form of stress, restructuring and turnaround work. This work has been carried out in Australia, the UK and Europe and a significant number of Asian countries. The work has been in a very wide cross section of industries and organisations from family owned businesses to publically listed companies. He has also provided a wide range of training with a key focus on banks. Prior to working at Price Waterhouse Coopers, Ian worked in executive positions covering a wide range of roles. These included running a major logistics operation, bulk commodity marketing, advising a Government Board and the Minister and running a large learning and education operation.
Racheal Fyfe - Teacher, Business Studies SuniTAFE
Racheal has over 18 years experience with executive management across a variety of industry sectors. She has had both public and private sector experience within the insurance, financial and medical industry and most recently within the Vocational Education and Training sector. Whilst participating in community activities and representing the Cancer Council Board, Racheal has put into practice her leadership and management skills. She extends these attributes to various awards and nominations for community achievement and involvement. Currently Racheal manages multiple cohorts of students studying Certificate IV, Diploma and Advanced Diploma of Leadership and Management qualifications at SuniTAFE.
When: Wednesday, 3rd to Friday, 5th May 2017
Where: SuniTAFE Mildura Campus, NCS Seminar Room, Benetook Avenue Mildura
Cost: $2,250 per person (includes GST) lunches, morning and afternoon tea included
Contact details:
Ross Humphreys
T: 03 5022 3666