Leaders Conference - The Cross of Christ Revival Rally Aus 2021 (IN PERSON)
All Leaders of the Gospel across the Body of Christ to attend a Leaders Conference (IN PERSON)
About this event
You're invited to hear International Guest Pastor Mark Goldwire (via videoconferencing) who will be coming to us all the way from Kentucky, USA. Mark has studied at Jimmy Swaggart Bible College in Louisiana and preaching from his home church the Compassionate Church of Jesus Christ in Louisiana preaching the Message of the Cross. In August 2019, he preached in Kenya and will return at a later stage, to now include India. He also preaches regularly on Victory Broadcasting.
Bro Mark will be preaching strong scriptural teaching based on the foundations of the Gospel, Christ and Him crucified and what it means to the believer.
Don't miss the chance to listen to what God has to say to leaders of the Gospel.
Venue:
The Message of the Cross Ministries International Network
Ipswich Showgrounds
81 Warwick Road
Ipswich Qld 4305
Costs:
Free entry. Lunch provided, tea and coffee included.
Bookings:
RSVP is essential for catering purposes.
Who should attend:
For all Pastors/Leaders/Youth Pastors/Men & Women's Leaders/Children Services Leaders/Evangelist Pastors including their wives/husbands.
Background - Part of a Three Day Rally (for more information please refer to our website.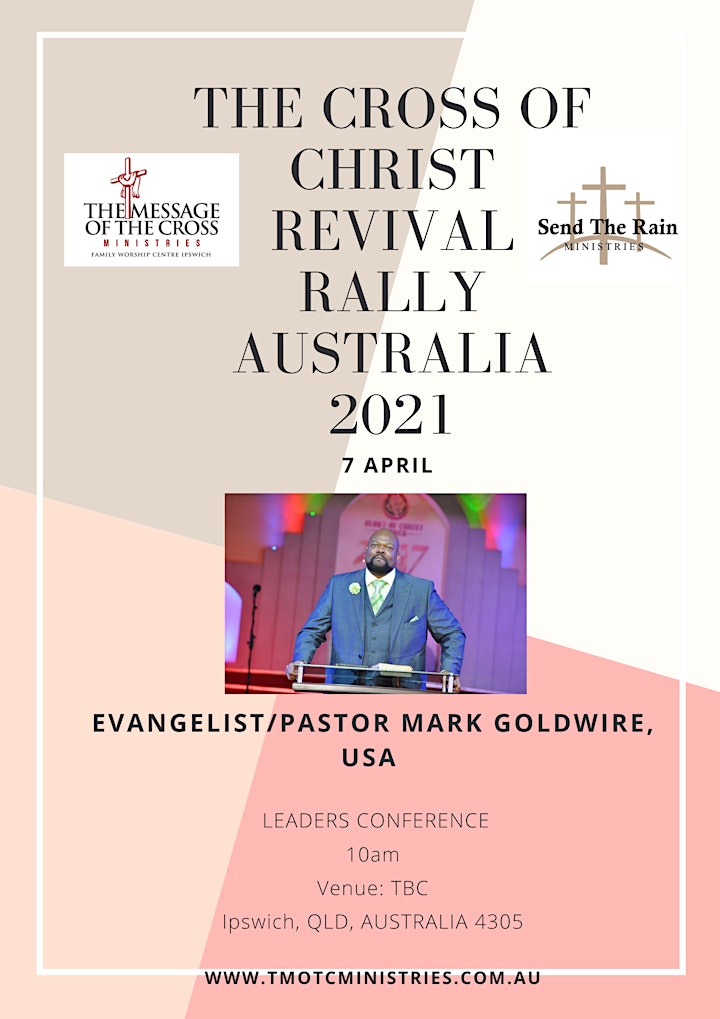 Organiser of Leaders Conference - The Cross of Christ Revival Rally Aus 2021 (IN PERSON)