Description
CONSULTANTS, SOLOPRENEURS, EXPERTS, THOUGHT LEADERS,
TRUSTED ADVISORS, SERVICE PROFESSIONALS
As a Thought Leader, one of the most challenging aspects of growing your practice is knowing not just what to do to market yourself effectively but in what sequence. In a sea of overwhelm and the never-ending to-do list, it's so easy to lose money on the wrong activities, particularly in the early stages of your business when you can't afford mistakes!
This program is designed to help you understand the lead generation activity most relevant to your practice and what specific steps to take at what time over the next 12 months.
Ultimately the goal of this program is to take your business to a turnover of at least $120,000 per year, 5000 social media followers and 3200 people on your newsletter list.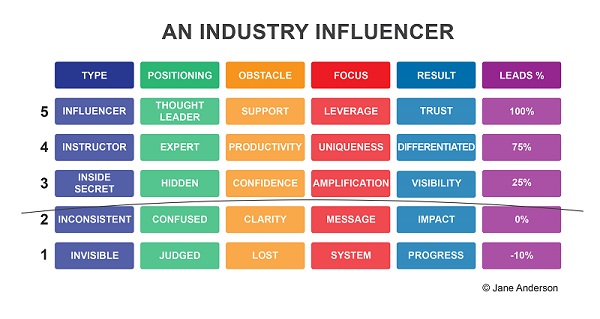 This 2-day workshop is perfect for:
Thought Leaders, Speakers, Consultants and Experts at the early stages of their journey

Business Managers and Executive Assistants for more experienced Thought Leaders
From this program you'll walk away with:
An assessment of your practice's current lead generation effectiveness using the Lead Generation Indicator. This is the latest diagnostic identifying where your strength in lead generation is, how to maximise it and what activities to focus on in sequence to grow your practice.

A 12-month strategy for your lead generation that will help you take your practice to at least $120,000 in revenue, your database to 3200 potential buyers in your target market and 5000 social media followers.

What social media activities will be most effective for you in your business, including Facebook, Twitter, LinkedIn and Instagram

What lead generation activities can be outsourced to local vs overseas support teams

A clear action plan of what specific tasks to undertake each day, week, month and quarter to generate those leads.

Tools to feel more confident in blog writing, video filming and podcasting

Strategies to save money and sequence your lead generation activities so you don't overcapitalise and waste money on the wrong marketing initiatives.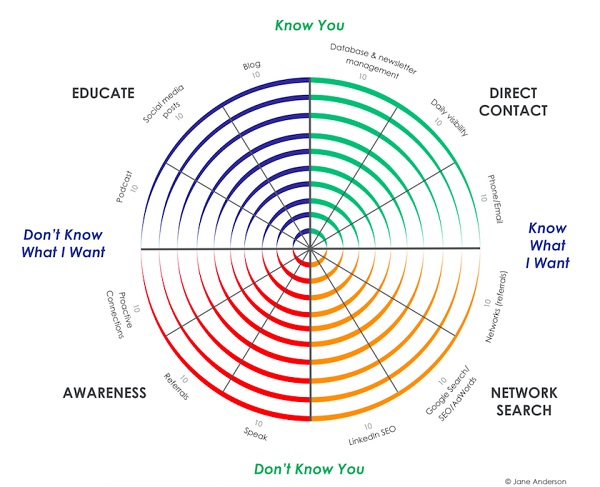 Bonuses:
---
Here's what some have said
"Jane is an extraordinary thought leader. Her work on presence and impact helps us stay real and connected in a crazy online world. Jane is the real deal her work is measured and substantial."
Matt Church, Founder Thought Leaders Business School ♦ Top 10 speakers globally
"I love Jane's work, and I love who she is as a person. She takes her own medicine – her profile is ranked in the top 1% of LinkedIn worldwide, and Feedspot recently rated her blog at #23 in the top 100 most influential branding blogs globally. She's my go-to person for any thought leader who needs to improve their brand, and needs to get in front of people in a new market. She's also the person who supports me around my profile and branding – I feel very fortunate to be her client. More than that, she's an inspiring person who is a pleasure to work with. Not only is she the best in Australia at what she does, she's generous, straight, and brings joy to her work."
Peter Cook, CEO of Thought Leaders Global
"Jane is a refreshing and contemporary expert on all things 'presence'. Whether it's your branding, your LinkedIn profile and optimising its use or how you are perceived in your market. Her intellectual property, born from extensive experience makes her stuff just 'pop'! It's clear, insightful and a bit of a game changer when it comes to getting noticed for the right things…no matter your field or industry."
Lynne Cazaly, Speaker ♦ Author of Making Sense, Agile-ish, Leader as Facilitator, Visual Mojo & Create Change
"If you are wanting to get traction with your business growth, lead generation and LinkedIn, there is no better person than Jane Anderson. She is a complete Thought Leader in this space and even better, she acts and lives her recommendations and is a beautiful, generous person with it. She takes you from ideas to action super-fast! I am in awe of Jane's drive, willingness to share and leverage everything for impact. Jane truly connects and makes impact. She is a world leader and an amazing, inspirational woman with it. I recommend you connect with Jane and your business and life will be better for it!"
Kelly Tomey, Founders + Creators ►Founding Females►Personal Branding ► Employer Branding ►Leadership ►Employer of Choice
"This lady is all class and total depth. Jane knows EVERYTHING about brand and positioning. I had the privilege of seeing her present and was impressed with the thoroughness of her research and effectiveness of her strategy. Not only that, but her humility, sense of service, and generous energy is inspiring. Get in line – I'm hiring her first!"
Zoe Routh, Leadership Mentor ♦ Author of COMPOSURE and MOMENTS ♦ Leadership Trainer ♦ Speaker ♦ Adventurist
"If you feel like you are not getting the traction from LinkedIn and you know that there must be more to it, it is time to tap into Jane Anderson's phenomenal insights. There are plenty of people claiming that they are LinkedIn "experts" but Jane delivers practical, tested strategies that work. She has tremendous knowledge and a deep understanding of how to build a meaningful network that matters. When you are ready to step up your LinkedIn impact, Jane Anderson is absolutely the best resource you will find."
Dan Diamond, TEDx Keynote Speaker ♦ Facilitator ♦ Leadership ♦ Motivational ♦ Burnout ♦ Performance ♦ Change ♦ Author: "Beyond Resilience"
"Jane's experience and knowledge shine through in her ability to connect, de-clutter and shape the way we work online. Not only is she a wonderful positive presence and a joy to work with, her vision and drive make it all the more engaging. She creates a real impact for those she works with and for."
Nikki Fogden-Moore. The Vitality Expert – Coach for CEO's and Fortune 500 Entrepreneurs ♦ Author ♦ Speaker ♦Corporate Vitality Specialist
"Jane is one of the most valuable speakers on Lead Generation and the value of LinkedIn. I had the pleasure of hearing her speak last year – she was clear, practical, and gave insights into the power of LinkedIn. I subsequently bought her book CONNECT and have implemented many of her recommendations. The result – a significant increase in my global network within my industry which has led to valuable working relationships. I post with more confidence and have had exponential engagement with my network."
Andrea Shepperson, Dentist ♦ Business Growth Expert