Location
JOLTED
342 High St
Northcote, VIC 3070
Australia
Refund policy
Contact the organiser to request a refund.
Eventbrite's fee is nonrefundable.
A recently divorced dad sound artist gorges on new lows in parenting, human engagement and generally being crap.
About this event
LE SCATTERMAN
26-29 MAY
8pm Thu-Sat & 3pm Sun
JOLTED 342 High St Northcote
Embrace your inner crap dad.
Lighting up the boards like a born-again Barry Humphries character, Le Scatterman "talked to himself, gesticulating and staggering around a couch or playing a prepared piano while opening one beer can after another. The uncouth antics were contrasted by candid images of his family. An undertone of failure pervades the character's indulgences" (Cool Perth Nights).
Le Scatterman addresses "the self-defeating idea of seeking the perfect life: the perfect husband, mother, child, society or artist" (Perth Cool Nights).
Part solo concert (prepared piano/guitar/voice/synthesisers), part commedia dell'arte, Le Scatterman features unruly flashes of stand-up comedy and a twist of performance art, delivered by Australia's recalcitrant sound artist James Hullick.
Intro Act:
The Le Scatterman show will be preceded by a short stand-up routine by emerging comedian Stuart Flenley who has been rising up through the NDIS sector.
Synopsis
While a vague narrative lingers, no two Le Scatterman shows are the same, with the artist changing around content as the show unfolds. In James Hullick we present an artist who is creatively free and in command of his art, such that the experience he offers can transcend the role of structure itself
But for those who like some meat with their potatoes:
Le Scatterman fails to pick up the kids and leaves them and their mother hanging. While they wait Le Scatterman entertains the audience with carousing and various numbers before 'working from home'. When working from home Le Scatterman learns that his ex might have moved on – without him.
In an era of high fidelity gender and the re-imagining of the modern male, many men are reshaping themselves. For some the task is almost incomprehensible. This imagining can be as hilarious as it may be daunting or unachievable.
In Le Scatterman we can see ourselves –creatures of gender categorisations, habit and desire trying to keep it together.
The role of Le Scatterman is played by leading Australian sound maker James Hullick. Structured around an array of James' genre-bending songs, music runs throughout the production. Shades of Bob Dylan, New Order, Stockhausen, Johnny Cash, Barry Humphries, John Cage and flat out sound art flesh out a work that affectionately pays homage to inspirational artists and their art.
The show Le Scatterman sits within James Hullick's Epic Topias Cycle. Similar in some regards to Wagner's Ring Cycle, Epic Topias is a cycle of mythic sonic media productions that tell of the interaction between Le Scatterman's family and first contact with alien travellers. The 16 productions within the cycle are being performed in Australia and abroad in 2020 and 2021.
Le Scatterman rides upon James' formidable array of talents – singer-songwriter, pianist, guitarist, electronic sound artist, comedian, video artist, actor, author, bullshit artist and all-round show-boater. James Hullick is a creative force of nature.
Image below: James Hullick performing Le Scatterman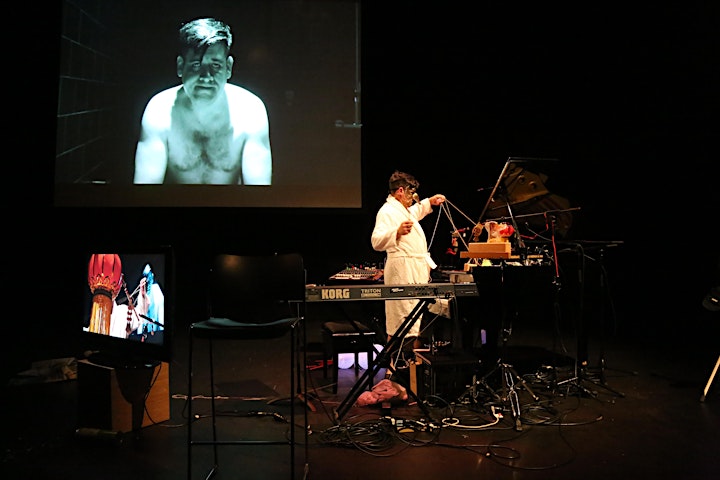 Cast & Crew
While James as Le Scatterman is the only 'live' performer in the work, several characters appear on video and in audio:
Live:
Le Scatterman — James Hullick
Video/Audio:
Freya, mother — Charlotte Bolcskey
Hnoss, daughter — Scarlet Bolcskey-Hullick
Gersemi, daughter — Astrid Bolcskey-Hullick
Intro Act:
Stuart Flenley
Production Credits:
Intro Act – Stuart Flenley
Director & Video Artist — James Hullick
Dramaturg — Geoff Dunstan
Producer — Charlotte Bolcskey
Sound Engineer — Michael Hewes
Lighting Engineer — Browyn Pringle
Cinematography — Cam Miller & Hullick
Production Manager — Jacob Munnery
History:
A shorter 30-minute version of the work premiered in 2016 at the State Theatre of Western Australia presented by Western Australia's trailblazing Tura New Music.
Image below: Stuart Flenley