| | |
| --- | --- |
| | |
Event Details
A play only in French.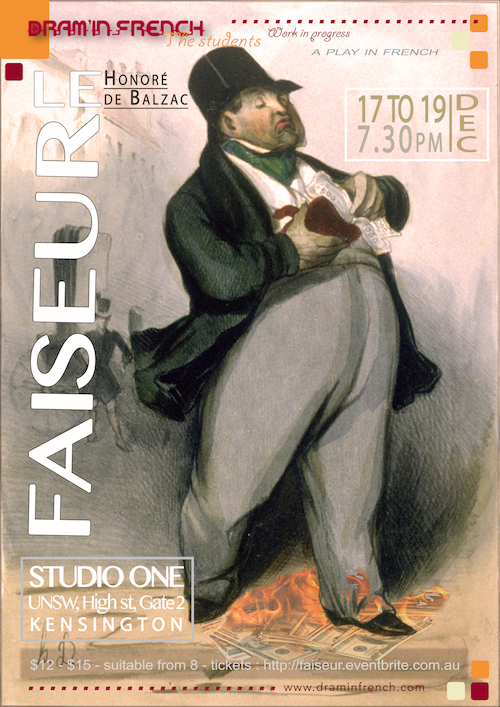 Le Faiseur, d'Honoré de Balzac.
mise en scène : Jean-Yves Brignon
avec : Selma Benkaza, Tatyana Boychenko, Julie Fontana, Giusti, Etienne Gauthier, Anouk Jurado, Céline Oudin, Constance Prudhomme, Virginie Sieg
---
Mercadet, homme d'affaires ruiné, tente de rassurer ses créanciers de plus en plus pressants. Pour cela il invoque un ancien associé, Godeau, parti faire fortune aux Indes et censé rembourser généreusement les dettes de Mercadet à son retour. Comme certains créanciers s'impatientent, Mercadet décide de marier sa fille Julie à un riche jeune homme : monsieur de la Brive. L'idée lui a été soufflée par sa femme, elle-même conseillée par son jeune galant, M. de Méricourt. Malheureusement, monsieur de la Brive, qui cultive deux identités, est encore plus endetté que Mercadet. Au reste, Julie est amoureuse d'un garçon pauvre : Minard. Mercadet démasque le jeune Michonnin de la Brive et tente de le faire passer pour Godeau, mais le subterfuge est éventé. À l'acte V, tel un deus ex machina, toutefois, Godeau est censé être rentré à Paris et aurait payé les créanciers de son ami : c'est en quelque sorte la fiction qui a engendré la réalité dans la pièce. Au reste, Minard, fils naturel de Godeau, est riche.
La pièce tourne en dérision pêle-mêle les spéculateurs, les usuriers, les créanciers et les débiteurs, mais plus globalement encore un capitalisme financier qui spécule en fonction de rumeurs, d'apparence d'opulence ou de délits d'initié. Les créanciers continuent d'avancer de l'argent à Mercadet sur la foi de ses promesses. Lui-même ment ou manipule l'information à son avantage pour spéculer à la baisse ou à la hausse.
When & Where

Studio one
UNSW, High St
Gate 2
Kensington, NSW 2031
Australia

Organiser

Mission
Produce and direct performances and movies in French with English subtitles and bilingual plays.
Description
We offer worshops and Drama classes in French for kids, teenagers and adults. Learn, discover, practice and improve your acting.
The company Dram'in French was founded in 2010.
------------------------------------------------

La compagnie produit et dirige des spectacle en français sous-titrés en anglais et des pièces bilingues.
Apprenez, découvrez, pratiquez le théâtre. La compagnie propose des ateliers et cours de théâtre en français pour enfants, adolescents et adultes.

N'hésitez pas à publier toute information que vous pouvez connaitre dans le domaine du spectacle et du cinéma.

La compagnie Dram'in French a été créé en 2010