Lauren Guymer Workshop: Exploring landscapes in watercolour
... because you've asked for it, we're running another workshop!
About this event
Explore landscape drawing and painting with local artist Lauren Guymer in this 4-hour workshop.
Taking inspiration from outside, Lauren will share her self-taught techniques and processes while working from inside the studio. During this workshop she will lead you through the stages of a landscape, from planning compositions to colour mixing and mark-making. Watch her demonstrate pulling apart a landscape before putting it back together again, while embracing the fluidity of watercolour and her imagination. Lauren will discuss the fundamentals of watercolour painting, and the tools needed to achieve it. This workshop is designed for all abilities.
Lauren Guymer has exhibited in numerous exhibitions with local and national galleries, including her debut solo show 'Parallel Universe' at Off The Kerb Gallery in 2016. In 2017 she won the 'Best in Show - Other Medium' prize at Art Red Hill and then went on to become a finalist in the 2018 M16 Drawing Prize, the 2019 Small Wall Project at Outré Gallery and in 2019 and 2020 respectively, a finalist in the Lloyd Rees Memorial Youth Art Award, Gallery Lane Cove, Sydney and Landscape Prize, Southern Buoy Studios, Mornington. Her work can be found in private collections across Australia, UK, USA, Iceland, and Finland, as well as public murals located in Melbourne and Iceland.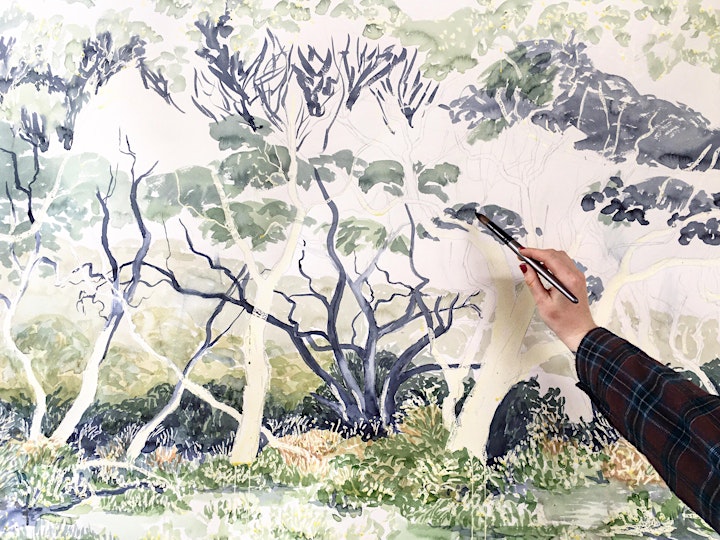 Organiser of Lauren Guymer Workshop: Exploring landscapes in watercolour