About this Event
Learn from some of our best and brightest startup experts as they share their knowledge in a 1-hour masterclass, designed to support you in building and growing your startup. We've assembled a stellar cast of talented leaders who will provide you with invaluable insights across various topics including branding, PR, legal considerations, culture, and corporate offerings. Register for individual and/or multiple webinar masterclasses to support your entrepreneurial journey.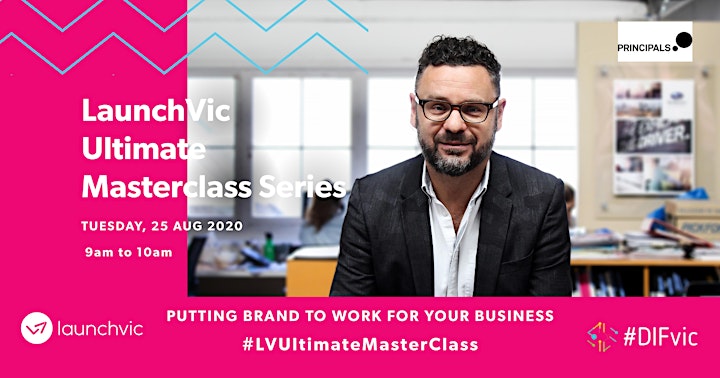 PUTTING BRAND TO WORK FOR YOUR BUSINESS
Masterclass 1: Principals - 9.00am AEST
Presented by: Tim Riches, Director
Today's start-ups and innovative businesses have to move quickly, so how can you make your brand work harder for your organisation? Rather than building a business and then doubling your effort to build a brand, do both and use your brand to drive your business strategy.
We'll work through the questions you need to ask and elements you need to define to build a meaningful brand that is differentiated, authentic, distinctive and memorable, including what goes into a brand framework, how to express your brand and tell your story, and how make your brand experience unique, not category generic.
Join Principals Group Strategy Director, Tim Riches share how to put brand work for your business.
About Tim
A director of Principals and heading the strategy team, Tim has worked in branding, communications, design and research for 25 years. Some of his favourite projects include work with Tourism Australia, Australian Red Cross Lifeblood, Westpac, Officeworks and Transurban. For the last 6 years he's been a judge of the Australian Good Design Awards for categories including Digital, Communications, Service Design and Social Impact. To help him cling to sanity in iso, Tim has doubled down on cooking, gaming and gardening, and reduced his drinking to moderate levels.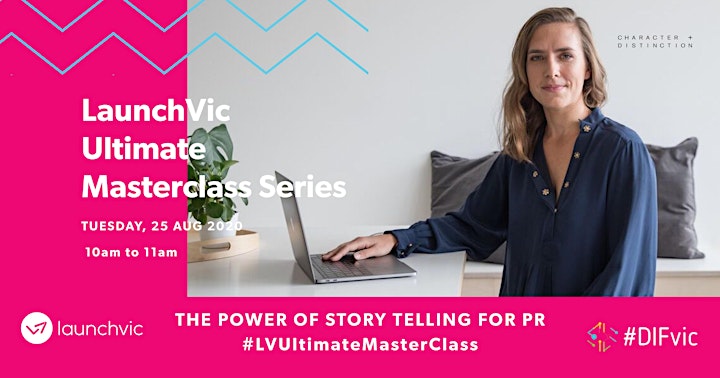 THE POWER OF STORYTELLING FOR PR
Masterclass 2: Character & Distinction - 10.00am AEST
Presented by: Sarah Gundlach, Senior Communications Consultant
In this session, Sarah will discuss the key elements of storytelling for brands and how to utilise the power of storytelling for public relations. Whether you're a startup founder, community builder, government agency or corporate going global, storytelling is a foundational tool for creating meaningful connections and achieving your goals.
About Sarah
A marketing and communications expert with an eye for detail, Sarah helps entrepreneurial brands build traction and credibility. She has worked in-house and as a consultant with a broad range of organisations, from startups to ASX-listed businesses and international organisations across the technology, startup, education and government sectors. She specialises in strategy, communications and activations for progressive brands.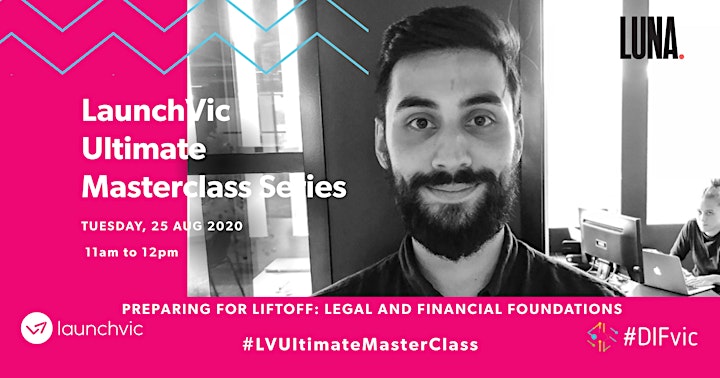 PREPARING FOR LIFTOFF: LEGAL AND FINANCIAL FOUNDATIONS
Masterclass 3: LUNA - 11.00am AEST
Presented by: Josh Sharma, Startup Advisor & Lawyer
Growing a startup is like climbing a mountain - Can you do it yourself? Well, yes. Do you need years of elite training just to get started? No (but it can help to chat to a couple of seasoned climbers to know just what you're in for). Where do things get rocky? Will there be ice? Do I need a co-climber for the ascent?
Anticipating and preparing for the trickier aspects of growing your business will make getting to the top much easier, less stressful (and more fun!).
Legal and accounting experts, LUNA have helped hundreds of founders launch and grow successful ventures, gathering the experience, tools and roadmap to help you navigate the challenges of the startup journey. Join to explore:
The most important legal and financial considerations and decisions for startups;
The most common pitfalls and how to avoid them; and
Future-proofing your business with strong foundations.
About Josh
Josh is a Startup Advisor & Lawyer at LUNA. LUNA is a full-service startup studio that works with startups to help them grow and scale by offering legal, financial, educational and strategic services. Josh has a broad range of experience advising startups on a range of matters across the lifecycle - from structuring and employee incentives to capital raising, in both a legal and commercial capacity. Josh is also an experienced facilitator, working with schools, universities and major organisations such as RedBull to deliver meaningful educational programs and workshops for entrepreneurs and startups.
TRADITIONAL VS ALTERNATIVE MEANS OF CAPITAL RAISING
Masterclass 4: Corrs Chambers Westgarth - 1.00pm AEST
Panelists: Jonathan Farrer - Partner, Kon Mellos - Partner, Fran Wheelahan - Partner, and Anton Bobenko - Senior Associate
This session will consider the pools of capital available to startup companies, including traditional and alternative funding strategies. Corrs partner Jonathan Farrer will lead a panel session with other senior team members from Corrs, Kon Mellos, Anton Bobenko and Frances Wheelahan, to consider the pros and cons of a number of funding options and when each might be appropriate for a startup company. Some of the more traditional funding methods considered will include family and friend raisings, angel investors, high net worth investors and venture capital. The panel will also consider other funding options including licensing deals, grants, crowdfunding and debt funding options.
About Jonathan
Jonathan leads the startup practice at Corrs and specialises in M&A, strategic advice and capital raisings. He regularly advises foreign companies on investments in Australian startups, including advising Tencent on its investment in Airwallex, Omio on its acquisition of Rome2Rio and a number of US venture capital firms and unicorns. He is passionate about helping Australian startups and has advised on numerous startup capital raisings.
About Kon
Kon is a corporate lawyer with a particular focus on representing financial sponsors on their investment transactions and fundraising activities. He advises fund managers, superannuation and pension funds, sovereign wealth funds and other institutional investors on domestic and international investment transactions, and on establishing and investing in domestic and international investment funds. Kon has particular expertise in alternative investment classes, including venture capital, private equity, private debt, infrastructure, real estate and hedge funds.
About Fran
Fran is a Partner in the Intellectual Property and the Technology practice groups. She has acted for a wide range of clients over 20 years in connection with franchising, consumer law, privacy, technology procurement and the management, protection and commercialisation of intellectual property. Fran acts for some of the world's largest private sector organisations, research organisations, universities, governments and start-ups. During her career, Fran has been seconded to work in-house with the CSIRO, Roy Hill, Foster's/CUB, Coles and ANZ.
About Anton
A corporate lawyer with over 10 years of experience (including more than two and a half years in London), Anton advises financial institutions on their equity investment, equity divestment and fundraising activities. Anton specialises in all aspects of corporate work relating to private funds, and acts for both sponsors and investors across a number of asset classes (including infrastructure, private equity, venture capital, debt and real estate).
CREATING A BETTER WORLD OF WORK THROUGH CULTURE
Masterclass 5: Culture Amp - 2.00pm AEST
Presented by: Katy Stevens, VP Asia Pacific
On a mission to create a better world of work for over 100 million people, Culture Amp have their finger on the pulse when it comes to creating great organisational culture. In this session, Katy will share why culture matters, how to create an exceptional culture – and how to scale it as you grow – plus the latest insights from Culture Amp's People Scientists and practical examples from leading global companies.
About Katy
Katy leads Culture Amp's cross-functional group of Sales, Customer Success, People Science and Marketing professionals responsible for growing and retaining hundreds of customers across APAC. Our mission is to create a better world of work by amplifying the experience, and impact, of over 100 million people at work. Delivering a world-class product, educating people geeks, and a thriving community is how we are doing that.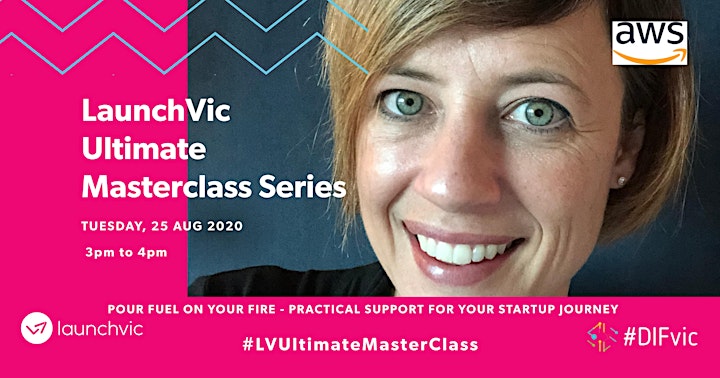 POUR FUEL ON YOUR FIRE - PRACTICAL SUPPORT FOR YOUR STARTUP JOURNEY
Masterclass 6: Amazon Web Services - 3.00pm AEST
Presented by: Colette Grgic, ANZ Head of Startup Ecosystem
Every founder getting started dreams of solving big problems, having big impact, and achieving success to be proud of. Working backwards from those goals can be hard, especially if you haven't traveled that road before. The Startup team at Amazon Web Services have worked with thousands of startups in Australia and New Zealand, and we've been incredibly lucky to play a part in supporting everyone from first time founders to Australia's most iconic unicorns along their journeys. We've learned what works, what doesn't... and we've built a number of programs and resources that helps startups at every stage of that journey. With practical cheat sheets, and goodies to fuel you along the way, this is a session to top off the day and get you making progress right away.
About Colette
Colette Grgic has been an active participant and champion in the Australian innovation ecosystem across startups, corporate innovation and university R&D. She's founded her own startup, ran 12 accelerator programs and prior to joining AWS helped founders build 150 startups with BlueChilli's venture studio. She's also worked with some of Australia's largest companies to innovate like, and with, startups. With business experience in ANZ and SEA, Colette is passionate about enabling a vibrant, valuable and sophisticated startup ecosystem. This has drawn her to join AWS as the Head of Startup Ecosystem to have impact at scale, at a company where it is always day 1.