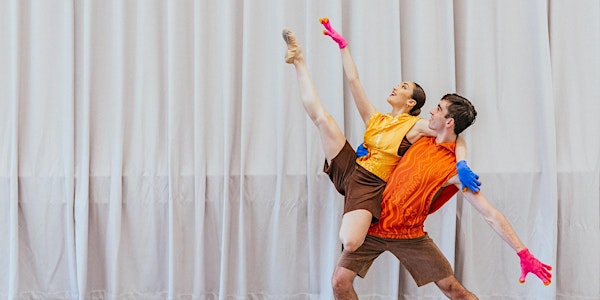 Launceston Dance Performance - The Story of Pomi & Gobba, & student sharing
Location
Kim Roe School of Dance
89-91 Meredith Crescent
South Launceston, TAS 7249
Australia
Youth from Launceston will share a new work they created, followed by a professional performance by two dancers from The Australian Ballet
About this event
Support creative young people in Launceston and see a professional performance by The Australian Ballet Education and Outreach team!
The performance begins with the sharing of a new dance work created by young people in Launceston, in collaboration with The Australian Ballet Education and Outreach team. This is followed by a 20-minute professional duet, The Story of Pomi and Gobba, a dance performance for all ages.
The Story of Pomi & Gobba
Choreography by Ella Havelka, Music by Tristan Fields, Design by Lillian Hull
This story was inspired by the Wiradjuri Dreamtime story 'Gobbagumbalun and Pomingalarna' which is local to the area many of us know as Wagga Wagga.
Pomi and Gobba is the story of two non-binary frogs that live on opposite sides of the Murrumbidgee riverbed, Wiradjuri country. Gobba is meant to protect the nest with the brothers and uncles, but instead prefers to craft the most beautiful nests out of wattle, feathers and leaves. Pomi is assigned to build nests with the sisters and aunties, but instead prefers the excitement of looking out for danger.
Both Pomi & Gobba feel as though they don't quite fit in with the other frogs and often go wandering along the riverbed alone. One day while out exploring, Gobba and Pomi meet one another and immediately strike up a friendship. They find common ground as misfits and continue to see each other, despite the frog families' disapproval. Ignoring their Elders warning, Pomi & Gobba find themselves in danger and must overcome their feelings of failure to get home safely. After a perilous journey back home, Pomi and Gobba realise the importance of listening to their Elders, whilst discovering just how powerful their resilience and strength can be, despite being different to most frogs.
***Estimated running time of event = 40 min***