Description
In this presentation, 'Laughter is the Best Medicine' Paul will draw on his experience and research on this topic. He will consider the low profile of humour historically. The worm has now turned; a new quality of spirituality presents itself. Since the middle of the 20th century, medical research has begun to document the strong association between humour and health generally and mental health in particular. Between a steady stream of humour and laughs, Paul will argue that indeed laughter is the best medicine. During this forum, we will see that ancient Christian texts are laced with humour that call for holistic understanding of this argument.
There will be an opportunity to participate in 'Laughtercise' during the workshop.
Event is on Wednesday 20 March 2019, from 12-1pm, followed by light refreshments.
Brief Bio for event: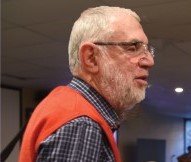 Speaker - Dr. Paul Mercer
Dr. Paul Mercer is an experienced general practitioner, active speaker and commentator on health issues. Laughter is an important aspect of his medical practice. He is married with three children and seven grandchildren, who regularly bring the gift of humour into his life. He has presented at public forums on spirituality and wellbeing.
Main photo by Naassom Azevedo on Unsplash. Retrieved from https://unsplash.com/photos/Q_Sei-TqSlc