A daily dose of belly laughter is the fastest and most economical way to release stress and keep healthy. Regularity is the key! It's easy
About this event
Do Laughteryoga for your complete body-mind wellness. We need ten to fifteen minutes of solid belly laughter daily! E.g. 3 x 4 minutes per day. Benefits:
• Regular Laughteryoga can do everything from improving memory, to boosting your immune system.
• Laughteryoga involves deep diaphragmatic breathing, which fully oxygenates the bloodstream and major organs.
• Research shows that regular practice of Laughteryoga generates a positive state of mind, with increased optimism. 3 Points
• Laughteryoga is intentional or created laughter. It provides the same benefits as spontaneous laughter, i.e. It produces your own natural chemicals, toning every body system!
! • This stops the production of stress chemicals.
3 reasons to use the physical breathing of Laughteryoga:
➢ The real health benefits for your personal wellbeing
➢ To strengthen connections with people
➢ Gain mental clarity, concentration and control.
Outcomes: ➢ Effective Strategies to diminish stress and deal with anxiety ➢ Improve your physical, mental and social wellbeing.
➢ The Ability to Manage Change through creative flexibility
Fun for your life! Don't just survive, thrive! Generate healthy results in your body, heart and mind by enjoying the awesome benefits of Laughter yoga. You laugh along with millions around the world! Live longer, Live stronger!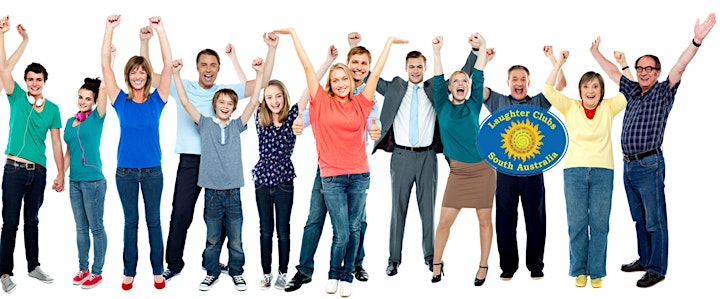 Organiser of Laughter Clubs SA Saturdays