A night under the palm trees of Latino music, unlimited pizza & margaritas! Bringing the Latino culture to St Kilda!
About this event
WE ARE OUT OF LOCKDOWN AND READY TO PARTY WITH OUR MAMI'S AND PAPI'S!
We are bringing Latino House music and cultural vibes to St Kilda for ONE NIGHT ONLY. In partnership with PB's Pizza Bar and Fieston Loco Entertainment, we are hosting a Latino Party with BOTTOMLESS pizza and cocktails for the first 2 hours of the event (From 730pm to 930pm). As the night gets darker, we will transform our pizza bar to a dimly lit cocktail party with live DJ's late into the night!
What your Bottomless ticket includes:
2 Hours of Unlimited Pizza (Margherita, Pepperoni, Vegan Margarita) - 730PM TO 930PM
2 Hours of Unlimited Margarita Cocktails (Flavours to choose from - Traditional Lime, Mango, Strawberry, Watermelon) - 730PM TO 930PM
Live DJ entertainment from Fieston Loco all night - 6PM TO 1AM
Latino Drink Specials all night - 6PM TO 1AM
If you are arriving after 930pm, your general ticket does not include food and drinks offering, but valid entry into the event all night!
So tell your Colombian, Mexican, Argentinian and Chilean friends to come and party with us - all is welcome! Live DJ's and entertainment all night long.
We cannot wait to serve you and have some fun.
NOTE: ***UNFORTUNATELY DUE TO THE CURRENT STATE-WIDE GOVERNMENT RESTRICTIONS, THERE WILL BE NO DANCING AND NO DANCE FLOOR AVAILABLE. We apologise for the inconvenience however this is for the safety of our community. Guests will be encouraged to sit at their tables with their friends. Thank you for understanding! Please, don't forget your face masks - no face mask, no entry!
For further event information, please contact:
MELISSA YU (MCO EVENTS) - Event Organiser and Venue Manager - 0413 185 088
JAVIER ORLANDO BARAJAS MONTES DE OCA (FIESTON LOCO) - Event Promoter and Ticket Sales - 0404 976 897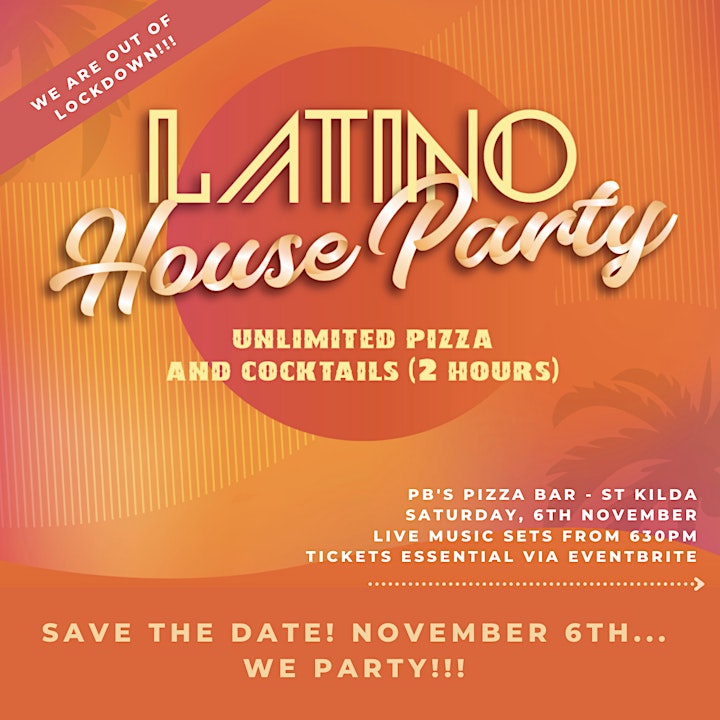 Organiser of Latino House Party, Bottomless Pizza & Cocktails Pop-Up in St Kilda
MCO Events is a boutique corporate event management and branding company dedicated to helping businesses communicate their purpose, message or impression to their audiences around Australia.
Our services include event communications, corporate event organization and time management, project management, budget management, event staff management and event marketing and public relations. MCO Events commit to a broad range of events management services such as promotion, communications, consulting and equipment organisation.