Location
muru-D
Level 9, 175 Liverpool Street
Sydney, NSW 2000
Australia
Description
Go big or go home? Too often we boil the ocean when we consider new markets to explore. Developing a new pathway to an undiscovered market needs a plan. A plan that minimises risk and increases the chance of returns. But what you learn along the way can determine whether you sink or swim or beat the odds and create a new ocean to operate in.
To get you on track, our highly experienced intrepid panel will cover the following:
How to take the first steps?

What approach can you take to remove risk?

What might success look like?

How to be realistic with your timeline?

How to manage your investment and test the market first?

Prove the market and take your next steps.
Who should attend
Founders currently validating the Australian market and curious to learn where to venture next.

Ambitious founders ready to take on a new market and are serious about growth.

Anyone interested in learning about markets outside Australia and the opportunity they might hold.
To answer your questions on how to formulate a plan for expansion overseas, we have brought together an incredible group of speakers that have tried and tested ways to expand in various regions. Each panelist brings with them their own perspective on entering a new market and all can provide insight into different areas of the world.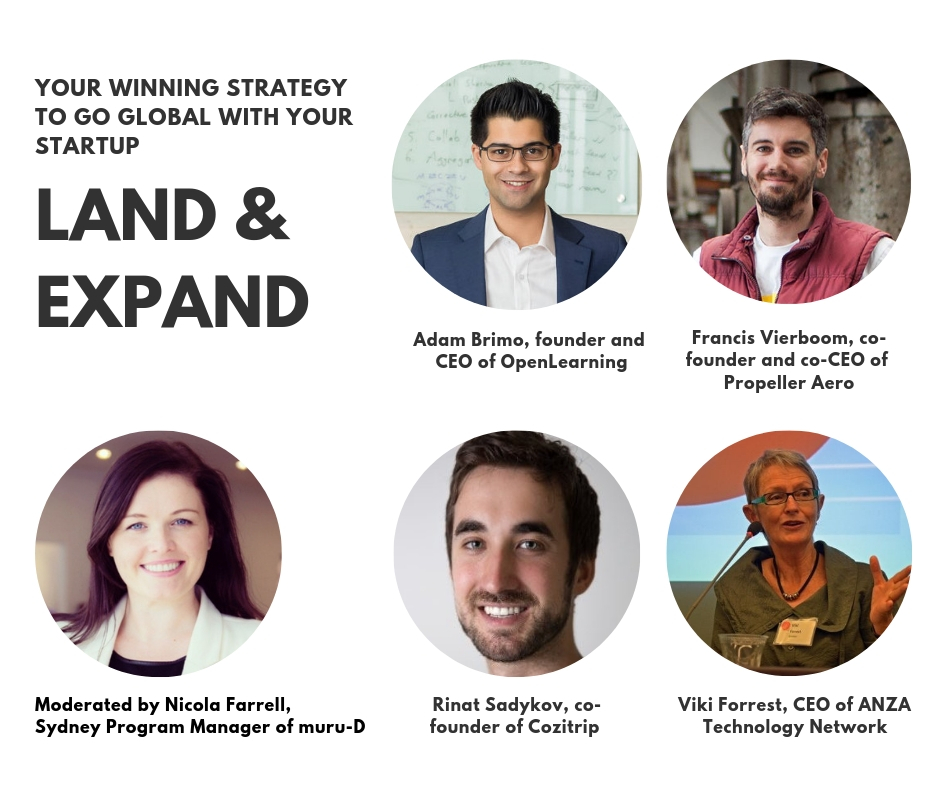 The Panel

Adam Brimo, Founder of OpenLearning
In 2012, Adam joined world-renowned UNSW Prof Richard Buckland and David Collien to found OpenLearning.com, a social learning platform. Over one million students have joined courses, including the first massive open online courses (MOOCs) from Australia and Malaysia, where it is the national MOOC platform for public universities and polytechnics. OpenLearning now employs 65 people and is headquartered in Sydney with its Southeast Asia head office in Kuala Lumpur. In recognition of the impact OpenLearning has had on the education sector in Asia, Adam was named one of the Forbes 30 under 30 Asia in the Consumer Technology category in early 2017.
Francis Vierboom, co-founder and co-CEO of Propeller Aero
As the co-founder and co-CEO of Propeller Aero, Francis Vierboom has been at the forefront of developing the commercial drone industry. Identifying the opportunity for industries like resources and construction to have collaborative access to quality site data, Francis and his co-founder Rory have built Propeller Aero into an Australian Drone Tech success story with more than 20 employees and thousands of customers in over 70 countries.
Rinat Sadykov, Co-founder of Cozitrip

Rinat is the Co-founder of Cozitrip, Sydney-based startup building a B2B travel platform that allows Chinese travel agents to make bookings at hotels in Australia and New Zealand. Cozitrip has raised $2million to expand into the Chinese market and now has a team of 15 across China and Australia. They're currently exploring business opportunities in New Zealand, Vietnam, Europe and Korea.
Viki Forrest, CEO of ANZA Technology Network
As the CEO of ANZA Technology Network, Viki has showcased over 200 Australian and New Zealand companies in Silicon Valley and is credited with bringing 70 Australian companies to the US. Her innate ability to fast-track companies to growth-stage is reflected in her clients successfully landing strategic partners and closing early customer deals. In a world where only 0.6% of startups successfully raise venture capital, Viki is proud to have helped 20% of her Australian companies raise in excess of $35m in seed and A-round financings.
Moderated by
Nicola Farrell, Sydney program manager of muru-D
Nicola knows a bit about landing and expanding herself, as she arrived in Sydney in 2011 to fall into the startup space, working for startup incubator, Pollenizer. Nicola is a startup specialist with 9 years of deep experience working with startups at every stage. After working for a number of startups in Dublin, Nicola transitioned to running startup programs to back early-stage ideas by giving them a better start to go further. She has designed and delivered many high profile programs. Previous projects include Web Summit, Pollenizer, CSIRO, Google, AGL and Telstra's muru-D.
About muru-D
muru-D is a startup accelerator running programs in Sydney, Melbourne, Brisbane and Perth and help founders scale their startup smarter and faster. We're backed by Telstra, a world-class technology company.
muru-D Sydney is on the search for startups working on challenging global problems. They are seeking startups exploring a range of technology from Apps to SaaS and also deep technology such as aerospace, robotics, machine vision, and med tech.
muru-D's terms are extremely founder friendly. The investment is $75,000 on an uncapped SAFE* note with 50% discount. *SAFE note: Simple Agreement for Future Equity (SAFE) note.
Applications for the next Sydney program open on 2 October and close 2 November 2018. The program kicks off 30 Jan 2019 and runs for 6 months. Startups are taken on a 10 day International Trip to a Startup Hub as part of the program.
FAQs
What are my transport/parking options for getting to and from the event?
We're located across the road from Museum Station. Metered street parking is available and there is a Wilson Carpark located under the building.
Any food?
Yep, we'll be serving a light breakfast. If you'd like barista coffee, grab one from The Naked Duck, located on the ground floor of our building.
Photo by Artem Bali from Pexels. Thank you.