Verse Nerd Graduates - let's go next level!
About this Event
**Please note this weekend we are at 250 Narrabundah Lane**
This new four week workshop series is for the Verse Nerd Graduates from the previous Lakespeare workshops. This work will be extremely advanced and a fair amount of homework will be required by participants. Text will be sent before the first session.
By the end of the course you will have a deep understanding of how to tell the story with all the verse techniques and acting options presented in this course. This course tests the previous work of participants and enters the world of the rehearsal room where different acting techniques need to work in tandem with the verse technique to create ultimate story telling. It will be a thrilling four weeks!
Actors, Teachers or enthusiasts will all get something out of this course. Drop ins for one or two afternoons only is perfectly fine. You can select which date you wish to drop in for via the ticket options. All text and information will be sent to beforehand to those who are dropping-in for one session only.
People are welcome to try the Saturday course and the Sunday course concurrently. Actors wishing to audition for drama school or join the Lakespeare company will get a huge amount from any of these workshops.
There is a mix of group work, partner work and a lot of individual attention and coaching provided by Lexi Sekuless, Co-Artistic Director of Lakespeare & Co, and some visiting guest teachers.
If you would like to join the Lakespeare company then we strongly suggest you join our workshops as it is extremely important that we get to know people fully. We will be casting for our 2021 show soon and even just dropping in to one session provides everyone a chance to work together without the pressures of an audition environment.
SESSION ONE October 25 12pm-5pm - Technique review
SESSION TWO November 1 12pm-5pm - Integrating acting with Shake 1
SESSION THREE November 8 12pm-5pm - Integrating acting with Shake 2
SESSION FOUR November 15 12pm-5pm - Duologues with Christopher Stollery
All sessions $200 [select the four week ticket]
Drop in single session $60 [select the date you would like via ticket menu]. Payment before or Square Reader card payment available at the workshop.
What if I'm not quite a Verse Nerd Graduate?
If you did the Intro to Verse half day workshop then it's best to sign up for the Beginner Course.
If you did the Intro to Verse half day workshop and the day long Verse Intensive but missed the Monologue Intensive then you might like to sign up for the Advanced Course and you are welcome to add in session two and/or three from the Beginner Course as complimentary days to review and get up to speed with all the Advanced participants.
If you did all or some of the Verse Nerd day workshops a while ago and you feel a bit rusty then sign up for the Beginner Course as we will review all that work and go deeper into techniques as the four weeks allows for so much more time!
If you are really unsure about which course is best for you then please email info@lakespeare.com and don't forget you can always attend just one day in order to tackle that one element of technique you keep dreaming about.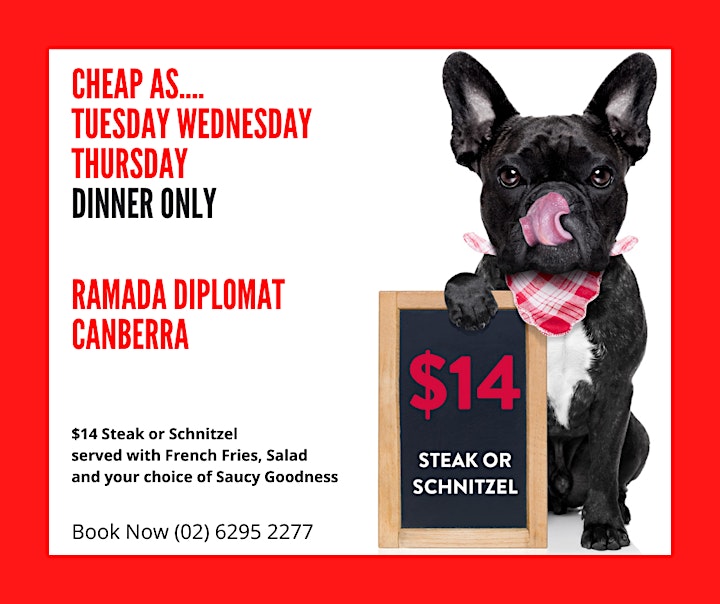 Lakespeare HQ is in a new enclosed outdoor space in Narrabundah. This open space allows for plenty of fresh air in a covered area. There is plenty of parking, bathrooms and power but if you don't like the outdoors then it might not be the right space for you. There are no kitchen facilities so please bring any food and drink you might need in suitable containers. This space is large enough to maintain all social distancing and COVID safe practises.
Booking for participants is essential. Although drop in participants may just turn up and pay at the end of class.
Attendees will need to participate in the Lakespeare COVID safe protocol of temperature check on arrival, submitting details which will be kept for 28 days and only shared with Government Health Officials if required, maintaining social-distancing, single touch protocol and use of hand sanitiser provided.
The Lakespeare Team
info@lakespeare.com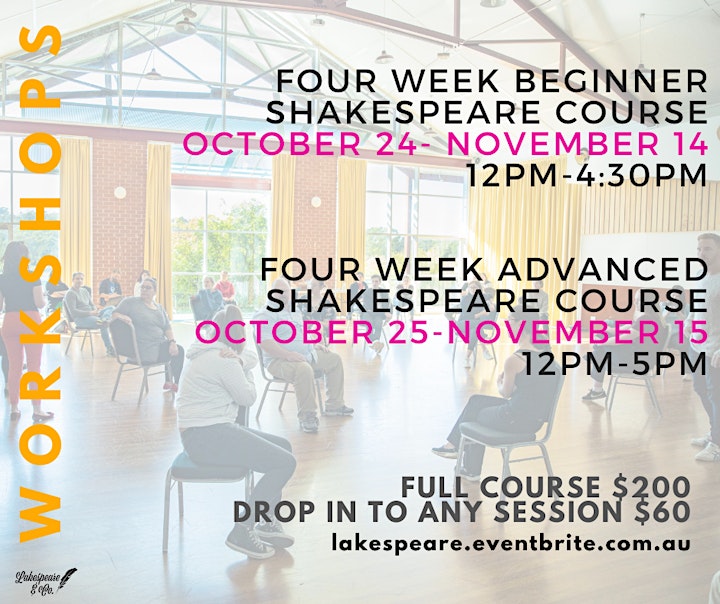 Course Tutors
Lexi Sekuless
Lexi graduated from London's Royal Central School of Speech and Drama from their Bachelor of Acting program with first class honours. During her three years training she learnt acting craft and technique from some of the UK's top tutors. Her career highlight was performing at the Globe as 'Lady Anne' in Richard III for the 2013 Wanamaker Festival. Lexi also performed in Appetite with Miriam Margoyles, Tamsin Greig, Jemma Redgrave and Jason Isaacs. Her Shakespeare credits include 'Julia' in Two Gentlemen of Verona, 'Imogen' in Cymbeline, 'Titania' in A Midsummer Night's Dream, and 'Kent' in King Lear. In London Lexi also performed as 'Clytemnestra' in the Oresteia, 'Florina' in Mad Forest, 'Imogen' in The Lightning Play, 'Darlene' in Balm in Gilead and in her own show about Marilyn Monroe, a version of which returned to Canberra.
Her Australian performances include 'Press Gallery Journalist' in episode 6 of the ABC series Total Control, narrator for Kerry McGinnis' novel The Roadhouse, 'Viola' in Twelfth Night, Prime Minister's Chief of Staff in Secret City: Under the Eagle, 'Marianne' in Constellations, 'Beatrice' in Much Ado About Nothing, 'Miss Cannon' in series 5 of Rake and as Dame Enid Lyons in the re-enactment of her maiden speech. Most recently Lexi joined the Sport for Jove company to appear as 'Lady Capulet' in Romeo and Juliet directed by Damien Ryan and 'Malvolia' in Twelfth Night directed by Christopher Stollery.
Lexi is Co-Producer and Co-Artistic Director of the free Shakespeare by the Lakes season. During COVID-19 the company presented a live stream of Rockspeare Richard III in August 2020 which Lexi produced and directed.
Christopher Stollery
Christopher Stollery is a graduate of both the National Institute of Dramatic Art (NIDA) and the Australian Film Television & Radio School (AFTRS). He has toured the stages of Europe with Cate Blanchett, appeared with John Cleese at the Sydney Opera House, performed in a musical with Tim Minchin, danced the choreography of Meryl Tankard and directed Steve Smith, the Australian Test Cricketer, in a Television Commercial.
Christopher directed Lakespeare's 2019 production of Twelfth Night and Sport For Jove's 2020 production of… Twelfth Night. He was an associate artist with Bell Shakespeare Company between 1992-2006 and has performed in over 20 productions of Shakespeare's work including the titular role of Hamlet, Mark Antony in Julius Caesar, Petruchio in Taming of the Shrew, Angelo in Measure for Measure Antipholus in Comedy of Errors that was the first Australian production to tour to the UK. He has been nominated for a Green Room Award twice and a Sydney Theatre Award nominee three times.
Christopher been a regular character on many Television Series - Wild Boys, Soul Mates, Sea Patrol, State Corner and The Flying Doctors. His film credits include Predestination, The Rage in Placid Lake and The Nightingale.
As a screen writer / director, his short films "dik" and "No Budget" have won over 30 festival awards around the world including Palm Springs, Aspen and Best Screenplay at Flickerfest.