Sales Have Ended
Registrations are closed
Thanks for your interest in our op shop tours. Click the REGISTER tab and add you name to the wait list.
Sales Have Ended
Registrations are closed
Thanks for your interest in our op shop tours. Click the REGISTER tab and add you name to the wait list.
Description
Whether you are topping up your autumn collection or picking out your easter holiday wardrobe, op shops are a treasure trove for bargain fashion shoppers if you know what you are looking for and how to shop them!

I love a wardrobe that's simple, stylish and has lots of pieces that mix and match together, whatever the weather, and that doesn't have me paying off huge credit card debits.

So, I'd love to take you op shopping and show you how easy it can be.

On our shopping tour you'll learn:

How to find high-end pieces for under $10 a piece.

How to know if something will fit without trying it on.

How to decide in a split second if an item belongs in your wardrobe.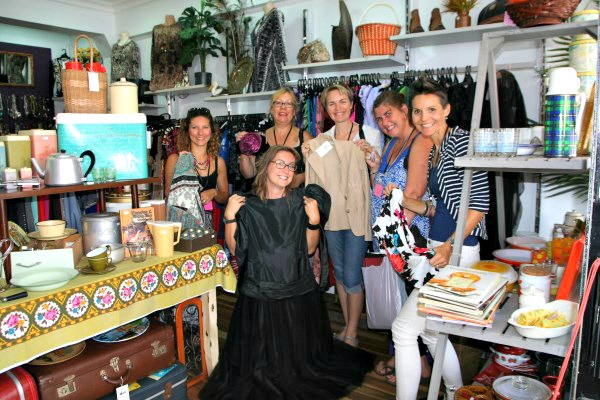 Rachel Prest Eco Stylist from Raid My Wardrobe with a tour group.

Op shopping is not only a fabulous day out with like minded ladies, but you will also do your bit toward finding new ways to reuse beautiful items, keeping clothes out of landfill plus putting money back into the community and supporting services for anyone in need in your local area.

If you're looking for great new pieces to take you through autumn to winter, if you'd love to spend a morning finding your own hidden treasures and saving money at the same time, I invite you to join me on my walking op shop tour. Call your mum, daughter, sisters and girlfriends and book today. At the end of the tour we'll all enjoy lunch together in a local cafe.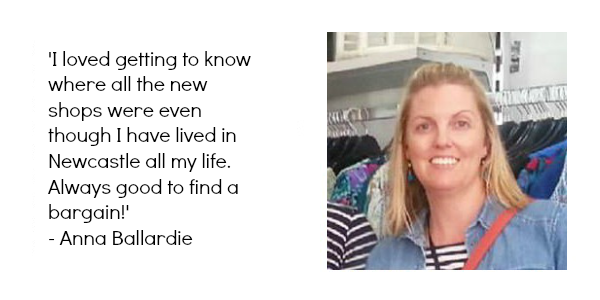 We'll have maximum 8 people, so if you'd like to come along LAKE MACQUARIE RESIDENTS ONLY BOOK YOUR FREE SPOT TODAY!
Here are the details:
Location: Belmont area (meeting spot will sent via email to you once you have booked and proof of residency has been verified).
9.00am – 1pm
Saturday 17th March
Cost to join tour is FREE for Lake Mac residents (as this event is supported by Lake Macquarie City Council, priority will be given to Lake Macquarie residents). PLEASE NOTE: if you live in another council area please email Rachel at info@raidmywardrobe.com.au your mobile number and I'll add you to the waitlist.
Please bring: money with you for your purchases plus plus money for snacks/drinks at the end of the tour.
Remember to wear your walking shoes as we're going on foot from place to place!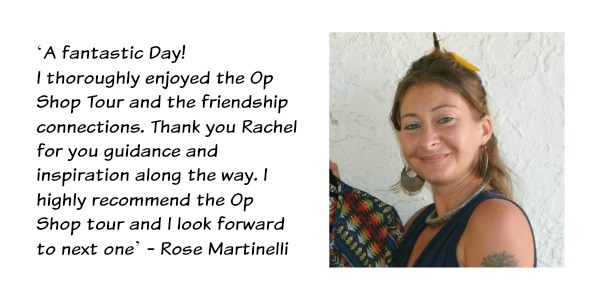 PLEASE NOTE: Terms & Conditions
* Only residents from Lake Macquarie City Council can book a spot. Other residents please email Rachel info@raidmywardrobe.com.au your mobile phone number and you'll be added to the waitlist.
* Only one spot per person can be booked.
* Booking acceptance is pending until proof of residency has been verified- rates notice or drivers licence stating your name and residential address.
* Should you need to cancel your booking at anytime please contact the organiser Rachel Prest 0415435045 or info@raidmywardrobe.com.au immediately so your spot can be filled with the next on the waitlist.
* 48 hrs prior to the tour starting if any spots are available they will be filled with non-LMCC residents from the waitlist.
For more information about our op shop tours check out www.raidmywardrobe.com.au/opshoptour/
and read our FAQs www.raidmywardrobe.com.au/op-shop-tour-faq/
Jump on our email list to keep updated on all Raid My Wardrobe events www.raidmywardrobe.com.au/subscribe