Ladies Up, Australia's Most influential Women's Weekend

Saturday, 20 October 2018 at 9:00 am

-

Sunday, 21 October 2018 at 5:00 pm (AEST)
Event Details
Did you know that 60% of startups in Australia fail? 
We can't let this keep happening! We want to challenge the status quo and fight the odds.
---
This is why we are introducing 
AUSTRALIA'S MOST INFLUENTIAL WOMEN'S EMPOWERMENT EVENT :   
LADIES UP
TEACHING YOU EVERY FUNDAMENTAL ELEMENT TO RUNNING A BUSINESS ARE THESE INCREDIBLE SPEAKERS INCLUDING OUR ENDORSEMENTS........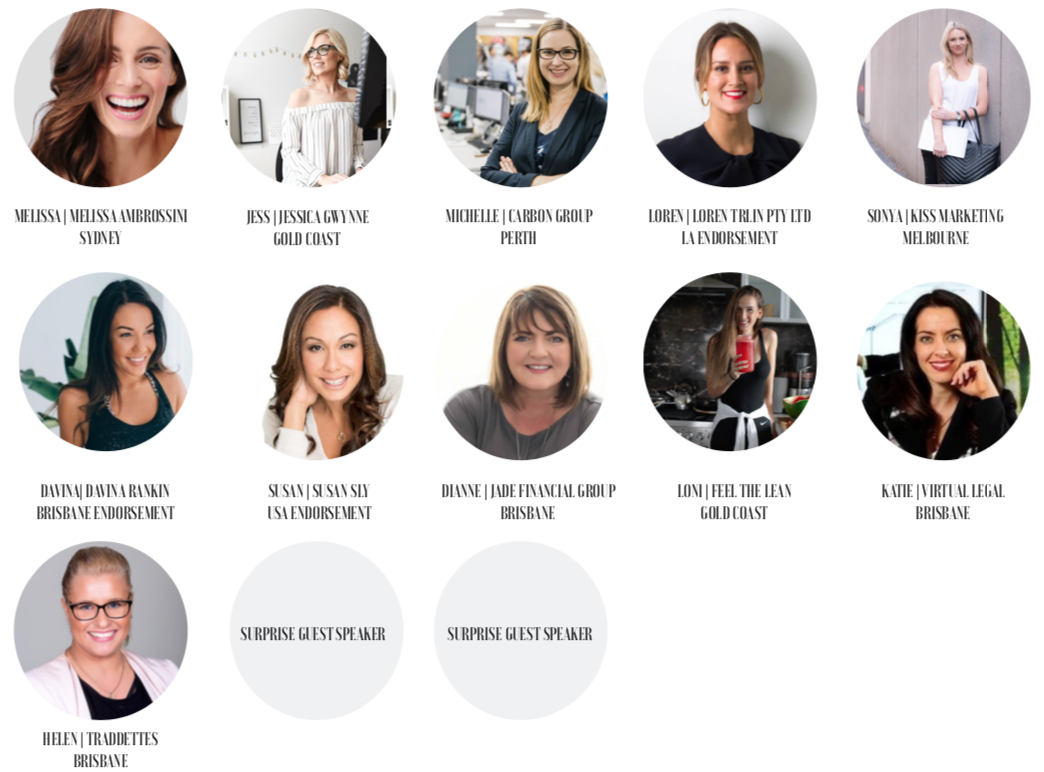 Are you a startup? Or are you an entrepreneur that thought this dream would be easier and you are sick of hitting that brick wall over and over again? 
So many women have big dreams and unfortunately miss out on learning the key skills that see their businesses sky rocket and their vision come to life.
If you are a small business owner, stylist, blogger, consultant, coach, event planner craving the success your dreams will give you then listen up!
Your vision is worth more than just running a business. It's your ticket to passion, freedom and is an abundance in everything you love in the world, what you want to be doing and should be doing everyday.
THE TRUTH.....
Sadly too many women in business start and fail and the truth is they always had it in them to succeed because they took the leap to begin with and had the right intention, the right goals, but they were just never introduced to the right skills and knowledge they needed to know that were the key to unlocking their biggest dreams.
Let's face it there is information everywhere to help you start your business, but it's overwhelming and it can be alarming how much you have to learn and not knowing where to start and which direction to go in and where to focus all of your time and energy. So the battle to gain this knowledge causes us to face endless barriers when all we want is for someone to hold our hand and guide us to achieving everything we know we are capable of which can sometimes feel impossible and like we are fighting an uphill battle. We never want you to feel like this ever again...
SO WE PROPOSE THIS:
Imagine.... if you could sit in a room full of incredible new friends for 2 days and learn absolutely everything you needed to know in order to succeed in your business. Everything you need to know to save money and make more than you could ever dream of. 
Imagine... if you could listen to the most successful business women from all over Australia walk you through starting a business or fixing a failing business step by step and instead of spending over $10 000.00 to speak to them all one on one it would be less than a tenth of the price.
Imagine... if you could walk away from one weekend and know absolutely everything you needed to build a successful business and have a blueprint for the next 18 months.
Imagine... if you could leave feeling so incredibly powerful with everything you need to know to build your empire from just one weekend?
Well this is our goal and if you take the leap to join us we will prove to you how serious we are about working with you to make sure your dreams don't keep hitting brick walls or get put off.
Help us challenge the status quo and stop you from making all the mistakes we made when we first started our businesses.
Join us to change your life and help us fight the odds that don't need to be a reality because there is more than enough business for everyone it's just knowing how to attract the clients you want and grow yourself by doing what you love above everything else.
Here are just a select few of the several topics we will be touching on....
Setting the right goals to success

How to brand and market your business to attract your dream clients 

How to use social media to make the big bucks

How put bundle your products and price them properly

The best business strategies to constantly build your business without getting burnt out

How to generate money to support your business when you have none

How to network properly

How to do your accounting properly to make more

Knowing how to sell properly in order to convert
Along with more bonus's than you could ever imagine... You will receive every possible template, cheat sheet and checklist imaginable to ensure you will create your dream empire, not to mention you will even get head shots to use for your business.
We won't let you leave until we know you are going to kill it and not to mention you will become a member into a Facebook group for ongoing support to ensure we are holding your hand throughout your journey and can be there to support you during your biggest wins. 
So if you have a dream that is burning inside of you and excites you more than anything every time you think about it, now is the time to take control and let us work with you to bring it to life before this incredible opportunity 
valued at over $10 000 
For only a fraction of the price disappears. 
If you believe in yourself and your biggest dreams we can't wait to see you there!
For more information please head to LADIES UP
PROUDLY SUPPORTED BY WOTSO WORKSPACE

When & Where

WOTSO WorkSpace
Kittyhawk Drive
Chermside, QLD 4032
Australia

Saturday, 20 October 2018 at 9:00 am

-

Sunday, 21 October 2018 at 5:00 pm (AEST)
Add to my calendar
Organiser
After 10 years of planning and styling events worldwide we have also grown into what we are truly passionate about and that is mentoring businesses and seeing them through their hardest times to bring them out on top.
After continually motivating individuals and businesses to push through their limiting beliefs to succeed we have now taken it upon ourselves to make a stand in this world and transform women in business who know they can do it but need the help to get there.
We will not rest until more businesses are succeeding than failing and if you want to live a life of your dreams please join us in this movement to start to make a difference and allow you to live more fulfilling lives.