About this event
Bachata Lady's Style
by Glory
Every Wednesday at 6.15 PM for 6 weeks
2 Smith street, Darwin , City
Special Price
PROMO $ 60 for 6 weeks
Combo Bachata or Salsa + Ladys Style $140
casual $15
students $10
Glory has a strong foundation in ballet, contemporary, modern, Latin dance, and she brings this discipline to her bachata and salsa classes.
She started in 2005 international bachata and salsa competitions in Europe and she is choreographer, teacher, and performer in different styles.
She wants help all Lady's to be strong, confident and sensual in all movements.
Learning lady styling is a great way of boosting your confidence, not only in your bachata skills but also in yourself. Lady styling is all about performance and selling the moves, as well as interpreting the music to get your emotional body and facial expressions right.
Not only that, but the moves that you learn in bachata lady style will also improve your bachata partner dancing. You will blow them all away at any socials you attend!
see you on Wednesday !!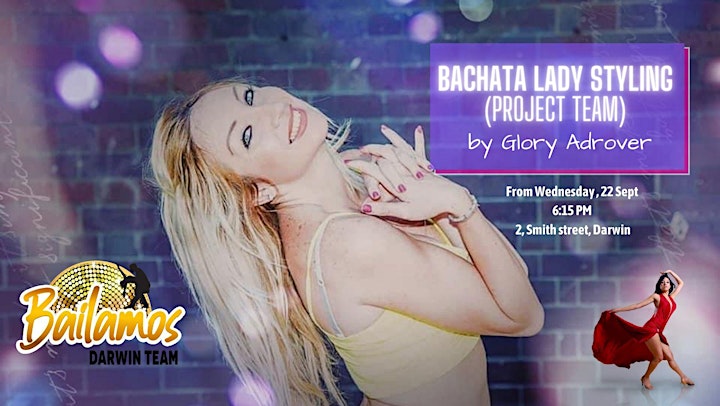 Organiser of Ladies Styling Course