About this Event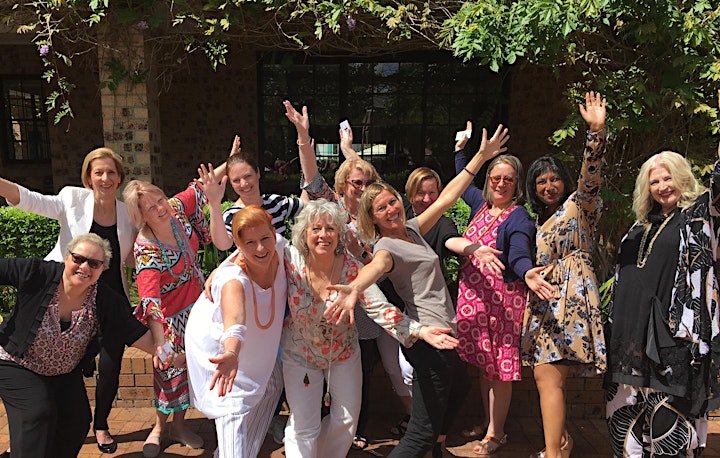 Do you want a Business and Personal Success Plan that will inspire you all year?
Ready to do things differently this time? Make 2020 the year that you really get to shine, from the inside! In the photo are the beautiful participants from our October workshop. Can you imagine yourself there? Claim your place now, numbers are limited.
When you start with a context that supports your creativity - giving you the most fertile ground to work from - its natural that you are able to create a truly inspiring strategy, that leads to a clearer, smarter and bolder plan. One that you can put into motion with confidence.
This workshop offers you that fertile ground. A day spent with yourself and others, dedicated to empowering your creative leadership, can set you on the path to bring about the changes in your business and life that will truly delight you on any level - mentally, emotionally, physically, financially - whatever is important to you.
Our One-Day Workshop is informational, interactive and fun. You will also be able to
Dig deep to find those wishes and dreams that you might have left on the back burner for long enough
Entertain a bolder vision that you have not yet had time or 'permission' to do
Begin to put your strategy and plan into place, with realistic milestones and inspiring stretch-points for growth
Receive insights, tools and practices to support you in keeping your commitments to yourself
Finish the day inspired, connected and energised, ready to meet the opportunities and resources that are already waiting for you.
Areas we will explore on the day
• 5 essential keys to empowered feminine leadership - complete the misssing pieces in that picture of leadership that we've all been brought up on!
* Chart your course - Dream & Discover, Design & Decide, Deliver - as you Develop.
• Empowering your relationships - with Money, Time, Body and Others.
• Principles of Alignment – choosing powerfully and overcoming obstacles
* Radical Self Care - strategies to nurture and maintain your energy
Your investment
This workshop is valued at $397.00 per person, for an all-inclusive day at a beautiful location, with some of the best, most brilliant women you're likely to meet this year.
There are special offers available for earlybird bookings - from $197.00 - as well as for your friends and colleagues to come with you for only $97.00 each.
Ready to do things differently this time? Claim your place now for the best offer or email support@irisgroupcoaching.com with any questions.
Why have Sue as your guide?
Having spent 20 years in the Corporate world and then working as a facilitator and coach with hundreds of leaders over the last18 years running my own business, I know that execution is often harder than planning. The problem starts right at the beginning, by taking on too much, being too compartmentalised or playing too small.
Staying on course, dealing with procrastination, resistance, distractions or the challenge of giving an important project the attention it needs - while also meeting the demands of other areas in your life - can result in placing your own needs at the bottom of the list 'until later'. Although is common, it does not need to be the norm, and it is certainly not healthy. When 'something's got to give' - why is it always you?
These days I work mainly with women executives, managers or small business owners and these issues are the focus of many a coaching session. If left unattended, the consequences of self-blame, feelings of failure, resentment and frustration will emerge, along with unhealthy lifestyle habits associated with the need to push down those unwanted emotions. We all have our 'little soothers' that can become habits!
The exciting news is... there IS another way!!
I have helped many women like you to discover and follow their true path and embrace the power of their feminine essence in their leadership, in a way that has multiplied their income, allowed them to scale up their business, release unwanted pain and weight from their bodies and develop more authentic and satisfying relationships.
What others have said....
"Each and every one of you has helped me so thank you; great to reaffirm and revisit some of the things I've forgotten about. This is by far the best personal development in all of the 20 years I have been going to these in corporate life." - Penny
"I have much more clarity about my role within family and have been able to extend this thinking to my business to find increased interest and motivation in what I am doing. I really liked your use of the word " desire" - I have felt that I am just transacting and surviving because i have not had a life purpose or desire. I am know thinking about that more and am "onto" a thread that is interesting and heart felt". Colleen D.
"I really enjoy doing the deeper thinking that you inspire and hearing of the experiences of others. The sessions are always motivating and stimulating. have been introduced to an amazing group of women and felt a very strong connection (which) I hope to continue. I also have a friend who may benefit from one of your seminars", Deb S.
"Really glad I attended. I liked the content and the delivery and it was a great mix of people. I am more organised, listen more and I have a clearer idea of my own goals". Bev J.
"Whole-hearted 'thank you' to each of you' reassured by similarities even though we have different anxieties, fears, struggles I found the retreat very insightful and interesting to hear the other women's stories. I would recommend it to anyone…I am grateful for the feeling of calmness, which is not my natural state and the clarity around my attitude to money." - Rosemary
Claim your place now, numbers are limited.
Details - A Day of Planning Differently
• This day is fully catered with morning and afternoon tea and a beautiful buffet lunch
• Private room in elegant, secluded surroundings – a taste of the comfort and luxury that you deserve
• Permission to be fully yourself, be seen and heard without judgement
• Inspiration, humour and catalytic conversations are the norm at these events
• Set yourself up for a transformational year in 2020
• Work with an intimate group of fabulous women who want similar things.
Sue's credentials include: -
M. Appl. Sci. (Psychology of Coaching), University of Sydney
Associate Member Australian Psychological Society (2007-2012)
Member, AANZ Psychodrama Association (2008 – present)
Board Member, Sydney Hills Business Chamber (Current)Accredited Hogan Practitioner
Accredited Leadership Circle practitioner
Certified Mastery Coach, Money Breakthrough Method™
Certified Sacred Money Archetypes Coach™
Certified Women Power and Body Esteem™ Coach
Licensed Teacher, Art of Feminine Presence™
Sue launched Iris Group Pty Ltd, in 2002 and has earned recognition as a strategic thinking partner for senior leaders, a gifted and generous leadership coach and an inspiring speaker.
She contributes experience knowledge and skill, built over an entrepreneurial, corporate sales and academic career spanning more than 30 years. Her practical and commercial business savvy is anchored by a life-time of deep philosophical inquiry and spiritual work.
She works with CEOs, General Managers and Executives in Government and Corporate roles, also Small Business Owners and Service Professionals. She empowers her clients to claim career success, personal freedom and quality of life, earning what they are worth and stepping up to strategic, influencing roles.
Sue is passionate about championing the power and potential of feminine wisdom in leadership, so that organisations and communities can innovate through diversity and thrive through integrative and inclusive approaches to decision-making.