Join the third of four sessions in the 2021 LabSkills series for University of Sydney staff and researchers: 'Influencing policy'
About this event
The success of any policy intervention is only partially determined by the design of the policy itself or the quality of the evidence and research that underpins it. It is also shaped by the way in which a proposed policy fits with the political moment within which it is introduced and its ability to attract significant political champions among elected representatives, the media and the wider public.
This is always a difficult process to predict and an even harder one to control. Fortunately, however, we now know more than ever about what it takes for a proposed policy to capture the political imagination in the way that it needs to if it is to succeed.
This session explores the fundamentals of framing and then presents a vital toolkit of persuasion, of use by any policymaker, businessperson, academic, politician, or other key actor attempting to explain to an elected official why a particular policy or strategy is the right way forward.
Time is then left for an intimate discussion of particular strategies that may be under examination or to workshops and ideas in groups. By the end, concrete plans for persuasion should have emerged from the discussion, ready both for immediate implementation and for further detailed reflection.
Zoom and face-to-face participation available
This training will be offered both in-person and on Zoom (at the same time).
If you would like to participate via Zoom instead of face-to-face, please register here: https://uni-sydney.zoom.us/meeting/register/tZEud-6gpzssHtxRL_PaPswtDvnuWZd7hmAX
**Zoom participants do not need to register twice (i.e. you do not need to register on Eventbrite as well as on Zoom). **
If you plan to participate in person, please register on Eventbrite using the REGISTER button above.
We will do our best to accommodate last minute participation changes until 9.30am on the day of the session.
About the trainers:
Lisa Fennis manages community partnerships and training across all the Lab's projects and activities. Having worked at the intersection of academia, civil society and advocacy for a decade, she is passionate about building powerful alliances to tackle the most pressing questions of our time.
Previously, Lisa directed the Sydney Peace Foundation, where she built partnerships with organisation across Australia to elevate the voices of some of the world's most effective changemakers. Before this, Lisa coordinated the Electoral Integrity Project at the University of Sydney and Harvard University. Lisa also worked on transitional justice for the United Nations Institute for Training and Research and the Centre for the Study of Violence and Reconciliation in South Africa.
Lisa studied peacebuilding and conflict resolution at Gothenburg University and the University of Amsterdam, and public administration at the Hague University.
Leah Emmanuel has recently joined the Sydney Policy Lab as a Project Manager, delivering several of the Lab's research projects and training. She comes with over 10 years' experience as an organiser and trainer across several social justice movements, as well as in policy advocacy.
Since cutting her teeth in the youth climate movement at age 14, Leah has worked as a community organiser with the Sydney Alliance and organised manufacturing workers in western Sydney and across regional NSW at the United Workers Union. Passionate about youth development and civic education, Leah has trained hundreds of young people in leadership and politics through the YMCA NSW Youth & Government program and UN Youth.
Leah was a New Colombo Plan Scholar and lived in Southeast Asia in her early twenties. Her honours thesis research examined repertoires of resistance to forced eviction in Jakarta, and her personal and vocational experiences with activists and communities during this period has set the path of her career since.
Leah studied human geography, politics and languages at the University of Sydney, and her personal and vocational interest in housing policy and urban social justice has led her to work as a research assistant with a number of academics across the University of Sydney and internationally.
Leah can speak five languages and is presently learning two more.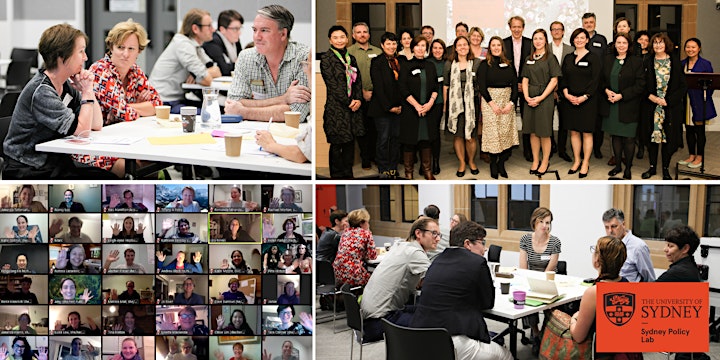 Why LabClasses?
Whether we are trying to create policy, institutional or cultural change, doing it together in a way that makes a real and lasting impact is not easy.
Many of us – regardless of our disciplines or how far advanced we are in our careers – are working without the training we need to be most effective.
With LabClass: Collaborating beyond the University, the Sydney Policy Lab aims to bridge that gap. Our LabClass training prepares you to build deep and sustained collaboration with both colleagues and partners beyond the university, because we believe that is the only way we will find the power to turn new ideas into reality.
Since the start of 2019, the Sydney Policy Lab has run trainings with more than 1000 colleagues at the University from across every faculty. Labclass will connect you with colleagues across campus who are passionate about impactful research, and equip you with the tools and mindsets that will see you engage with people from all walks of life, including civil society, policymakers, government, people with lived experience, media and industry.
What's on offer for you in 2021?
In 2021 LabClass will be launched in three modules:
1. LabSkills series: four two-hour sessions on 'introduction to policymaking and co-design'. The workshops between April and June cover public narrative, relational meetings, influencing policy and strengthening co-design. All staff are welcome to participate in skills sessions and they can be attended as standalone workshops.
2. LabWorkshop: An immersive full-day workshop on 'community-engaged research and collaboration'. This full-day workshop in July offers a combination of transformational concepts and skills on power, culture, relationality and uncertainty. It is accessible to those who have attended two or more skills sessions. To register your interest email Nancy Lee: policy.lab@sydney.edu.au
3. LabHubs: A multi-week intensive program on 'community-engaged research with impact'. This is an opportunity to develop your existing project or initiative with external partners through training, mentoring and peer support from the Lab over a sustained period of time. You can submit your application for the intensive program if you have attended two skills sessions and the full day workshop. To register your interest email Nancy Lee: policy.lab@sydney.edu.au
For more information visit bit.ly/labclasses
Organiser of LabSkills series | session 3: Influencing Policy