LabSkills series | session 2: Relational Meetings
Join the second of four sessions in the 2021 LabSkills series: 'Relational meetings'
About this Event
Effective collaboration with colleagues across campus and partners from beyond the university is crucial for our work. So how do we build the trust and relationships to make that happen?
Relational meetings enable us to bring together diverse perspectives and find common ground on which to build stronger relationships and deeper collaborations that last.
Whether you work with others research projects, lead teams, are building partnerships with external groups, or develop interdisciplinary collaborations, being able to connect, listen and build trust are core foundations of any successful initiative. Especially in times like these people are needing social connection more than even – also in their work.
Join Dr Amanda Tattersall from Sydney Policy Lab for a workshop on conversational techniques that help you build meaningful relationships with those around us, and bring relationality into large and small meetings, both in person and online.
This training will be offered both in-person and on Zoom (at the same time).
If you would like to participate via Zoom, please register here: https://uni-sydney.zoom.us/meeting/register/tZMldOmupzMqG9SuuMz7y5bVLDxlZIXS5KPi
**Zoom participants will not need to register twice (i.e. you do not need to register on Eventbrite as well as on Zoom). **
If you plan to participate in person, please register on Eventbrite using the REGISTER button above.
About the trainer:
Dr Amanda Tattersall leads education and training at the Sydney Policy Lab. She is a well-known community organiser and social change scholar, currently completing a postdoctoral fellowship on organising cities at the University of Sydney.
Amanda co-founded the digital campaign group GetUp.org.au and founded Australia's largest community coalition, the Sydney Alliance. She has also been the president of the National Union of Students, co-founder of Labor for Refugees and an elected official of Unions NSW.
She currently hosts the ChangeMakers Podcast, one of the most popular social change podcasts globally. ChangeMakers tells stories of people from across the globe trying to make the world a better place. She holds a PhD on social change strategy, and she authored Power in Coalition, published by Allen and Unwin Academic.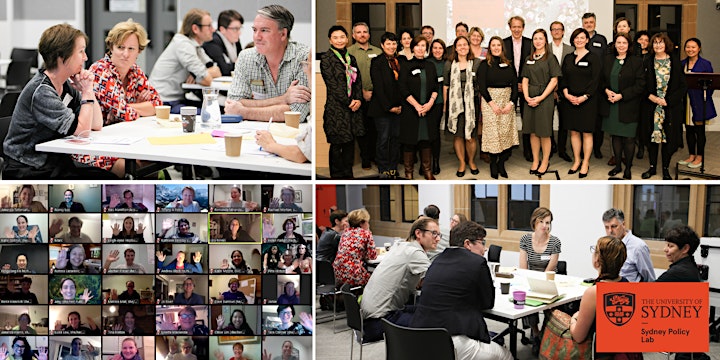 Why LabClasses?
Whether we are trying to create policy, institutional or cultural change, doing it together in a way that makes a real and lasting impact is not easy.
Many of us – regardless of our disciplines or how far advanced we are in our careers – are working without the training we need to be most effective.
With LabClass: Collaborating beyond the University, the Sydney Policy Lab aims to bridge that gap. Our LabClass training prepares you to build deep and sustained collaboration with both colleagues and partners beyond the university, because we believe that is the only way we will find the power to turn new ideas into reality.
Since the start of 2019, the Sydney Policy Lab has run trainings with more than 350 academics and professional staff from across every faculty on campus. Labclass will connect you with colleagues across campus who are passionate about impactful research, and equip you with the tools and mindsets that will see you engage with people from all walks of life, including civil society, policymakers, government, people with lived experience, media and industry.
What's on offer for you in 2021?
In 2021 LabClass will be launched in three modules:
1. LabSkills series: four two-hour sessions on 'introduction to policymaking and co-design'. The workshops between April and June cover public narrative, relational meetings, influencing policy and strengthening co-design. All staff are welcome to participate in skills sessions and they can be attended as standalone workshops.
2. LabWorkshop: An immersive full-day workshop on 'community-engaged research and collaboration'. This full-day workshop in July offers a combination of transformational concepts and skills on power, culture, relationality and uncertainty. It is accessible to those who have attended two or more skills sessions. To register your interest email Nancy Lee: policy.lab@sydney.edu.au
3. LabHubs: A multi-week intensive program on 'community-engaged research with impact'. This is an opportunity to develop your existing project or initiative with external partners through training, mentoring and peer support from the Lab over a sustained period of time. You can submit your application for the intensive program if you have attended two skills sessions and the full day workshop. To register your interest email Nancy Lee: policy.lab@sydney.edu.au
For more information visit bit.ly/labclasses