Join the first of four sessions in the 2021 LabSkills series for the University of Sydney: 'Public Narrative'
About this event
What are the fundamental ideas that motivate your research and work? Why do they matter to you? Where do they come from? Why should they matter to others?
Being able to answer these questions clearly and compellingly offers huge benefits to researchers and professional staff, especially to those developing partnerships and collaborating with partners outside of the University, or leading larger teams and research projects.
In this session, we explore how we might all be able to find those powerful answers and how we can then most effectively communicate them to others. Public narrative is an internationally acclaimed tool and skill that will help you build trust and communicate your purpose.
Your trainer, political strategist, speechwriter and academic, Professor Marc Stears will draw on his experience as both a speechwriter and a strategic communications consultant, as well as his own academic background, presenting new and engaging approaches that will enable us all to think about these issues in creative ways.
This training will be offered both in-person and on Zoom (at the same time).
If you would like to participate via Zoom, please register here: https://uni-sydney.zoom.us/meeting/register/tZUldeuhrj0rGt0WvNcAI5yzek8vieSVOEPr
If you plan to participate in person, please register on Eventbrite using the REGISTER button above.
About the trainer:
Marc Stears is the Director of the Sydney Policy Lab. He has worked at the very top of public life for over twenty years, advising leaders on strategic communications, persuasion, power and influence. Recent clients have included EY, GlaxoSmithKline, Shell, BP, Channel 4 television, Linklaters, Nike and IBM to partner and Board level. He is an Associate Fellow at the Said Business School, University of Oxford, UK and also teaches power and influence at the London Business School.
From 2012 to 2015, he was chief speechwriter to one of the UK's leading political parties. From 2015 to 2017, he was Chief Executive of one of the UK's largest think tanks, before departing for Australia. In his public life he is a regular commentator in the media, appearing regularly on ABC and BBC television and radio.
He has written three single-authored books from Oxford University Press, Princeton University Press and Harvard University Press, edited many more and frequently writes for major newspapers and magazines.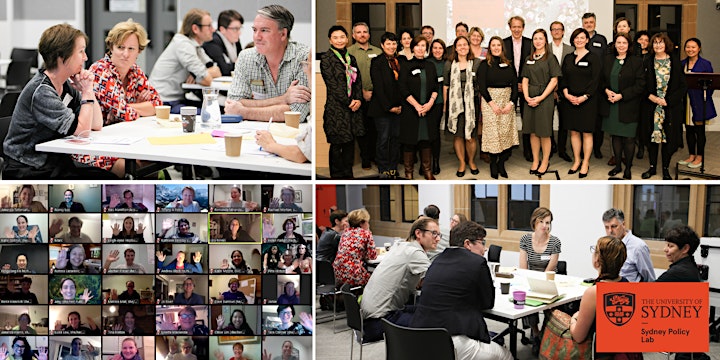 Why LabClasses?
Whether we are trying to create policy, institutional or cultural change, doing it together in a way that makes a real and lasting impact is not easy.
Many of us – regardless of our disciplines or how far advanced we are in our careers – are working without the training we need to be most effective.
With LabClass: Collaborating beyond the University, the Sydney Policy Lab aims to bridge that gap. Our LabClass training prepares you to build deep and sustained collaboration with both colleagues and partners beyond the university, because we believe that is the only way we will find the power to turn new ideas into reality.
Since the start of 2019, the Sydney Policy Lab has run trainings with more than 1000 colleagues at the University from across every faculty. Labclass will connect you with colleagues across campus who are passionate about impactful research, and equip you with the tools and mindsets that will see you engage with people from all walks of life, including civil society, policymakers, government, people with lived experience, media and industry.
What's on offer for you in 2021?
In 2021 LabClass will be launched in three modules:
1. LabSkills series: four two-hour sessions on 'introduction to policymaking and co-design'. The workshops between April and June cover public narrative, relational meetings, influencing policy and strengthening co-design. All staff are welcome to participate in skills sessions and they can be attended as standalone workshops.
2. LabWorkshop: An immersive full-day workshop on 'community-engaged research and collaboration'. This full-day workshop in July offers a combination of transformational concepts and skills on power, culture, relationality and uncertainty. It is accessible to those who have attended two or more skills sessions. To register your interest email Nancy Lee: policy.lab@sydney.edu.au
3. LabHubs: A multi-week intensive program on 'community-engaged research with impact'. This is an opportunity to develop your existing project or initiative with external partners through training, mentoring and peer support from the Lab over a sustained period of time. You can submit your application for the intensive program if you have attended two skills sessions and the full day workshop. To register your interest email Nancy Lee: policy.lab@sydney.edu.au
For more information visit bit.ly/labclasses
Organiser of LabSkills series | session 1: Public Narrative