La Trobe University presents: NextFest Poetry Slam
About this Event
The realm of flesh and blood is changing fast. Trans and gender diverse bodies are shifting the way we think about gender. Sexual identities proliferate, while dating apps reconfigure the landscape of intimacy. Feminism is resurgent, but for every #MeToo we find an MRA. Our bodies also have new technological appendages: smartphones and fitness trackers accompany and record our every move.
What does it mean to live in a body today? How are the rising generation remaking the world of gender, sex and identity? We invite youth (15 - 30 years) participants to explore these ideas through a poetry slam hosted by Melbourne writer and poet Quinn Eades.
Each poet has three minutes to perform an original poem on the theme; they then receive a score out of 10 from each of judging panel. See here for more info about poetry slam structure: https://poetryslam.com/faq/general-information/
The event will also feature readings from poets Nicki Viveca, Adolfo Aranjuez and Amy Bodossian.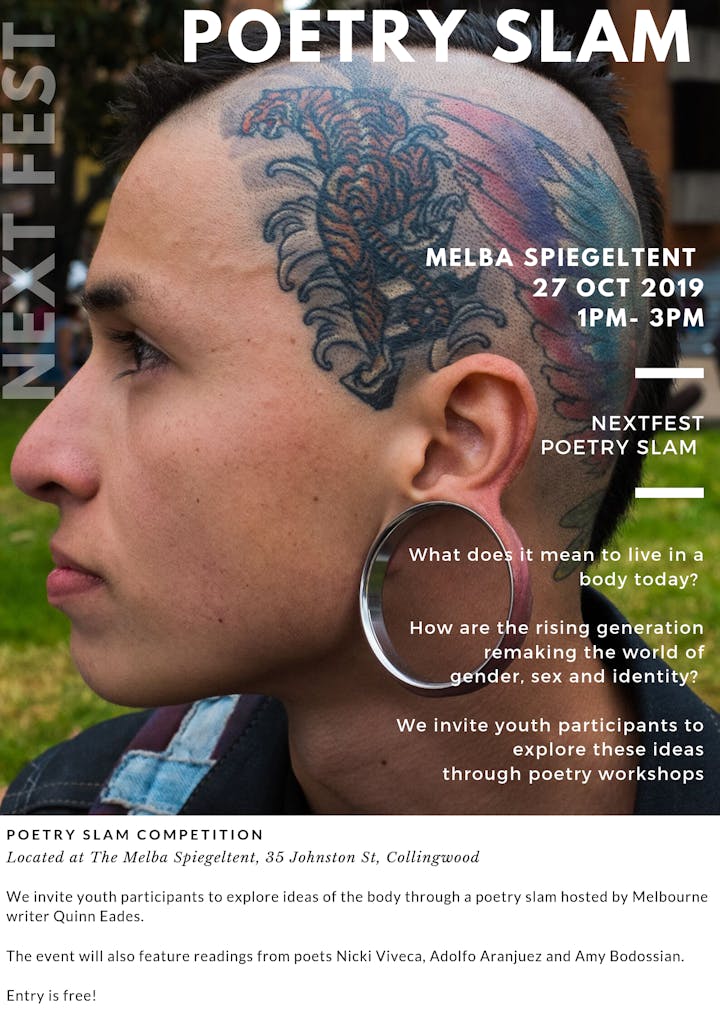 For other NextFest Events, please refer to the schedule below (readable format further below).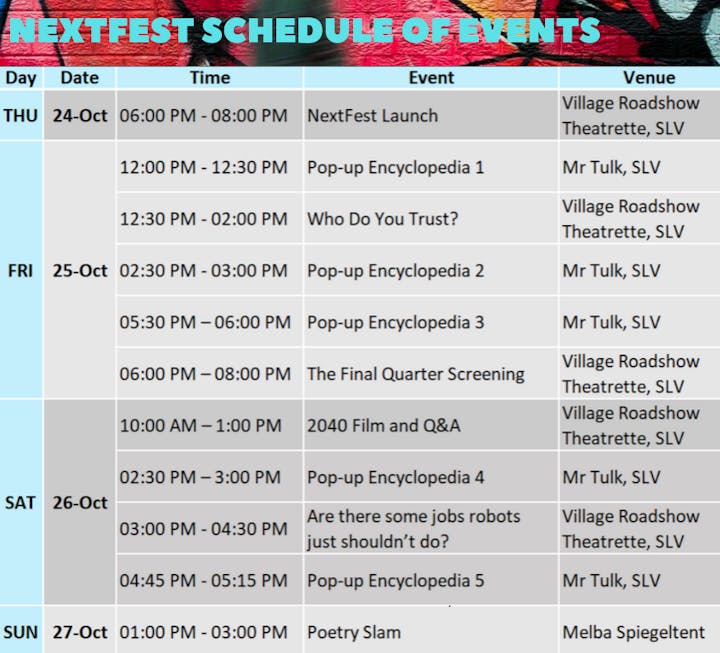 Nextfest Schedule of Events
Thursday 24th October:
NextFest Launch - 6:00 - 7:30 PM, Village Roadshow Theatrette, State Library of Victoria
Friday 25th October:
Pop-up Encyclopedia of the Future - 12:00 - 12:30 PM, Mr Tulk Cafe, State Library of Victoria
Who do you Trust? - 12:30 - 2:00 PM, Village Roadshow Theatrette, State Library of Victoria
Pop-up Encyclopedia of the Future - 2:30 - 3:00 PM, Mr Tulk Cafe, State Library of Victoria
Pop-up Encyclopedia of the Future - 5:30 - 6:00 PM, Mr Tulk Cafe, State Library of Victoria
The Final Quarter Screening and Discussion - 6:00 - 8:00 PM, Village Roadshow Theatrette, State Library of Victoria
Saturday 26th October:
2040 and a Climate of Hope (screening and discussion) - 10:00 AM - 1:00 PM, Village Roadshow Theatrette, State Library of Victoria
Pop-up Encyclopedia of the Future - 2:30 - 3:00 PM, Mr Tulk Cafe, State Library of Victoria
Are there some jobs robots just shouldn't do? - 3:00 - 4:30 PM, Village Roadshow Theatrette, State Library of Victoria
Pop-up Encyclopedia of the Future - 4:45 - 5:15 PM, Mr Tulk Cafe, State Library of Victoria
Sunday 27th October:
Poetry Slam - 1:00 - 3:00 PM, Melba Speigeltent, Collingwood