Description
For over sixty years, Yayoi Kusama has worked obsessively on her paintings, drawings, sculptures, fashion, experimental films, installations, writing and 'happenings'. Flower obsession 2016-17, is a new participatory artwork created by the eighty-eight year old artist especially for the NGV's Triennial this summer.
There is no doubt that Kusama holds a significant place in the history of Abstraction, with her work influencing several generations of contemporary artists. However, there is also a great deal of interest in the psychology and biography of the artist.
The La Trobe University Art Therapy public lectures and masterclasses brings together experts from La Trobe University's Art Institute and Master of Art Therapy program to explore connections between Kusama's life and practice and the practice of art making more generally. From the perspective of the arts and health, participants will gain a deeper understanding of Kusama's work and the role of art in mental health, wellbeing and in therapy. Participants can attend individual lectures, or register for both days to attend workshops, exclusive exhibition access, lectures and an expert panel discussion.
Please click on the image below to view the full schedule of Art Therapy lectures and workshops;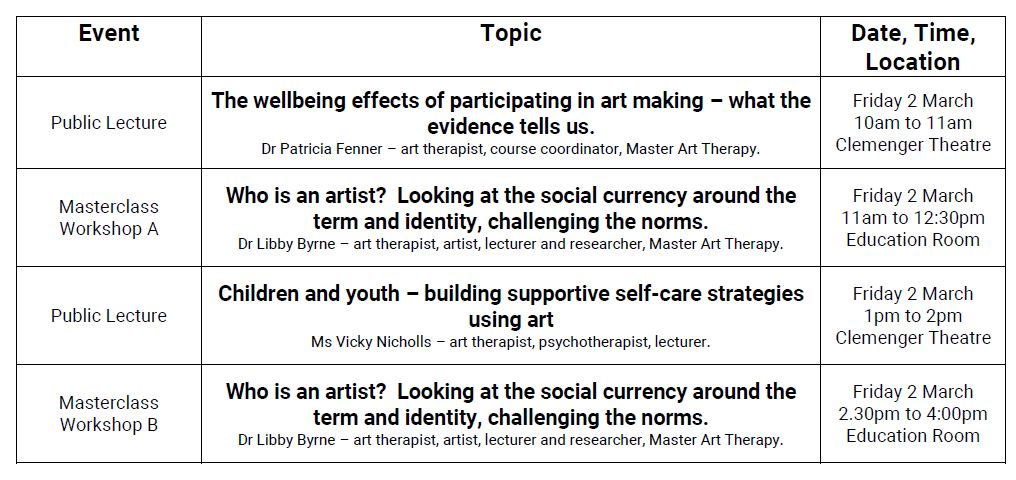 Click on the Schedule above to read the full schedule of events.
Access to the Floortalk is only available to people who purchase tickets for the Masterclass Workshops.
Tickets are available to each Art Therapy event, with limited tickets available for Masterclass Workshops.


EVENT BIOS

Libby Byrne, PhD, AThR
Libby is an Art Therapist who has worked over many years with trauma, grief and loss in both public health and ministry settings throughout Melbourne. She is currently teaching and researching in the Master of Art Therapy Program at La Trobe University. She has worked as a practising and exhibiting artist for the past 20 years, extending our understanding of the interdisciplinary applications for material knowing and studio practice in research, with a particular focus on developing a systematic method of Practice-led Theological inquiry with the University of Divinity. Her work addresses the nature and significance of art, both made and received, within the process of healing that is required to flourish and live well with illness and in health.

Patricia Fenner, PhD, AThR
Patricia is Senior Lecturer and Course Coordinator of the Master of Art Therapy at La Trobe University, Melbourne. She is a researcher with diverse interests in art-based research, art making and mental health recovery, and in particular, how the everyday material settings of our work play a role in what occurs in practice. Prior to working in the university sector, she worked in diverse contexts including public mental health and school education, as well as, as a community artist in both Melbourne and Berlin.

Vicky Nicolls
Vicky has completed post graduate studies in Child, Adolescent and Family Mental Health at Melbourne University and also completed a Master of Art Therapy at La Trobe University. She worked at the Austin CAMHS - Child and Adolescent Mental Health Service as a Senior Art Therapist for over 10 years. During her time there she developed a particular interest in attachment and the effects of trauma.
At VACCA - The Victorian Aboriginal Child Care Agency she worked as part of a therapeutic program for Aboriginal children in care, integrating her art therapy skills and knowledge of the impact of trauma on the developing child, whilst working alongside Aboriginal people to ensure cultural safety.
Vicky has been a lecturer at La Trobe University in the Master of Art Therapy course since 2001. She teaches various subjects including Art Therapy with Children.
Alongside teaching Vicky is now focusing on her private practice where she works with children, young people and adults as well as supervising art therapists and other professionals.

Sally Goldstraw
Sally Goldstraw has worked as an art therapist with children who have experienced trauma as a result of family violence for a number of years. She is currently managing a pilot project funded by the Victorian State Government called Van Go. This is a mobile service that takes music, play and art therapies to children in rural communities. Prior to this Sally has worked for local and State Government, private enterprise and the non government sector using creativity for community development and healing.

Tanja Johnson
Tanja has 25 years teaching and arts education experience in diverse settings across Australia.
In 2005 Tanja completed a Master of Art Therapy at La Trobe University, including clinical training in a veterans psychiatric hospital where she continues the art therapy program.
Tanja is Head of Arts Programs at the Australian National Veterans Arts Museum (ANVAM), a charity founded in 2013 to fill a gap in arts-based services for Australian veterans. She works with current and ex-serving veterans of WWII to the present, as well as veterans families, emergency services, police and Australian Boarder Force.

Dr Karen Annett-Thomas, Public Programs Coordinator, La Trobe Art Institute, La Trobe University
Karen is the Public Programs Co-ordinator for the La Trobe Art Institute and a practicing artist based in Bendigo. She has exhibited widely in both group and solo exhibitions and has been the recipient of a number of awards including the British Council's Mordant Visual Art award in 2006. In 2007 she completed her PhD, Memory, Loss and the Memorial Books of the First World War and her current practice extends her interest in memory and our attempts to preserve it in material culture. In her current role at La Trobe Art Institute, Karen is responsible for the delivery of educative outreach and public programs associated with the University galleries and collections. Her current research interests include creative and object-based learning opportunities within museums and galleries and participatory programming and art practice.