Description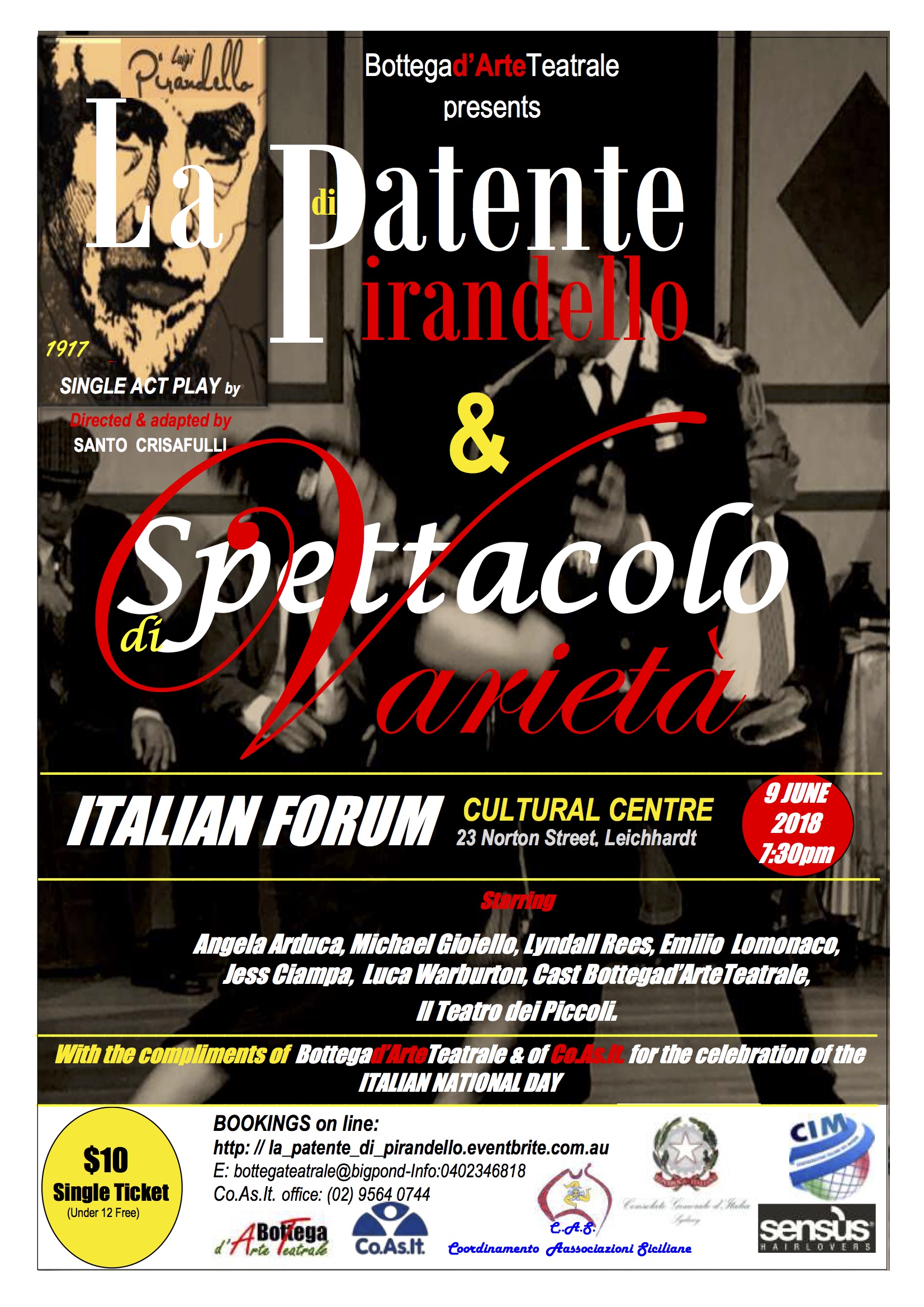 We are very pleased to announce our 2018 season at
Italian Forum Cultural Centre, 23 Norton Street, Leichhardt.
Celebrating Italian National day
featuring an exciting mix of songs, music, dance and drama
"LA PATENTE" di Luigi Pirandello, nell'adattamento di Santo Crisafulli
& a "VARIETY SHOW"

Saturday, June 9th, 7:30pm
VARIETY SHOW
The first part of the performance is a Variety Show, sui generis. A different, interesting and unique entertainment, made up of smiles, songs, music and drama. A "Show" in tune with the festivities for the Italian Republic Day that pays tribute to some artists, painters, musicians, present and past dramatists who have made Italy the cradle of the European and world culture, in all its facets. A show that ranges from "O sole mio" by Giovanni Capurro and Eduardo di Capua to Tony Cucchiara's "Duetto d'Amore"; from Giotto to Rossini, to Mascagni to Giuseppe Verdi; from "Tango della Gelosia" to Pirandello. A show that brings on stage children, young people, adults and not so young. In short, a show, a fun for all ages and all tastes.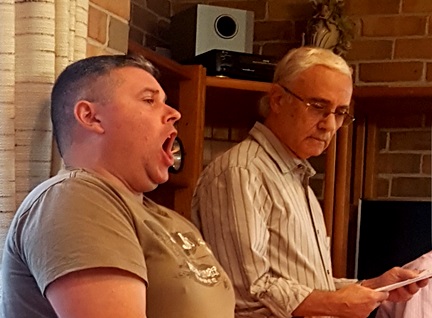 "LA PATENTE" (the License) Synopsis
The plot of "La Patente", is rather thin but is imposed on the attention of readers who irretrievably are fascinated and equally rejected.
It is the painful and grotesque story of Rosario Chiàrchiaro, a poor family man branded by society as the "bearer of bad–luck". He has no other alternative but to turn to the justice system, which is represented by Judge d'Andrea, a simple and good man but is deeply torn by the conflict between the sense of the duty and the knowledge that sometimes the code and the procedure can become the instrument of social bullying. With a paradoxical logic, the victim does not ask the judge to free him from the persecution, but instead, he asks for the official acknowledgement of his role: that is the License (La Patente), in order to put into practice his ill-fated professional trade. This is the only way that his family and he can avoid to live and die in poverty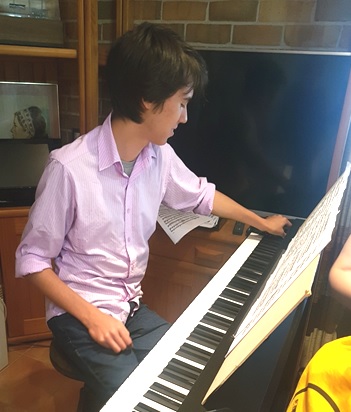 "LA PATENTE" (Sinossi)
La trama de "La Patente", è piuttosto esile ma si impone all'attenzione dei lettori che irrimediabilmente ne risultano affascinati e ugualmente respinti.

E' la storia dolorosa e grottesca di Rosario Chiàrchiaro, un povero padre di famiglia che la voce popolare ha designato come iettatoree al quale non resta che rivolgersi alla giustizia, rappresentata dalla persona del giudice D'Andrea, uomo semplice e buono, profondamente lacerato, però, dal conflitto fra il senso del dovere e la consapevolezza che talvolta il codice e la procedura possono divenire strumento di sopraffazione sociale. Con tragica solennità e munito di una logica paradossale, la vittima non chiede alla giustizia di essere liberato dalla persecuzione, bensì il riconoscimento ufficiale del suo ruolo , la patente appunto, che gli permetta di professionalizzare quel malaugurato mestiere ed evitare così che la famiglia e lui stesso vivano e muoiano nell'indigenza.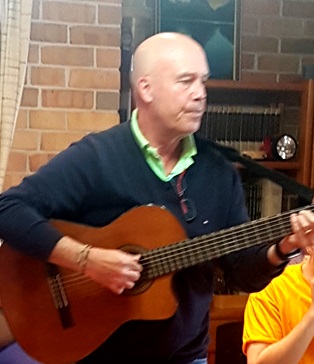 SPETTACOLO DI VARIETÀ
La prima parte della rappresentazione è uno spettacolo di Varietà, sui generis. Un intrattrenimento differente, interessante e singolare, fatto di sorrisi, canzoni, musica e dramma. Uno "Show" in sintonia con i festeggiamenti per la festa della Repubblica e che vuole prestare omaggio ad alcuni artisti, pittori, musicisti, drammaturghi presenti e passati che hanno reso l'Itaia la culla della cultura, europea e mondiale in tutte le sue sfaccettature. Uno spettacolo che spazia da "O sole mio" di Giovanni Capurro e Eduardo di Capua al "Duetto d'Amore" di Tony Cucchiara; da Giotto a Rossini, a Mascagni a Giuseppe Verdi; dal "Tango della Gelosia" a Pirandello. Uno spettacolo che mette insieme sul palco fanciulli, giovani, adulti e non più giovani. Insomma uno spettacolo, un divertimento per tutte le età e per tutti i gusti.

Organiser of "La Patente" di Pirandello & Spettacolo di varietà
The Bottega d'Arte Teatrale, although it was officially registered only on the 16th July 2012, it has been active for a quite few years. In 2010, at the Italian Forum Leichhardt, the company has contributed to the presentation of the book "Verses and Colours" with songs and poetry readings from the book. In 2011, at the Mirage, Five Dock, for the occasion of the 150th anniversary of the Unification of Italy, the Bottega d'Arte Teatrale, in collaboration with the CAS, presented  a Variety Show with songs, music and sketches. In 2012 the company staged "The Charlatan Giufà" together with Pirandello's play "La Patente" at Casula, Bossley Park and Leichhardt.
2013 was a year of great success with the production of "La Giara", another classic by Pirandello.  In May 2014 BottegadArteTeatrale performed one of Pirandello's best theatrical work, the rural play in 3 Acts "LIOLÀ" 
Brevi cenni informativi
La Bottega d'Arte Teatrale, è stata registrata  solo  il 16 luglio 2012, ma opera  già da parecchi anni.   
Nel 2010 la BAT ha contribuito alla presentazione del libro "Versi e Colori" con canti e recite di poesie del libro, all' ITALIAN FORUM di Leichhardt. Nel 2011 in occasione del 150mo anniversario dell'Unità d' Italia, in collaborazione col CAS ha allestito uno spettacolo di Varietà con canti, musiche, scenette e proiezioni nella sala di ricevimento "La Mirage" di FiveDock. Nel 2012 ha messo in scena uno spettacolo di Varietà:" Il Ciarlatano Giufà" assieme alla commedia di Pirandello: "La Patente", in parecchie località di Sydney, Casula,  Bossley Park, Leichhardt.
Il 2013 è stato l'anno di maggiore successo con la rappresentazione di un'altra classica commedia di Pirandello "La Giara".  A maggio del 2014 abbiamo rappresentato uno dei più bei lavori di Pirandello, la commedia campestre in tre atti: "LIOLÀ"