Celebrate Bastille Day with N.O.X, Jamie Grenenger and Nick Reverse
About this event
09-10-2021
After a few successful parties in Brisbane, La Messe is coming to Sydney @Boogie Mountain to bring its French touch.
For our first time in Sydney, we thought we would celebrate Bastille Day and organise a party with a line up of 100% French DJs. Covid19 had decided otherwise and we had to postpone our party to August. We were able to keep one of our headliner for July N.O.X. As we had already booked two legends of the Australian underground scene to come : Jamie Grenenger and Nick Reverse. That's now three headliners in a night! To support them, our Sydney resident TROFT will start the night.
You cannot miss this party, it's going to be musical journey
Get your ticket now online and if you show up before 10pm, we'll buy you a drink!
Join us from 9:00pm until 4:00am and be a part of an iconic party !
N.O.X was born in Paris in 1985, has always had a passion for music. it was at the age of 22 years old that he took up residency in one of the mythical clubs of Paris "Les Bains Douches" for 6 years.
After years of touring France and Europe DJing at major clubs, it was in 2011 that he signed his first EP (vinyl only) on the Crazy Jack records label with included two remixes from Alex Celler & VID. Continuing with several more releases with the French kitchen label Looneydogz records, Tealer, N.O.X most recently has released a big compilation in June 2020 with GIVING IBIZA label along side SVEN VATH, JAMIE JONES, SOLOMUN, TRAUMER, to name a few.
For 7 years now he has toured internationally playing SASH Sydney, Breakfast Club and Revolvers in Melbourne, VAULT in Bali, TRANSIT in New Caledonia and HUM in Vietnam.
N.O.X runs his own record label AÊSmusic and released his first vinyl in 2018 with house legends ARK ( perlon) and David duriez ( briquerouge)
N.O.X's music translates into a groove mixing house, microhouse, and some touch of techno
DJing in his hometown, curating Soirée together with his close mate Jengis Kose which pushes refined house and techno in the Brisbane area, as well as being apart of IWTFA which is a techno collective in Brisbane has seen Jamie Grenenger evolve into a solid presence in the small but thriving Brisbane electronic music scene bringing artist such as Antigone, Trevino aka Marcus Intalex, Robbie Lowe and Eric Volta.
Jamie is part of the IWTFA collective in brisbane which pushes the techno genre within the area of Brisbane and Gold Coast finding new talent and exposing them on the IWTFA podcast or curated events. Currently the podcast has full support showcasing residents from all over the country from techno focused events such as Machine (Melb), Nightime Drama (SYD), .darkroom (SYD), NODE (MELB), bunker (MELB) and Subtrakt (BRIS) and has plans of showcasing these brands to the Brisbane community to expose what other cities are pushing in the techno genre as well as exposing Brisbane talent to other events.
Jamie has recently had the opportunity to support brilliant house and techno acts such as Antigone, Trinity AU , Takashi Watanabe , Ripperton, Yokoo, Robag Wruhme, Claire Morgan and DJ Deep; as well as be a part of the bill at select underground nights in Brisbane & on the Gold Coast and was an artist on the 2015 Andromeda festival lineup closing the Friday night main stage after DJ Deep. These bookings have given Jamie the ability to define his sound without having to pare back his creativity with his musical selections.
Jamie's influences stem from his love of progressive house and techno and through these channels, he organically blends melodic layers heart thumping rolling techno utilising up to 3 CDJs to weave in and out of tracks to create his own signature sound and style of mixing. It's a combination that's always sure to engage the audience and keep them dancing but he is never one for predictability and will always keep them guessing.
Whether he is playing in a club or to a crowd at a festival, Jamie is fast cementing himself as a fixture in the Brisbane scene and beyond.
Nick Reverse is an eclectic Dj & Producer with a natural ability to mix sounds, Nick's inspiration comes from house music with techno influencess. His passion with the culture for electronic music in over 10 years allows him always to deliver different sets.

Not only famed around Sydney and beyond for its high energy handle behind the decks, Nick is also the founder of the extremely vibrant and successful WeLove.
Music lover born in July'88. Nick grew up in Salerno, South of Italy. At an early age he fell in love with music by playing vinyl from his father's collection, an experience that changed his outlook on life as he understood what he wanted to do for the rest of his life.
From house parties to local clubs, Nick's career started in 2012 releasing his first EP which gave him the opportunity to perform at a number of underground events across Europe. In 2014 Nick made the move to Australia and within a few months he began playing at some of Melbourne's finest underground venues where his talent didn't go unnoticed.
His heart led him to Sydney where Nick founded the extremely successful and vibrant WeLove, an institution for electronic music scene in Australia. Within 5 years he played alongside some of the greatest artists in the world such as Carl Cox, Marco Carola, Laurent Garnier, Joseph Capriati, Mark Knight, Charlotte De Witte, Nastia, Luigi Madonna & Markantonio… the list goes on.
With deep passion and strong determination Nick has quickly become one of the Sydney's leaders with a busy schedule producing and playing his own style of music in the best clubs and festivals. Nick performed at PURE, elrow, Resistance/Ultra Music, Space Ibiza, Sysyphos, Subsonic Music Festival, S.A.S.H, The Breakfast Club, Return To Rio & many more.
Originally from Brest (France), TROFT's musical journey started at a young age within the industry. Inspired by artists who, back then, and still today keep the underground electronic music scene in Brest thriving, he quickly progressed amongst the ranks and became a Techno DJ resident in different bars and clubs of the region.
In 2008, he moved to Australia and took a hiatus to concentrate on his studies and professional career. It is only 10 years later, when he moved to Brisbane, that TROFT started to pay interest in Organic House and Progressive house. With his new interest, he decided to get back on a deck and started playing again in clubs.
Co-founder of the label La Messe in 2019, TROFT exiled himself to Sydney in early 2021 and started developing La Messe Parties there. His tireless fanatic swirls between groove, tribal and melodic in his sets will bring happiness make you travel slowly from quiet Organic House to Dark Progressive House.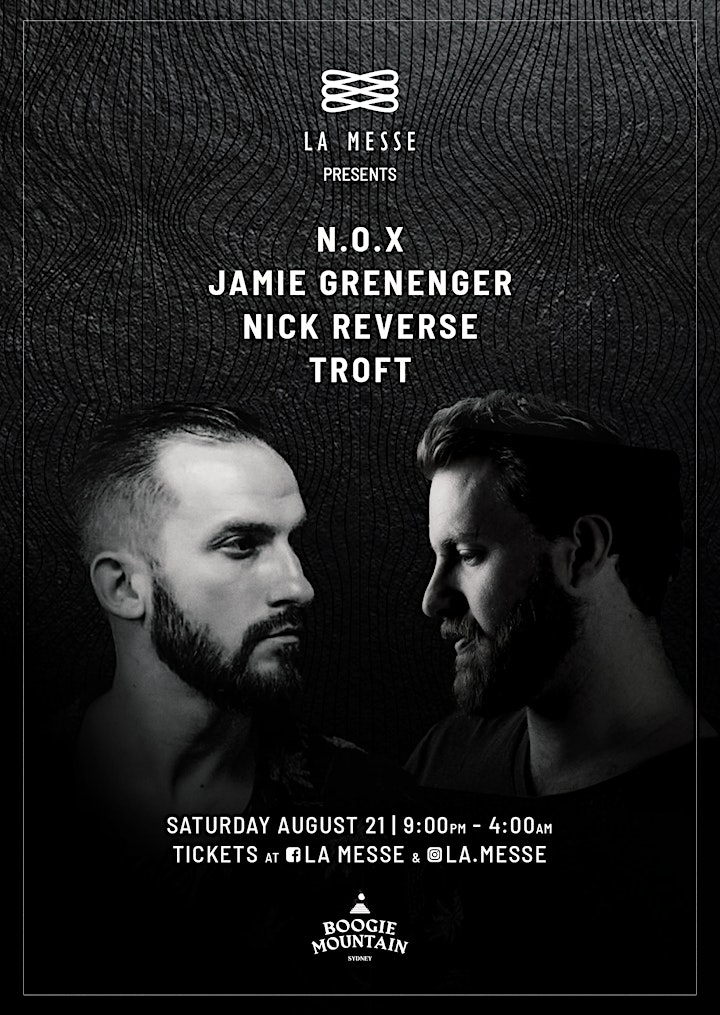 Organiser of La Messe (Sydney) is celebrating Bastille Day with N.O.X