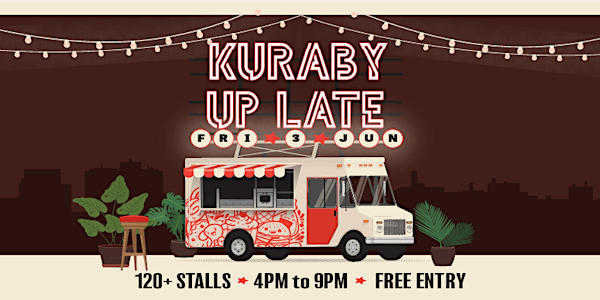 Location
1342 Beenleigh Rd
1342 Beenleigh Road
Kuraby, QLD 4112
Australia
Kuraby Markets are popping up with a Twilight foodie heaven, bringing street feasts and local beats to you with Kuraby Up Late!
About this event
If kicking back with a street food feast and vibing to local music under twinkling festoons sounds like your jam, you can't miss the bustling twilight market popping right in the heart of Kuraby from 4pm to 9pm on Friday 3rd of June.
For an extra-special Friday night, rug up and roll up to the pop-up Kuraby Up Late twilight markets. Kuraby Up Late is a family friendly explosion of taste sensations and one-of-a-kind shopping, with over 120 boutique and unique stalls, free entry and free parking.
Kuraby Up Late Markets
Friday 3rd June | 4pm to 9pm
1342 Beenleigh Road, Kuraby
Free Entry and Plenty of Free Parking
Over 120 Stalls
Street Eats, Live Music, Boutique Shopping, Roving Entertainment, and Family Fun
By registering for a ticket you agree that your contact information will be added to our database and used for promotional purposes. Please see our Privacy Policy HERE for further information.