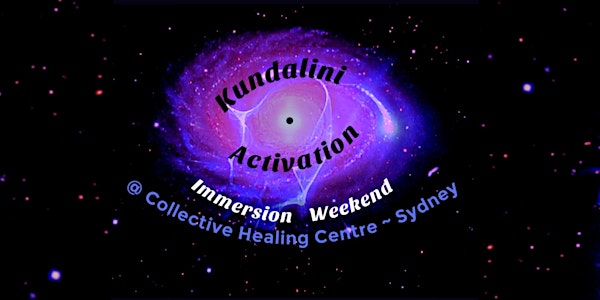 Kundalini Activation ~ InnerDance IMMERSION Weekend ~ Sydney
Location
Collective Healing Centre / Enter via Egan Street
199-201 King Street
Newtown, NSW 2042
Australia
Refund policy
Refunds up to 7 days before event
Eventbrite's fee is nonrefundable.
Kundalini Activation ~ IMMERSION Weekend Kundalini Activation Facilitator~Rebecca Romans & InnerDance Facilitator ~Richard Norton
About this event
An extended Kundalini Activation Experience!
💥 Where will your EnerJourney take you in 2022? 💥
What is a Kundalini Activation ~ InnerDance Immersion Weekend?
An Immersion Weekend provides an opportunity to delve more fully into one's experience of the kundalini / life force energy through participating in multiple back-to-back sessions of this unique practice, within the deepening resonance and collective energy of a supportive small group of other journeyers.
Short group Kundalini Activation ~ InnerDance sessions can result in remarkable shifts and yield enormous benefits for participants (especially if done regularly), but this longer Immersion Weekend format allows more space to fully integrate the energy and connection with self and the divine.
An Immersion Weekend allows for your experience of surrender to evolve as elements of the facilitation process and the 6 playlists are varied, and over the weekend intermixed with integrative practices, yoga and grounding at the end of the day to support you in this journey.
Who is this immersion weekend for?
The Immersion Weekend is for people who have already experienced Kundalini Activation ~ InnerDance before and have had at least one Kundalini Activation ~ InnerDance Session with me and are ready to dive deeper into embodiment of this energy.
Prior attendance at sessions ensures that all participants are comfortable with the activation process and have an initial sensitivity so they can go deeper into the experience of this life force energy.
If you are interested in the Immersion Weekend but have not previously attended a Kundalini Activation ~ InnerDance Session please contact me, and I will assist in locating a session you can attend live or online.
Note: If you are pregnant please contact me before you buy a ticket.
If you have a condition that could make you prone to episodes of psychosis an Immersion Weekend may not be appropriate for you.
Cost of the Immersion Weekend
The full cost for the Immersion Weekend is $555 and is payable by Thursday June 23rd.
( As with all participants, you will have had to attended at least one Kundalini Activation~InnerDance Session with me, or Richard and I )
We look forward to further supporting you in this Journey with the Energy. We would be delighted if you choose to join us with the purpose of dining deep within ourselves.
Places are limited. A deposit of $222 will secure your place.
An Early-Bird price of $444 is available if paid in full by Friday, 3rd of June 2022.
$ 🌺There are also a limited number of Sliding Scale Tickets for those who need them.
$ 🌺 Please contact me directly about these. ✨💖
Rebecca and Richard
*******
VENUE ~The Collective Healing Centre 199-201 King Street, Newtown Sydney
Above the Modern Times bookshop and art store. Enter via Egan Street.
*******
The Program
The weekend program is organised around six (6) separate Kundalini Activation Sessions, with playlists intended to take you through the different energy centres and aspects of your inner being.
You will need to be in attendance for the full weekend and all the sessions each day from 10:30am - 6pm
Between Kundalini Activation sessions we will do short practices to support relaxation, centering, connection, and grounding.
Accommodation
Accommodation is not provided.
Catering
A Light lunch will be provided (Raw/ Vegan / Gluten free)
If interested, please feel free to contact me for further details.
My Teacher ~ Serena Olsen talks about:
What is Innerdance?
***The Kundalini Activation Immersion Weekend was amazing, life changing. I can't wait for the next one!
Cassandra C. Sydney, Australia
***My Kundalini Activation experiences with Rebecca have felt so loving, supportive and safe. I experienced something different every time and always felt more awakened on a physical, energetic, emotional, spiritual level. I experienced free flowing body movements which I can now tap into when I dance for myself or meditate on the Divine Feminine. I had visions that blew my mind. I expressed and released emotions that I didn't realise I was holding on to. So much went on in each session and I was able to completely surrender because I felt safe with Bec.
Popi I. Psychologist, Oriental Dance and Yoga teacher. Budding artist. Sydney, Australia
***Rebecca held incredibly professional space for something that was so deeply spiritual . I had a Kundalini awakening in my early 20s, and can confirm 100% that this is the energy she is working with. A surge of electrical/vibrational energy pulsed through my body and the energy was healing, connective, and brought me deep in to my senses. She is the real deal, and I would highly recommend.
Josh C. Central Coast, NSW Australia
***Rebecca can drive your inner self towards a new level of awareness. The healing process is liberator and generates a flow of emotions that reconnect yourself to your heart. Thanks Rebecca!
Tiziana A. Tokyo, Japan