Join us to celebrate our Make Ya Move and Xcel students and see how UNSTOPPABLE they are!
About this event
Kulture Break is proud to present the 2021 Mid-Year Concert "UNSTOPPABLE". This is a chance for students to show off their passion for dance and hard work throughout terms 1 and 2. All money raised from this concert is put back into Kulture Break's programs.
At Awaken Church, 490 Sulwood Dr Kambah
Please check our website www.kulturebreak.com for more information and class lists for each concert
10.30-11.30am Concert 1
2.30-4.00pm Concert 2
7.00-8.30pm Concert 3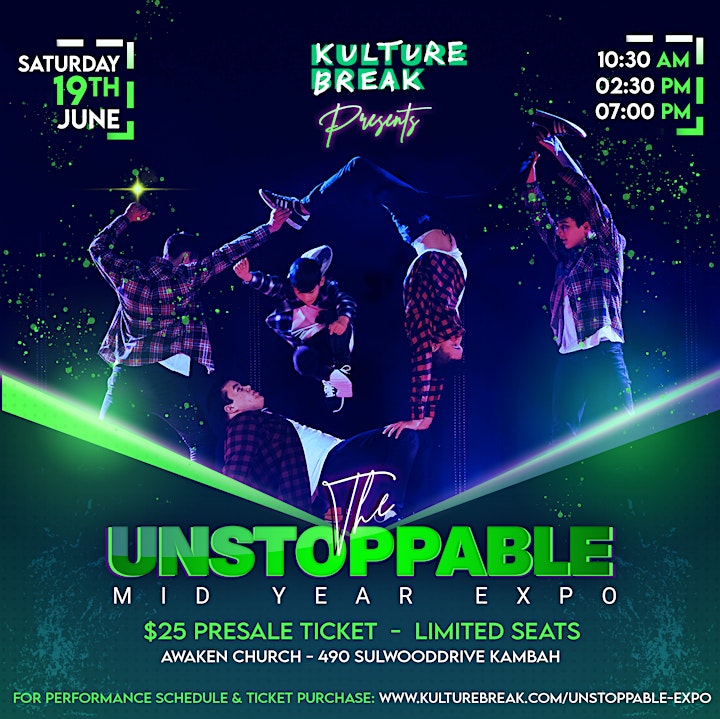 Organiser of Kulture Break presents UNSTOPPABLE Mid-Year Fundraiser Expo
Kulture Break is a not-for-profit social enterprise committed to the well-being, transformation and empowerment of young people and the community. Kulture Break realises this by engaging them in a safe and active environment, using the performing arts and leadership development to empower and change lives.
Through its programs, Kulture Break aims to provide early intervention measures against issues affecting today's youth, including depression, anxiety, suicide, drug and alcohol abuse, social isolation and childhood obesity.
Our goal is that they believe in themselves and live life with purpose.
Kulture Break conducts dance classes, mentoring and social skilling programs, tailored workshops, seminars and conferences, motivational talks and performances for schools, government agencies and community organisations across Australia and internationally. Kulture Break conducts Canberra's largest community youth expo festival showcasing hundreds of local performers, top-selling Australian artists and international performers from around the world. Since its inception, Kulture Break has engaged with over 400,000 young people in schools, jails and communities all over the world.
Kulture Break strives to deliver best practice programs and the highest quality product to the community. We seek to encourage team members to commit and take ownership of their roles so that we continue to produce inspiring, professional, balanced leaders for the future.