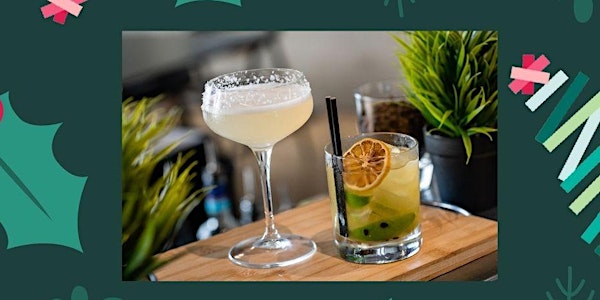 Kubarz presents - "A Virtual Christmas Cocktail Experience"
Sales Have Ended
Ticket sales have ended
If you have missed out on tickets for this event please check our website www.kubarz.com.au for further class times, sessions and tickets. You may also want to organise a private cocktail class for work colleagues, family or friends - please email us at info@kubarz.com.au for more information.
Connect with family and friends online or in person via this Virtual Christmas Cocktail Experience!
About this event
Connect with family and friends online or in person via this Virtual Christmas Cocktail Experience!
This will be a great excuse to catch up with a group of friends or family and have some fun together before kicking on at home or going out!
Alternatively, it's a great way to connect with friends or family across Australia if you can't connect with them in person! We can also provide your own private zoom room at the end of the experience to kick on and chill out with friends and family whilst enjoying your cocktails. (Subject to availability)
Join us for a special Christmas cocktail experience; you will be transported to the North Pole and shown how to create 4 fantastic Christmas cocktails you can make for your family and friends this Christmas.
Join in the festivities and get dressed up (or not if you prefer your camera off) and join our hosts on a Christmas cocktail journey whilst enjoying Christmas music, Christmas cocktails and Christmas cheer!
"Voted by AMEX as Australia's BEST cocktail experience!"
"Purchase as a Christmas gift!"
"People of all skill sets wanting a fun experience will love this online cocktail experience from the comfort of your own home with a small or large group!"
Class includes;
• Can include cocktail kit and cocktail ingredient party packs or DIY options (see ticket options)
• Interactive & professional Emcee
• Professional bartender
• Cocktail history, trivia and technique demonstrations
• Music and audience interaction & participation
• Chance to win prizes
• Post class recipes and mixing notes
• Learn how to mix and shake like a pro in a fun and entertaining environment!
Learn how to make;
1. Rudolph Ramble (aka Raspberry Ramble)
A British classic that will transport you to a Garden Christmas party in the middle of Summer. Made with gin, raspberry liqueur, lime Juice and sugar syrup. Refreshing, sophisticated and tasty.
2. Gimlet Grinch (aka Vodka Gimlet)
1928 classic cocktail made with vodka, lime juice and simple sugar syrup. It is served shaken and chilled or on the rocks, a classic cocktail enjoyed by all this Christmas.
3. Mistletoe Martini (aka Marmalade Martini)
Invented in the 1920's a terrific aperitif perfect for your next Christmas party with your friends& family. This cocktail comprises of gin, orange marmalade and lemon juice shaken with ice and fine strained into a chilled glass. The unique bittersweet taste will get your taste buds craving for more.
4. Santa's Juice (aka French Martini)
Santa's favourite; elegant yet "in your face'- just what you would expect from a cocktail created in a New York bar in the 1980's, comprised of vodka, raspberry liqueur, pineapple juice shaken well and strained into a chilled glass, created to impress.
Here is what a few recent guests had to say about our classes;
"Great fun, excellent cocktails, great facilitation! Highly recommend, great for all levels of experience." - Matthew Ferrinda
"This class was so much fun and a great way to kill an evening. The instructions were clear and now I have 4 cocktails under my belt to impress friends and family" - Alison Leeson
"Amazing online live stream class. Kubarz has an unbelievable way of engaging you in the art of cocktail making you won't even notice you'll become a sophisticated amateur instantly" - Luis Rene
"Thanks so much for the fun class! Cocktail kit is great quality and super handy to now own, and the cocktails were delicious! The guys were great fun, and really know their stuff." - Kirsten Pulbrook
"We absolutely loved it! We loved that it was interactive and that we were actually taught step by step how to make each cocktail and how to use the shaker. Have recommended it to our friends already! Thanks for a great evening" - Jessica Ball