KSR Talks: "IN STUFF WE TRUST" - The things we gather with Callum Preston
Description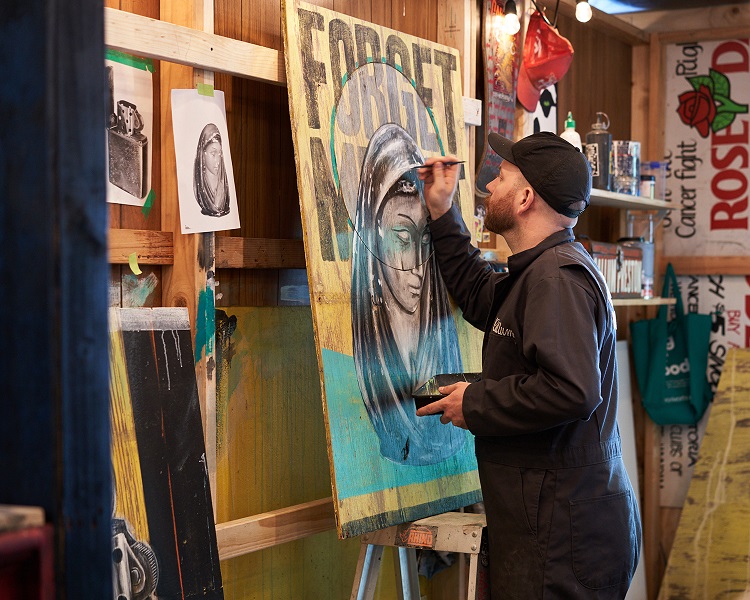 Join Melbourne artist, designer and maker Callum Preston as he reveals his latest solo exhibition at the Rialto's KSR Art Bar Gallery titled 'Everything Is Borrowed'.

Carrying on from his prior solo shows "Callum Preston's MILK BAR" now touring galleries regionally and "Bootleg to the Future", Callum has been busy working on projects for Marvel Comics, Collingwood Football Club, singer songwriter Alex Lahey and Converse among many others. He was also part of the team behind 2019's widely-lauded and award-winning exhibition, RONE – Empire.
"Everything Is Borrowed" highlights items of memory, special trinkets and keepsakes that people gather throughout their lives and continue to expand their stories as they are passed on.
The centrepiece of the show is an active workshop that Callum has built in the middle of the gallery for creating his works over the 6 week residency in KSR Art Bar Gallery.
Join us at this special preview event as we host a short presentation by Callum and an interview exploring his approach to art and creative thinking, his process and ethos behind this contemplative project, as well as his interest and dedication to using found and recycled materials.
Audience Q&A to follow.
The exhibition: Callum Preston presents 'Everything Is Borrowed'
Where: KSR Art Bar Gallery, the Rialto
Exhibition dates: Thursday November 21 – Saturday December 7
KSR Art Bar Gallery opening hours: 4pm – 11pm, Monday – Friday
Address: Entry via 525 Collins Street, Melbourne VIC 3000