Event Information
Location
Korea Stock Exchange
33 Yoido-dong
Youngdeungpo-ku
Seoul, 150-010
Description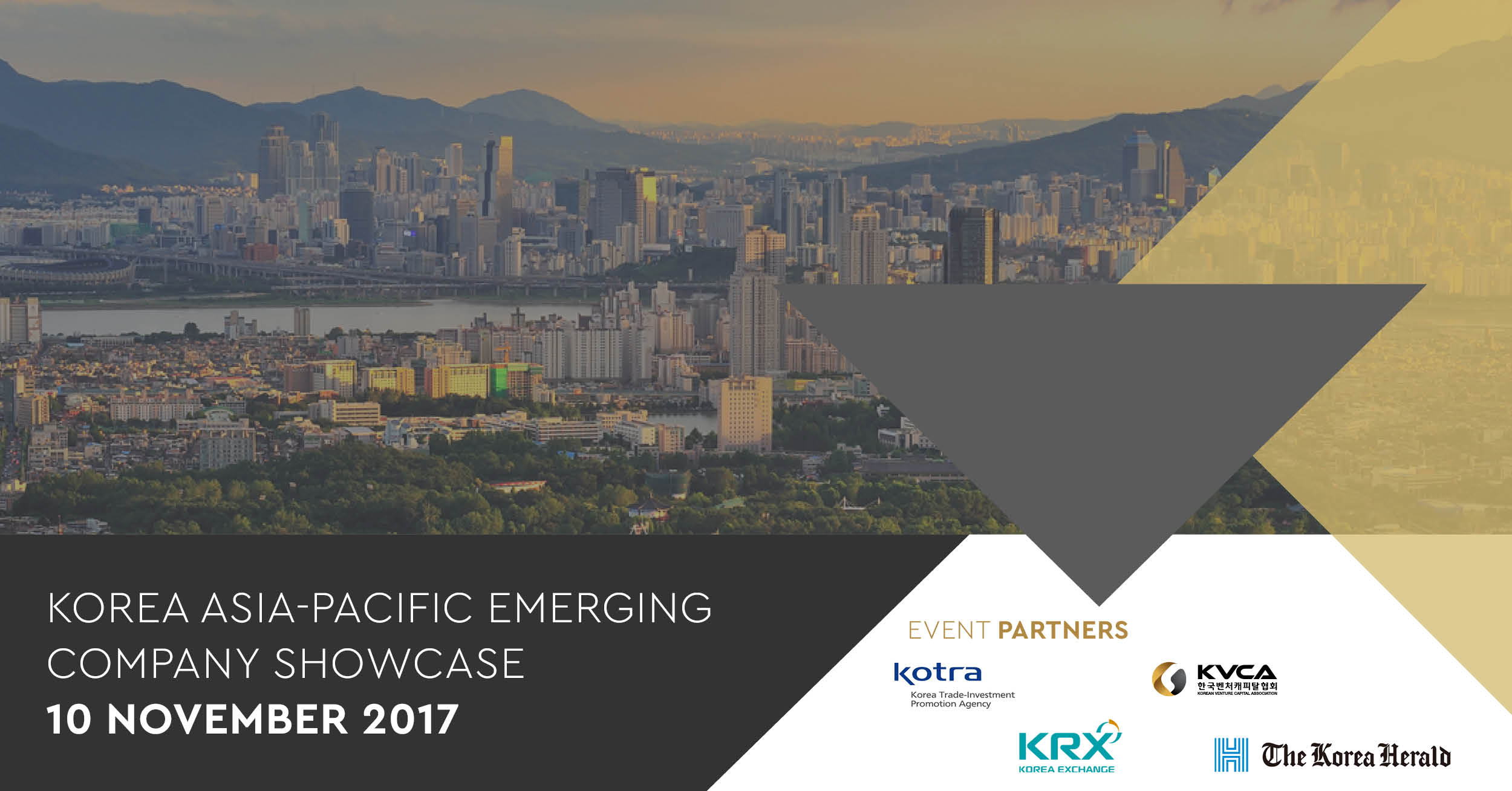 Australasia's Leading Private Investment Platform, Wholesale Investor has joined forces with Kotra, Korean Venture Capital Association, the Korean Stock Exchange and The Korean Herald to host the Annual Asia Pacific Emerging Company Showcase on Friday, 10th November 2017, as part of our Asian roadshow tour.

Featuring Australasia's leading emerging growth companies, the special collaboration will provide you with the opportunity to uncover unseen opportunities in Emerging Technologies, Life Science, Advanced Manufacturing, Medtech, ICT and Cleantech sectors.

Event Highlights:
Join 100+ high net worth, accredited and professional investors
Hear live presentations from leading private, pre-IPO and listed emerging companies
Network directly with the participating C-Level executives during exclusive networking sessions
Gain access to unseen international high-growth opportunities

Register now for your opportunity to discover, network and create strategic long-term relationships with Asia-Pacific's leading innovators and entrepreneurs.

Please note, due to the exclusivity of the event limited tickets are available and a selection criteria will apply.

EVENT DETAILS:
Date: Friday, 10th November 2017
Time: 12.00pm-3.00pm
Registration: 11.00am
Venue: Korea Stock Exchange - 33 Yoido-dong, Youngdeungpo-ku,Seoul, South Korea, 150-010
Cost: This is a free event for accredited investors, brokers, fund managers & family offices
Event Schedule
12:00 – 12:10: Introduction – Luka Krajnc, Business Development Officer, Wholesale Investor – Speaker: Luka Krajnc
12:10 – 12:20: BMYG – BMYG – Speaker: Vincent Lu
12:20 – 12:30: Fantasy Sports Global – FANTASY SPORTS GLOBAL – Speaker: Daniel Simic
12:30 – 12:40: Ducere Group Pty Ltd – DUCERE GROUP PTY LTD – Speaker: Mat Jacobson
12:40 – 12:50: Greenfields Exploration Pty Ltd – GREENFIELDS EXPLORATION PTY LTD – Speaker: Jonathan Bell
12:50 – 13:00: E Agri Pte Ltd – E AGRI PTE LTD – Speaker: Patrick Duffy
13:00 – 13:10: The LifeArt Company Pty Ltd – THE LIFEART COMPANY PTY LTD – Speaker: Mike Grehan
13:10 – 13:20: CanYa – CANYA – Speaker: Jet Yap
13:20 – 13:30: MatchMove Pay Pte Ltd – MATCHMOVE PAY PTE LTD – Speaker: Edwin Chen
13:30 – 13:40: Blue Sky Biologicals Inc. – BLUE SKY BIOLOGICALS INC. – Speaker: Preet Marwaha
13:40 – 13:50: Wholesale Investor Pty Ltd – WHOLESALE INVESTOR – Speaker: Steve Torso
13:50 – 14:30: Drinks & Networking
To sponsor or present at this event, please click here.
Date and Time
Location
Korea Stock Exchange
33 Yoido-dong
Youngdeungpo-ku
Seoul, 150-010