Kirkpatrick Four Levels® Evaluation Certification Programme - Canberra October 2019

Tuesday, 22 October 2019 at 9:00 am

-

Wednesday, 23 October 2019 at 5:00 pm
Event Details
 In October GMD Partnerships will deliver the world renowned Kirkpatrick Four  Levels® Evaluation Certification Programme - Bronze Level to a maximum of 16 Learning & Development and Human Resource professionals.
Course description
The Kirkpatrick Model comprises the foremost evaluation model in the world. In this course you will learn the true and correct methodology and apply it to your own programme to maximise business results. 
During this course you will learn the four levels, receive a participant manual filled with examples and templates that you may borrow and adapt to build your own tools, and gain a complete understanding of what each level measures. You will also explore the reasons why evaluation is critical to training success and hear case studies and success stories from companies that have used the model effectively.
A unique feature of this course is the exploration of how to ensure that what is learned transfers to on-the-job behaviours. You will learn why training alone is not enough, and receive guidance to make sure that what you teach actually gets used on the job.
You will finish an action-packed, interactive course by creating an evaluation plan to ensure that your own learning transfers to on-the-job behaviours. On submission of your evaluation plan you will receive a grade and personalised comments - this will allow you to become bronze level certified.
Click here to see the Programme explained by Jim and Wendy Kirkpatrick.
What you will receive
Pre-work 

Interaction throughout the workshop

Workbook including templates, tools, and examples

Copy of the book - Kirkpatrick's Four Levels of Training Evaluation 

Post workshop assignments

Grading and personalised feedback on your individual evaluation plan

Certificate of completion and certification credential

Four weeks of follow-up via email

Informal consulting via phone/email for one year from date of certification
  Kirkpatrick Certification Package
Becoming a Gold Level Kirkpatrick Certified Practitioner
and making a real impact in the world of training and development
$400 discount when committing to the Kirkpatrick process of certification.
Our aim is for you to become a true strategic business partner, by creating and demonstrating the value and impact of training initiatives to your organisation's bottom line. To achieve this, the Kirkpatrick certification process of Bronze, Silver and Gold certification, takes you on a journey that culminates in professional recognition for you and your organisation's achievements.
Kirkpatrick Bronze Level certification provides you with the framework to develop a robust and stakeholder driven evaluation plan that will prepare you to maximise training's value and then demonstrate that value. Kirkpatrick Silver Level certification provides the structure and support you need to successfully implement your evaluation plan and the ability to demonstrate your results back to your stakeholders. Kirkpatrick Gold Level certification provides a way for you to share your accomplishments and the value created from your training initiatives with your community of practice through a presentation or publication. Throughout your journey you will have the on-going support of Kirkpatrick Certified Facilitators and Australasian Kirkpatrick Affiliates, David Dewhurst and Mark Harris.
To enable you to achieve this professional recognition we would like to offer a special discount of $400 off the cost of registration for Silver certification if made at the same time as registering for Bronze certification. This requires a deposit of $200 to be paid at the time of Bronze level registration but full payment for Silver is not required until you register for the actual workshop. There is no additional cost for Gold Level certification. To make the commitment to achieve your own professional recognition please complete the registration for Bronze Level certification and the Silver discount section in the registration section. See terms and conditions in the pricing section.
Your 2 day schedule
Tuesday 22 October

8:30

Tea and coffee available

9:00

Session begins

12:30

Lunch (provided)

1:15

Session resumes

5:00

Session concludes

Wednesday 23 October

8:30

Tea and coffee available

9:00

Session begins

12:30

Lunch (provided)

1:15

Session resumes

5:00

Course concludes

 

 
Australia & New Zealand testimonials
"I had a great experience over the two days and have come back to work enthused and determined.  Your approach to learning and building relationships was truly living and breathing Kirkpatrick and you had me fully engaged. 
I spent most of Friday, unpacking Kirkpatrick's model for two of my colleagues and they were as excited as me about the possibilities.  I even helped my husband to think through the steps to help him clarify a problem at his work!  My Saturday afternoon was spent on a sun lounger devouring the book you gave me.  Loved it!
It is rare to go on a course where the participants also inspire but that is what I experienced.  Thanks to you all for sharing your great ideas and resource tips.  Looking forward to keeping in touch."
Heather Compton
Global L&D Manager, Orion Health
---
"The Kirkpatrick training has allowed me to see the " bigger picture" when delivering educational material.  I am now asking management what the desired outcomes and leading indicators will be as a result of the education package.  The Kirkpatrick Model has highlighted the importance of what happens following  the education session and  how we can best support changes in the workplace.  I have also reviewed and made changes to my course material and evaluations,  to link what students have learnt back to desirable workplace behaviours.  I would recommend this programme to all learning and development staff and have found the GMD team ongoing support invaluable in helping me implement changes in my practice."
Leah Caldwell
Clinical Educator
SCDHB
---
"More than any other learning event in my time working in L&D, I feel that this will have immediate relevance and application to my work.  I recommend this programme without hesitation, not only for Learning and Development Professionals, but even for General Managers and Executive Teams"
Andy Corbin,
L&D Programmes Developer, IHC.

---
"For me, the best thing about attending the Kirkpatrick Four Levels Evaluation programme was to be able to connect the dots. The programme takes a holistic and diagnostic approach which helps L&D professionals to establish connections between evaluation, Organisational Development, performance and engagement."
Adrita Mukhopadhyay
Ministry of Justice - Wellington
---
"I attended the two day Kirkpatrick training last year, and I suggest that it should be compulsory training for all Learning & Development practitioners! The course catered well for those new to the Kirkpatrick Model and also to those already familiar with the framework. In practical terms, not only did the course help us with developing a more robust evaluation process (beyond learner reactions), but also with a re-think of our entire approach to needs analysis, learning delivery and on the job support practices. Plus having Jim Kirkpatrick deliver this course with the GMD team was an absolute bonus."
Carolyn Bates
Christchurch City Council
---
"Being a HR professional I was quite skeptical about the benefit of this training for myself and the organisation I am working for at first. However, during the training I realised its full potential and how it could help us to improve our current processes and practices. From time to time in my work I would come across a situation where an employee was given all the possible training opportunities, but still failed to apply a learned skills and behaviours on a job. This training helped us to identify what we been missing and how to fix a problem.
The training was very inspirational, energising, bringing lots of ideas. I feel that all the techniques used, the methods, the powerpoint were extremely good. At no point did I feel that the training was "dragging on". There was a lot of energy and enthusiasm not only from the facilitators but the training participants as we all were so engaged in what was happening in the room. It is great to have Kirkpatrick facilitators with so much energy. I felt challenged and consistently drawn into the exercises, discussions and presentations had my full attention due to the way in which they were conducted. Thank you a lot!"
Maryna Bilousova, Workforce Development Manager 
Pact Group - Dunedin
---
"I attended the KP workshop in Christchurch last year hosted by GMD Partnerships.  The workshop was of great value and I immediately made use of the tools and strategies taught to improve the value of my own training sessions for business clients around New Zealand.  I highly recommend the workshop to those interested in ensuring that training returns a return on investment."
Mike Catton
Impact Leadership - Christchurch
Global testimonials
"The value the Kirkpatrick training provides not only pertains to evaluation, but to the entire training and instructional design process making it easier to identify true business needs and provide true business results. It's a wonderful model!"
Iris Nunn
Nunn Training and Development
---
"My opinion of the value of evaluation has been changed. I now see how the evaluation process and Kirkpatrick model are essential to both ensuring a proper start and successful ending to my interventions."
Denny Ward
People Development Manager
---
"Wendy took the time to listen intently to feedback that challenged the thinking and ideas. I did not feel that this was "the Kirkpatrick way and that's all."
Steve Ball
Vale
---
"This course really opened my eyes on how to get past Level 1 and 2 evaluations and center in on the behaviors and results aspect of making training relevant to the end user, and helping stakeholders realize its importance to mission readiness."
Bill Hall
Booz Allen Hamilton
---
"This is undoubtedly one of the most valuable trainings I've attended in a long time. We are now equipped with the appropriate tools to confidently evaluate our training programs. Thank you!"
Mayda Downs
County of San Diego - HHSA
---
"My new knowledge has given me a passion to evaluate current and future programs to the appropriate level."
Penelope Rose
Perrigo
---
"Training with a purpose - tried and true - proven model. Appropriate for professionals in any industry."
Margie Larson
Booz Allen Hamilton
---
"Love the New World Kirkpatrick Model! It applies to rapidly changing industry, and allows for flexibility within a framework."
Rose Holiday
S.C. Johnson
Your facilitators
Mark Harris is a Certified Facilitator for Kirkpatrick Partners, Leadership Coach & Facilitator and co-owner of GMD Partnerships Ltd. 
Mark is a highly experienced facilitator working with a wide range of New Zealand organisations, focusing on the areas of leadership, coaching and continuous improvement. 
For more information on Mark, click here
David Dewhurst is a Certified Facilitator for Kirkpatrick Partners, Leadership Coach and Facilitator and co-owner of GMD Partnerships Ltd.
David comes from a background in commercial general management. He has fifteen years experience as a facilitator. David works with corporates, not for profits and government bodies in the areas of leadership development, coaching and change management.
For more information on David, click here
David and Mark have implemented the Kirkpatrick Partnership Model at a number of leading organisations and will be presenting their most recent case study at the ATD International Conference in Denver, USA. 
Message from Dr Jim Kirkpatrick:

In December 2012, I co-facilitated the first ever Kirkpatrick Four Levels® Evaluation Certification Programme in New Zealand alongside David and Mark of GMD Partnerships. This has enabled me to accredit both David and Mark to facilitate on behalf of Kirkpatrick Partners, and I fully endorse them to deliver Kirkpatrick training programs to our New Zealand and Australia community. 
David and Mark recently presented a New Zealand case study at the Australian Institute of Training and Development International Conference in Melbourne on the practical application of the Kirkpatrick Model. In doing so, they demonstrated theoretical and practical knowledge of the model that is changing the way L&D practitioners are building bridges and partnering with their businesses. You will find their delivery style encouraging and enlightening, and I know you will enjoy every minute of your participation in this programme.
All the best,

Dr. Jim Kirkpatrick
Kirkpatrick Partners
Travel information
Parking:
Here are directions to closest available parking. Click to view PDF.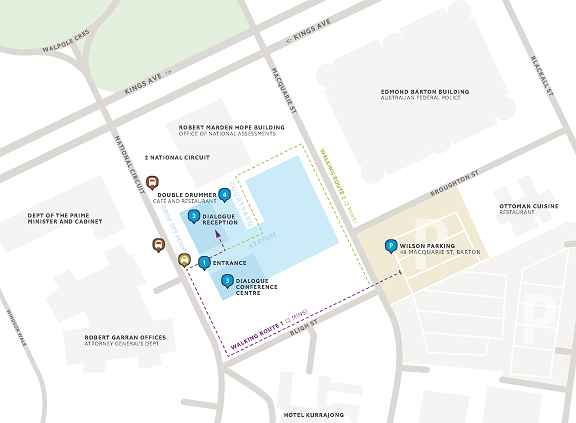 Accommodation:
There is a wide range of accommodation to choose from nearby or in the Perth CBD.
Payment options
Credit card payments: Accepted online
PayPal: Accepted online
Electronic funds transfer: request an invoice at the bottom right corner of the next registration page
Electronic funds transfer options allow you to register now and pay later. All payments are due within 14 days of invoice date or by 4 working days before the programme, whichever is shorter. 
Our cancellation policy
If you register for this programme and for any reason are unable to attend, please notify us right away. Here is our cancellation policy:
45+ days prior event: 100% refund less $200 + GST processing fee
45 or fewer days prior to event: please substitute another attendee for the same event.
Dr. Donald Kirkpatrick is credited with creating the Kirkpatrick Model. Please visit kirkpatrickpartners.com for more information.
Kirkpatrick Four Levels®  is used by permission of Kirkpatrick Partners Ltd
When & Where

Dialogue
4 National Circuit
Barton
Canberra, ACT 2600
Australia

Tuesday, 22 October 2019 at 9:00 am

-

Wednesday, 23 October 2019 at 5:00 pm
Add to my calendar
Organiser
GMD Partnerships are proud to be the Australasian affiliates of Kirkpatrick Partners. We specialise in organisational development learning and performance.
The Kirkpatrick Business Partnership model underpins our approach to our work. We develop and facilitate programs for business clients in New Zealand and overseas.
Visit our website for more information: gmdpartnerships.co.nz