Event Information
Refund Policy
Contact the organiser to request a refund.
Eventbrite's fee is nonrefundable.
Kings of Comedy's 5th Birthday Special and return of Melbourne's best comedy night
About this Event
2nd Saturday Session just announced 8:30-9:30pm
Need a laugh?
We've got you covered with one of the best showcases in town, come let your hair down and enjoy a night of non stop laughs.
Shorter shows, covid safe, outdoor room. What more could you want?
Dinner and Show? We've got that too! Enjoy a scrumptious pub styled meal before or after the show.
Hurry seating is strictly limited and will sell out fast. Tickets are fully refundable and fully transferable. You won't lose your money in the small chance this doesn't go ahead.
We present you with a quality selection of some of the best rising stars of Australian Comedy, topped off with a professional headline act.
They say laughter is the best medicine, so come and get your dose with us.
Previous Headliners:
Hughsie, Dave O'Neil, Richard Stubbs, Fiona O'Loughlin, Lehmo, Denise Scott, Nick Cody, Dilruk Jayasinha, Tony Martin & many more.
So check in, check out and enjoy a well deserved night of laughs with us.
What people are saying:
'Get more bang for your buck, with this highly acclaimed showcase.' Herald Sun
'Stop bugging me for a review.'  Dave O'Neil 
'Welcoming staff and always a great line up. We go here often and haven't been disappointed yet.  ⭐️⭐️⭐️⭐️⭐️' Joanne M
'Amazing atmosphere, amazing food and drink, amazing service and topped off by an amazing comedy show. I have recommended this place to all my family and friends. ⭐️⭐️⭐️⭐️⭐️' Hemaima R
'Delete my number.'  Fiona O'Loughlin 
'Great night at Kings of Comedy! Highly recommend!⭐️⭐️⭐️⭐️⭐️' Tayla D
'This is a matter for the courts now.'  Bob Franklin
'The Kings of comedy show was excellent. Service was great. ⭐️⭐️⭐️⭐️⭐️' Skye H.
'Was a great night out! Had a lot of laughs with Kings of Comedy, the MC was amazing! Will be back for sure!  ⭐️⭐️⭐️⭐️⭐️' Brittney A
'Hilarious night, cheeks and belly sore from laughing.⭐️⭐️⭐️⭐️⭐️' Simon O
'I haven't laughed so hard for a long time. Awesome night and very awesome comedians. Highly recommended. ⭐️⭐️⭐️⭐️⭐️'  Lynette G
'Have been a massive fan of stand-up comedy for my whole life but had never checked out local comedy because I assumed it'd be pretty sh#t.I am so glad I came out tonight. The whole line up was outstanding and I didn't stop laughing. I will 100% be checking it out again! ⭐️⭐️⭐️⭐️⭐️' Melissa V
'A great show, the MC was good and the comics excellent value, just want I needed on a Friday night. Would go again.  ⭐️⭐️⭐️⭐️⭐️' Suzanne
'Haven't laughed like that in a long time! All 5 of us walked out with our cheeks hurting and were still laughing the next day. Fantastic way to finish our trip in Melbourne. Planning our next trip to see you guys! Thanks for the laughs! ⭐️⭐️⭐️⭐️⭐️'  Lisa H
'Fantastic. Laughed from start to finish. You have to visit this place! Wish I lived in Melbourne so I could go back again. ⭐️⭐️⭐️⭐️⭐️'
'So much fun. It's awesome that up and coming comedians get to show their skills to new people. Had a ball and can't wait to go again.⭐️⭐️⭐️⭐️⭐️' Nick N
'Great night out, Brilliant comedians! We were impressed by the level, we'll definitely come back! ⭐️⭐️⭐️⭐️⭐️' Pierre
'A festival favourite' - Scenestr
'A great event if you're unfamiliar with the comedy world. ⭐️⭐️⭐️⭐️'  Mojo News
'Kings of Comedy is like a blind date ⭐️⭐️⭐️⭐️' - Beat Magazine
'This is the comedy punters should be spending their money on ⭐️⭐️⭐️⭐️⭐️' Theatre Travels
So book a babysitter, send the kids to the Grandparents and head on down for a scrumptious meal and night you won't forget.
Go on, you deserve it!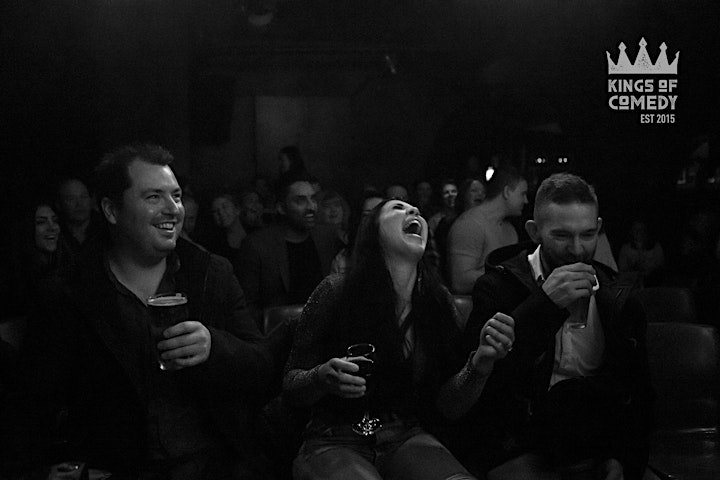 Date and Time
Location
Refund Policy
Contact the organiser to request a refund.
Eventbrite's fee is nonrefundable.