Kingdom Praise Annual Conference January 2022
About this event
It's that time again. When we gather our global family from all around the nations to seek our Father for the plans and purpose Heaven is revealing for the year ahead.
Our theme the past 2 years has been Christ Formed In You with the aspect of slowing down to abide in Him and prepare our hearts for what is to come.
The theme this year is the same - Christ formed in you - but from the perpective of it being time to lauch out into the deep with a God confidence to multiply the talents He has given us to steward. Exciting times ahead....are you ready to hear from God and to move out with His blessings?
Come and join us - all welcome.
Date and times for the conference
Thursday 27th - Saturday 29th January 2022
10:00 am Registration & morning tea
10:45am - 4:30pm Sessions including lunch
6:00pm Dinner
7:00pm - 9:30pm Prophetic worship & evening session
Sunday 30th January 2022
5:15pm - 7:30pm - Sunday Communion Service
7:30pm - Fellowship dinner
ONLINE OPTION
Due to COVID-19 restrictions, many of our international family may not be able to join us in person. However, you are most welcome to join us via our zoom link. Sign up for the online zoom ticket instead.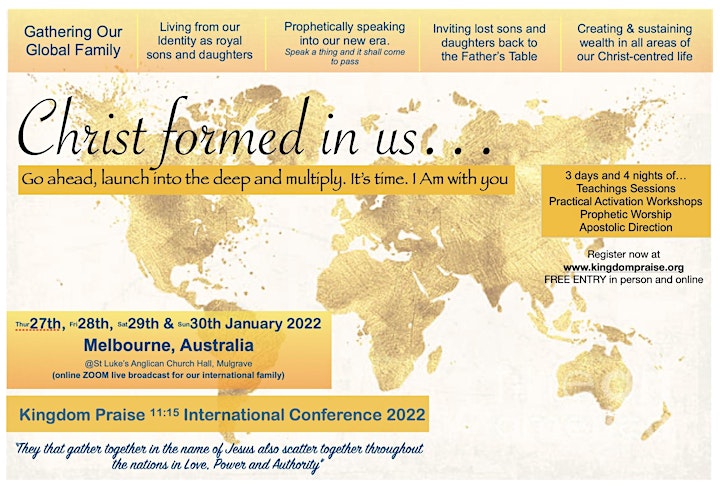 Organiser of Kingdom Praise International Conference 2022
The major thrust of our work at Project 61 International Inc. involves supporting and training poverty stricken communities to become self sufficient and God dependent. We aid with the orphans and widows and teach sound business and biblical doctrines, raising leaders of integrity and good character around the continents and nations. 
Thank you, your purchases help support Project 61 Interntional Inc. All proceeds are used to eliminate poverty by motivating and training indiviudals and communities in self-sufficient, God dependant Kingdom living, restoring the widows, orphans and needy to a better standard of living and life.
Our international HQ is situated in Melbourne, Australia.