Sales Have Ended
Ticket sales have ended
You just missed out by a hair! Please contact Melissa to check if there are any spots or for upcoming workshops: 0405559254 or art@melissacarey.com.au
Sales Have Ended
Ticket sales have ended
You just missed out by a hair! Please contact Melissa to check if there are any spots or for upcoming workshops: 0405559254 or art@melissacarey.com.au
Description

Kids School Holiday Program 16th - 20th January 2017
Local Sydney artist Melissa Carey's work has been shown nationally and internationally. She teaches creative workshops and believes in encouraging, nurturing and supporting everyone to bring out their natural creativity. Melissa has been teaching workshops for adults over the last 3 years, and is expanding to share her passion with kids.
Melissa will be teaching modern craft workshops for kids between 7-12 years. 3 hour sessions or full-day sessions available at the Bondi Pavillion, Sydney (see the timetable below for times and details of the workshops). Each workshop will have two craft projects available with all materials inclusive in the cost, where the kids are able to follow instructions to make the modern craft using their own creative expression and style and take home their finished craft pieces along with their new skills. There will be no paper plates or toilet rolls here - only high quality materials used for the best craft projects in Sydney!
Cost: $60 per workshop per child - 3 hour session (or $50 each for 2+ children (use discount code "DOUBLETHEFUN" ). Full day workshop (2x 3 hour sessions) at the reduced rate of $110 per child (use discount code "CRAFTYKID") NOTE: that lunch is not provided. Small classes of 6-12 kids. For booking multiple days, contact Melissa.
Please see below for timetable: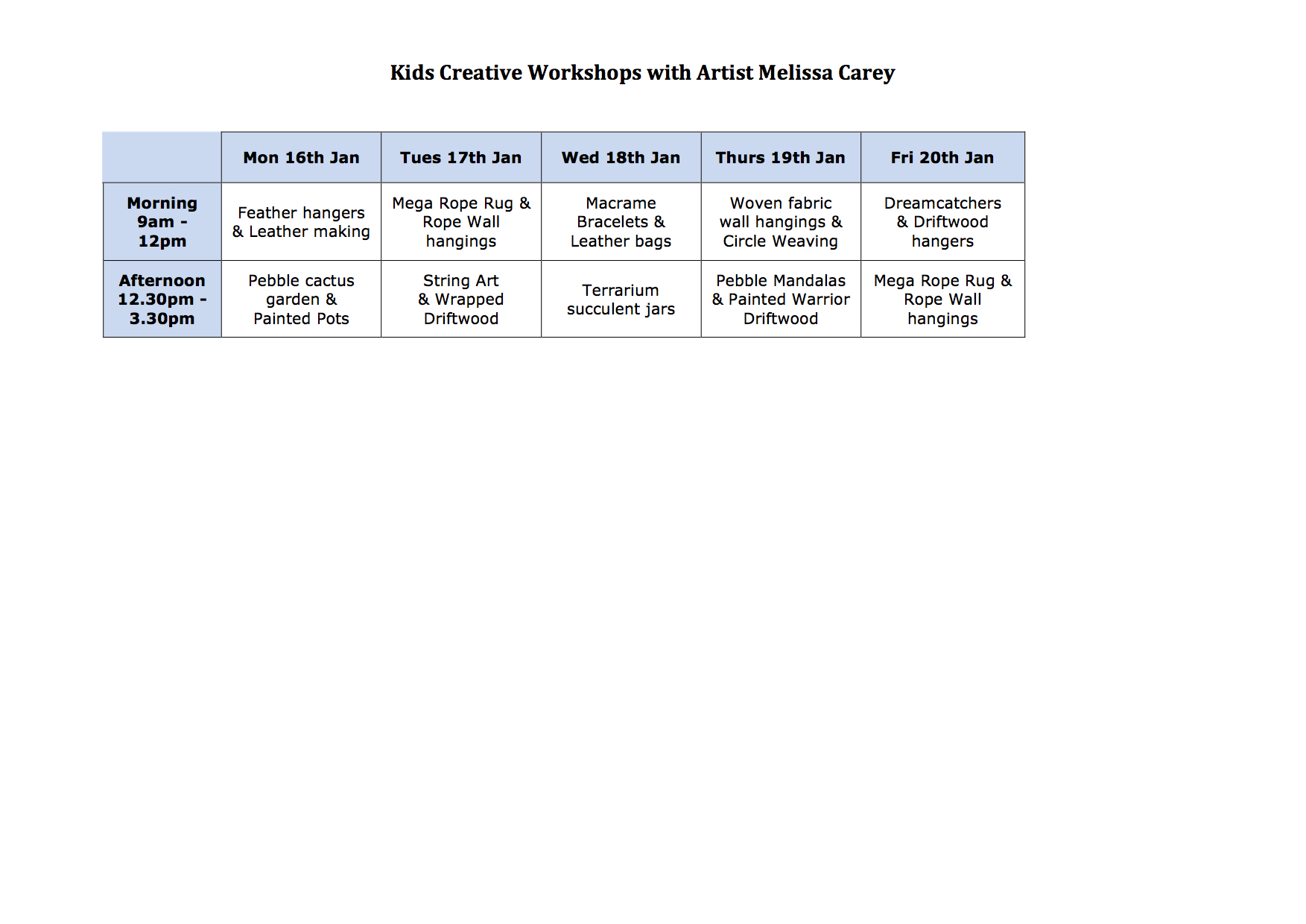 Terms and Conditions
All bookings for workshops must be paid in full to secure each spot before the workshops commence. Refunds are not available, but can be transferred to a friend, or used towards another workshop if 7 days notice is given. Please contact Melissa if you will not be attending the workshop and to allow other people to attend the workshop on the waitlist. Workshops may be subject to cancellation, if the minimum numbers of attendees are not met. You will be offered a full refund or a credit to attend an alternative workshop of the same value.
While attending the workshops, it is your responsibility to ensure that you maintain and adhere to all safety precautions and requirements during the workshop (and inform your children). Artist Melissa Carey holds no personal liability or responsibility for any damage, loss or theft incurred to personal property, or any physical injuries obtained during the workshop. By attending a workshop (or sending your children to a workshop), you agree in holding full responsibility and liability for any damages, injuries to parties involved and physical and/or personal property that may occur during the workshop.
All materials and equipment will be provided during the workshop, unless stated differently within the details of the specific workshop. Materials (including colour options) will be the choice of the artist and will vary at each workshop due to the nature of recycled and up-cycled material availability, giving you a unique experience at each workshop. If you have questions for colour or material choices, please email Melissa for details.
Your personal information that is collected for the workshops will be kept secure, private and confidential, and will never be passed on to a third party or company without your consent.