Description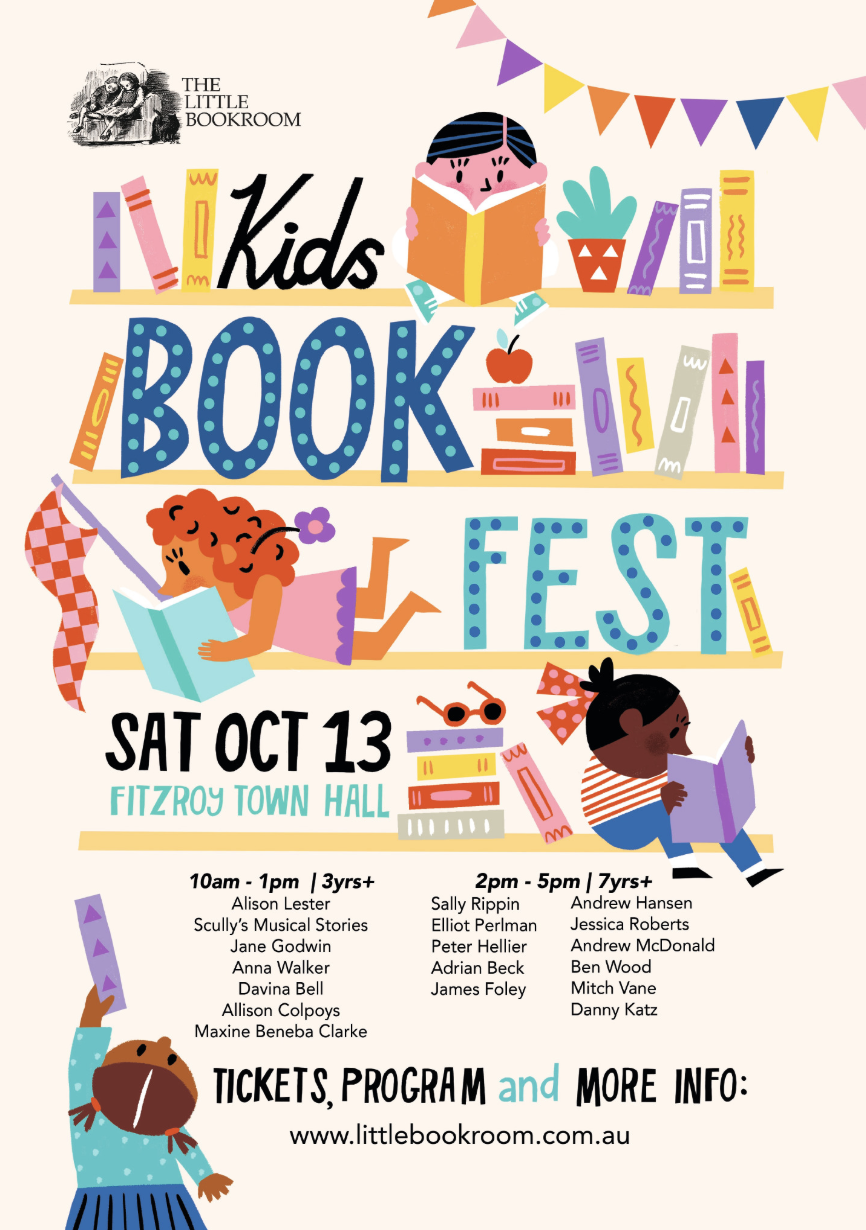 STORYTIME SPECTACULAR starring:
Scully's Musical Stories (a band perfoming musical versions of Alison Lester's books)
Full program and times to be revealed on Monday October 1.
Want to see the line-up for the big kids? Check out Kids Book Fest: Primary Kids. Same venue, 2pm - 5pm.
---
The Little Bookroom is thrilled to present its first festival: we are taking over the Fitzroy Town Hall's Grand Ballroom to celebrate the magic of storytelling! ALL ARE WELCOME!
Join us for three hours of reading, music, dancing and book signing! Epic entertainment, with lots of little breaks.
At The Little Bookroom we bring readers and authors and books together. We are in no doubt these experiences are treasured by kids and families - encouraging reading as a desirable, enjoyable, fun part of their lives.
We are deeply proud of the high standard of picture books published in Australia - Kids Book Fest is an opportunity to cheer on the makers! We want MORE!
This session has been planned for kids aged 3yrs+, but we think children of other ages (and adults too) will enjoy themselves.
---
FYI:
A pop up version of The Little Bookroom will be in residence stocking the titles of all appearing authors and illustrators. Plus some new releases made available for us exclusively, before publication day!
Think of this event as the 'Meredith for families' of writers's festival scene - one location, one stage. We've taken decision making out of the equation.
Supervised pram parking will be available, but if you have the option to leave it at home, that's our suggestion.
Please bring along your water bottles, and feel welcome to pack snacks (and coffee). Fitzroy Town hall is close to many cafes for more.
Parking is limited in Fitzroy, so if you can manage to travel via public transport we advise it.
Photographers will recording the event - but if you are not comfortable with your child's face being photographed an opt-out option will of course be available.
---
PS - October 13 marks 58 years since the door of The Little Bookroom first opened. We'd love to spend this special day with you!