Description
Roars, Claws and Dinosaurs!
It's party time at the Museum! Fun for kids . . . easy for you!
Ages 4–7 years
Roar and stomp your way around the museum with your friends and experience a party you will never forget!

Each party includes:
a fun fact-filled guided tour of our Dinosaur Gallery

touch real fossils

make your own clay fossil to take home

play in our Palaeontologist dig pit

full catering for children's lunch


party bag with hatching dinosaur
Bookings and information:
Book online below at least 3 weeks before your preferred date.
For further information please email us.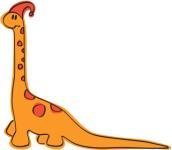 Frequently Asked Questions:
How far in advance do I have to make a booking?
Birthday parties can sell out many months in advance, book quickly so you don't miss out! We require at least 3 weeks' notice before your required date to arrange for catering.
How many children can attend the party?
15-20 children. A package to cater for a minimum of 15 children must be purchased to book a birthday party. Closer to the date, when you have RSVP numbers we can help you to purchase additional tickets.
Can I invite children under or above the age of 4-7 years old?
Our activities cater for children aged 4-7 years' old, however older or younger siblings and/or family can be invited to the party, and will require a ticket if they participate in the activities and lunch.
What's included in the ticket price?
In addition to entertainment and music, we supply everything for catering except for a cake. This includes:
a dinosaur lunch-box for the children (catering for adults can be supplied if requested at an additional cost), spoons, napkins, decorations, cake-knife, table cloths, cups and a lighter.
What if kids have allergies?

Unfortunately we do not cater for allergies except for gluten free which must be ordered in advance.
Do I need to supply a cake?
Yes, we provide everything except for the cake and candles!
Can I bring sparkler candles and helium balloons?
No, sparklers and helium balloons are restricted from entering the museum as part of museum policy.
Can I bring lolly bags?
We give each child a gift of a hatching dinosaur to take home in a bag. You are welcome to bring your own party/lolly bag.
Where do we meet for the party?
After entering the museum through the Crystal Hall to check-in at our admissions counter you will need to head up to Level 2 to meet the host staff outside Kidspace. Party hosts can access the venue from 10:30 AM (30 minutes before party starts).
Where does the party take place?
The party fun is held in a special and private birthday party room within the museum on Level 2 opposite Kidspace.
How long does the party run for?
1.5 hours from 11:00 am - 12:30pm.
Is there parking at the museum?
No. However there is limited paid parking on the streets surrounding the museum, or secure parking with Wilson Parking at 70 Riley St Darlinghurst or at the Domain Car Park.
What is the closest train station to the museum?
Either Town Hall station or Museum station.
Who can I contact if I require more information?
Please send an email to kids@austmus.gov.au or call (02) 9320 6371. This phone and email is serviced part-time and checked 2-3 times a week. A member of staff will get back to you ASAP.